News
Kurt Angle and Bobby Lashley Had a Classic Match on TNA Impact
Bobby Lashley and Kurt Angle again deliver in TNA Impact Wrestling's main event …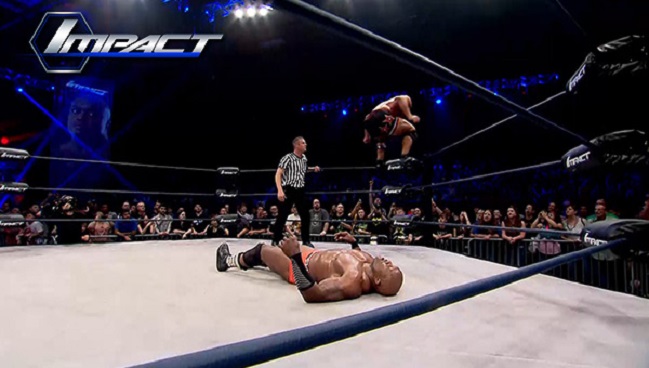 Kurt Angle successfully defended his TNA World Heavyweight Title against Bobby Lashley in a screwy finish, where Lashley's shoulders weren't actually on the mat for the pinfall. The ending, which was covered really well by TNA in showing a real-fight feel, will unquestionably lead to another match between Angle and Lashley down the road.
The finish of the match came when Lashley went to lock Angle in his own Ankle Lock submission. However Angle rolled Lashley into a pin and got the three count, but Lashley actually had his shoulder up. 
TNA did a great job covering this main event as if it were an MMA fight of some kind. Almost immediately, Josh Matthews and Taz began to comment on the controversy surrounding the pinfall. Was Lashley's shoulders really pinned? Taz cut to a replay that showed Lashley's shoulders were not on the ground, but the referee couldn't have possibly seen that from his angle. It was executed almost perfectly, including the referee needing to be in that position to show he couldn't have seen the shoulders pinned.
Angle and Lashley shook hands out of respect to close the show, but Lashley was clearly not happy and the finish will lead to an eventual rematch, and that's OK.
Angle's title win over Lashley was very formulaic. Angle's matches, given his limitations, have become that over the years. Lashley and Angle deviated from that typical Angle script on Impact however. There were high-risk maneuvers from the top and Lashley nearly beating Angle with his own submission hold was a unique twist.
If you missed this match, I recommend trying to find it either on demand or on replay. You might be able to check out portions of it on TNA's website. But try to catch the entire match if you can, because they told a really cool story that I thought was unique to pro wrestling today (unless you're a big Ring of Honor fan).
Quick Strikes
1. Eric Young and Bobby Roode had another blow-off match in their feud. By my count, this was the third time that they were going to be settling their score for the last time. I'm not totally sure what that speaks to. The TNA roster has plenty of depth. It might be a product of their production schedule, where they are forced to tape so much television all within a few days. Perhaps it's taxing the creative staff, and it's hard to come up with complementary development for these characters, but it's getting old seeing these two constantly tell us they're settling their final score.
2. A minor pet peeve, but after the Roode-Young match, they cut to a scene of Lashley arriving at the building. WWE does this sometimes as well. Why is a wrestler showing up in the middle of the show? It's a stylistic thing, but I wish that they would show a graphic that says "earlier today," which I believe UFC does when it shows their fighters arriving at an arena.
3. The Bram-Magnus match was really aggressive and showed off the talents well. The overbooked run-ins I think hurt the match more than it helped, however. Mickie James didn't seem to be running in for any particular reason, which Josh Matthews even eluded to. James Storm also interfered, which just added more overbooked madness to what would have been a good match on its own. I'm also not thrilled with Bram taking so many losses, when TNA seemed to be building some steam with him a few weeks back.
Match Results
1. Eric Young def. Bobby Roode in a Submissions Match
2. Gail Kim def. Angelina Love
3. Magnus def. Bram in a Falls Count Anywhere Match
4. Kurt Angle [c] def. Bobby Lashley to retain the TNA World Heavyweight Title
The Finish
I loved this show. TNA kept the focus on the in-ring action, which was apparent in the opening video package that really built the card. If TNA continues to focus their program like this, it will be a definite alternative to WWE, rather than feeling like a lite version of Raw or Smackdown.