News
Krysten Ritter Talks Jessica Jones, Empowerment, and Kicking Ass
Jessica Jones is one the best new series on Netflix, and we sat down with the Marvel super sleuth Krysten Ritter to talk about what's next.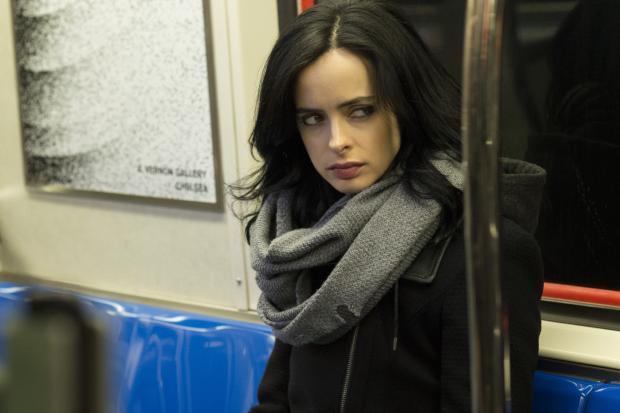 Jessica Jones took the world by storm when it premiered in November on Netflix. With Jessica Jones season 2 confirmed at the Television Critics Association Winter Tour, Netflix Marvel brought the cast out for a panel.
Afterwards, Den of Geek and a group of other reporters had a chat with series star Krysten Ritter.
What do you love about Jessica?
Krysten Ritter: I love Jessica Jones so much. I love that she is everything that a woman can be on screen. When I first read the scripts, she was vulnerable, she was strong physically, and in her person. She has so much backstory. So for me as an actor, I got to really like dig in and work with my acting teacher. I love the great writing. Melissa [Rosenberg] and all of the writers surprised me endlessly, just kept one-upping themselves.
Was the rhythm of the dialogue and banter apparent right away, or something you worked on in the first few episodes?
Well, I think it was a really equal, lovely marriage from the beginning. That's luck with Mel and I. That the cadence of the writing kind of lent itself to what I do also. So it was a little bit of everything.
Were you pursuing a character like her?
Yeah. You know, I kept saying things like, I want to do a cool show like Breaking Bad or Dexter, all these male driven shows. It was really hard to find a piece of material like this.
When they locked me in a room at Marvel and I read the first two, I walked out and Jeph [Loeb] asked me, "What did you think?" And I was like, obviously I have to play her. So it's a rare piece of material and I've been acting for over ten years, and I haven't seen anything like it before.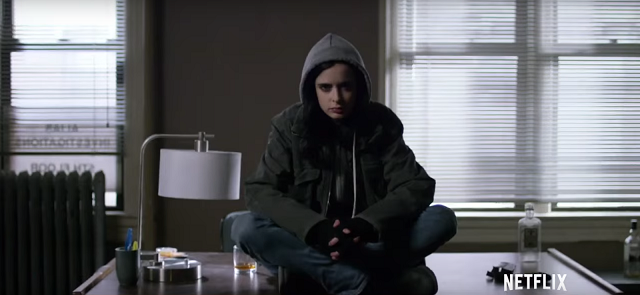 The Defenders was already part of the plan, but how excited are you to get another whole season of just Jessica?
I love Jessica, and I'm so excited to see what happens next for her. When I watched the show, the weekend it came out with everybody else, I was like, okay, what's next? Which is kind of what happens with all the Netflix shows. You need more. So I'm excited to see where she goes next and how she handles this next chapter of her life.
Is there an update on The Defenders?
Jeph Loeb from Marvel is standing right there. Yeah, I can't, I don't know anything.
Do you see yourself as a feminist?
Yes, of course, and I believe in equal rights for everybody. I talked about things like that with my acting teacher. I always knew it was bigger than me just getting a great part. I felt like it was groundbreaking material and a groundbreaking role. I'm just really excited that everybody kind of got behind the show and spread the word.
Do you think Jessica is empowering for girls to watch?
I do. I think it's exciting to see a woman who's not pining over a guy, who's not in high heels, who does things, marches to her own drummer, has her own path. She's rough around the edges and she's got some issues of her own that she needs to deal with, which I think people identify with because we all have issues.
She's not perfect. I'm excited for young people, girls and boys, to see Jessica Jones and think she's a badass.
Your costume is on display in the hallway.
I just walked by it and I was so confused. I was like, hey I'm going to need that back.
Was it comfortable in the first fitting?
Yeah. It was really important to me to have something that was really practical that I could like sit on the ground Indian style. I could kick ass. Jessica Jones doesn't think much about what she wants to wear. So I felt like it just needed to be comfortable, practical, badass, a uniform, clothes that live on the floor, literally.
Was it like a second skin for you?
Yeah. I kind of dress like that in real life too.
What are your favorite female leads on shows right now?
Different shows. Viola on How to Get Away With Murder. Nurse Jackie, Edie Falco. Kerry Washington on Scandal. Taraji on Empire. I mean, there are so many great shows with great female leads with great parts out there right now. There's great TV. Ellie Kemper. I love Damages. That's not on anymore, but I love me some Glenn Close. She's like my idol.
How much training did you have to do for Jessica Jones?
It's definitely a lot of training. You name it. Weights, pushups, boxing, all of it.
How do you feel about the Don't Trust the B… Christmas episode that Nahnatchka Khan wants to do?
I also want to do it, and I will be there. I hope so. You never know, because obviously I'm doing Jessica Jones. But if we can find a way to do it, me and James Van Der Beek, all of us, are really blown away by the appetite for it. We had the best time ever doing it. So if there's a way to do it, I have the will.
It seems like the world was waiting for Jessica Jones. What do you think it was?
It's not lost on me that it doesn't happen every day. I've been acting for a long time and the stars aligned. We have a great writing team, a great cast, great crew, an amazing platform with Netflix, an amazing fan base with Marvel. And luckily, people got behind the show and spread the word.
What was the toughest scene for you to do in the first season?
Early on, there was some stuff that was real cold outside. We're talking like 13 degrees below zero. So that's what we all joke about now. Like oh, remember on that fire escape when it was 13 degrees below zero? So those are the most memorable at the time.
Were you all together when you heard it was renewed?
We're so excited. We were speculating, but it was so amazing to finally like let the cat out of the bag and have a confirmation. We're so thrilled and so proud of the show.
Yeah. I love these girls I work with. I love Mel. It's rare thing that you all just become such a great family. I'm excited to throw on the jeans and boots and motorcycle jacket and get back to work.
Are you watching Supergirl?
I'm behind a little bit right now. I think Melissa is fabulous and adorable, and I'm so happy for her to have her own show. I'm a little behind on my TV watching at the moment though, just because I've been busy doing this.
Are you happy you don't have to wear a cape and skirt?
Yeah, I am. I don't think they'd want to see me in a cape and skirt anyway.
Do you see other sides of yourself in Jessica?
I think that there's always a little bit. You have to tap into aspects of your own emotional and internal life with all of your parts. So there's definitely stuff there. I think that this character is the least like me out of all of them I've played. So I'm actually able to watch the show with everybody else and sort of take a step back.
Who is most like you?
Probably Don't Trust the B—-.
Who inspired you to become an actress?
I don't know. I always look at people, like who's cool and I admire. There was never somebody who I was like, oh she's an actress, I want to become an actress. I'm from a farm in Pennsylvania and that's just not how you're brought up to think. But I love girls that kind of do it all, like Geena Davis. I love Tina Fey. Like Geena Davis in Accidental Tourist or even Glenn Close in Fatal Attraction.
Have you read any other Jessica Jones series besides Alias?
I read all of them. Everywhere she shows up.
We're keeping track of everything out there on Jessica Jones season 2 right here.