News
Krypton Episode 10 Trailer and Details
Syfy's Krypton is getting ready to wrap up its first season. We have everything you need to know.
Krypton is now in full swing on Syfy. The Superman prequel follows the adventures of Superman's grandfather, Seg-El, as he fights to save his planet from an earlier grave at the hands of Brainiac. There have been some crazy reveals in recent episodes, including one that nobody saw coming, and it's likely to not only change the direction of the show going forward, but could potentially change all of Superman history.
We've got a complete episode guide and more info for you. For starters, you can read our review of the most recent episode right here!
The next episode of Krypton is called "Hope" and it airs on May 16. Here's the official synopsis:
"Seg races to save his city from being overtaken as the bottling of Kandor begins."
Check out the trailer…
Krypton Episodes
Hit the blue titles to be taken to our full reviews of each episode!
air date: 3/21/18
air date: 3/28/18
air date: 4/4/18
air date: 4/11/18
air date: 4/18/18
air date: 4/25/18
air date: 5/2/18
air date: 5/9/18
air date: 5/16/18
Krypton Episode 10: The Phantom Zone
air date: 5/23/18
Krypton Photos
Check out this exclusive look at the Krypton cast!
This is Shaun Sipos as Adam Strange and Cameron Cuffe as Superman's grandfather, Seg-El. Check out the giant statues in the background, which comic book fans may recognize as a feature of a Kryptonian Fortress of Solitude!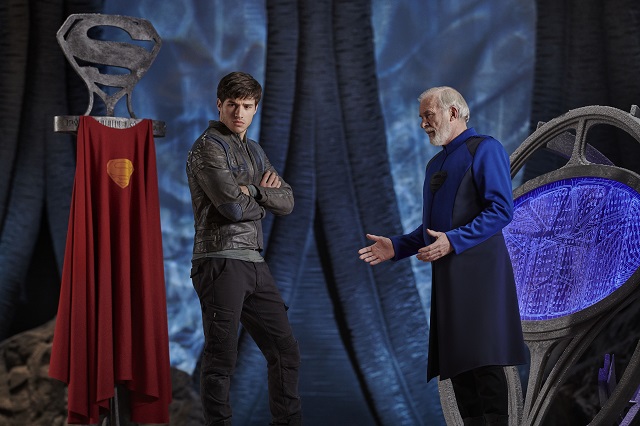 Another scene from inside the fortress reveals a Superman cape, as well as Game of Thrones' Ian McElhinney as Seg-El's grandfather, Val-El.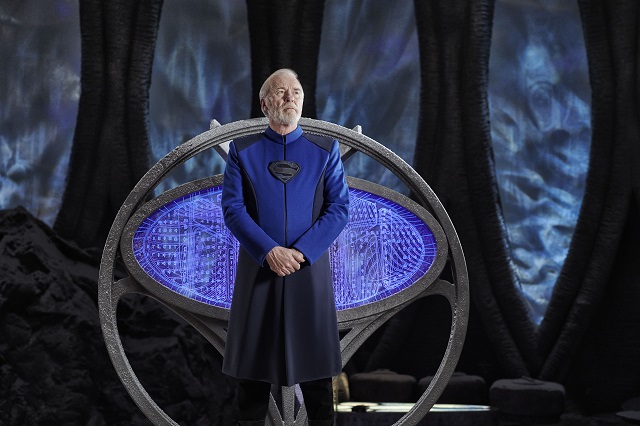 Here's another look at Val-El and the show's very cool take on the House of El crest.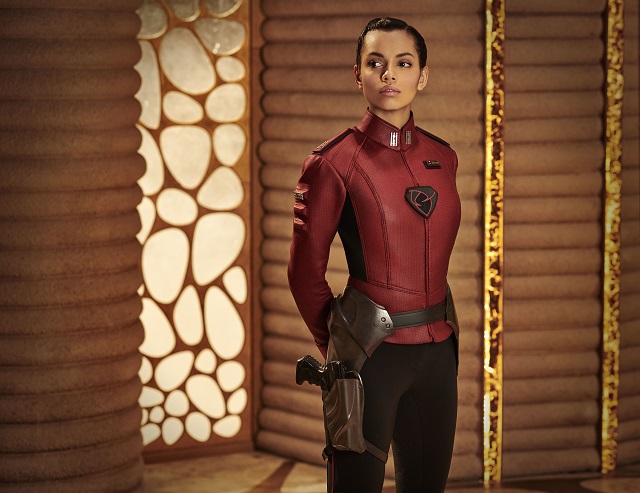 Georgina Campbell is Lyta Zod, a member of Krypton's military guild. Check out that sharp uniform and the House of Zod crest.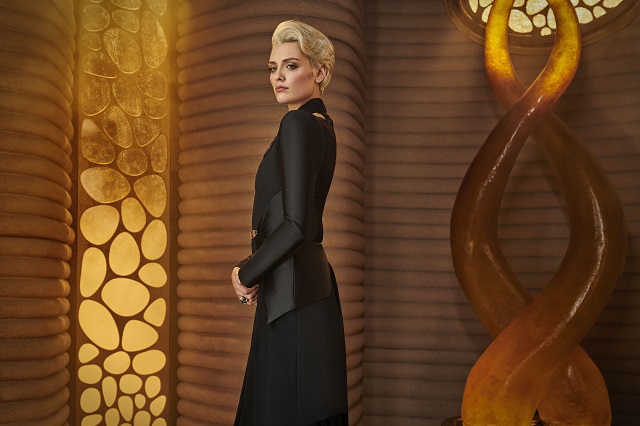 Wallis Day as the mysterious Nyssa Vex, the daughter of Krypton's chief magistrate.
We have some more exclusive Krypton images in the gallery here:
[gallery:3]
We have more info on the cast and other DC characters down below!
Krypton Trailer
Despite the prominent mention of the name Kal-El, and the repeated use of the House of El crest (you know, Superman's "S") it looks like Krypton is going to forge more of its own path than other notable TV prequels like Gotham or Smallville.
Krypton Cast and Characters
Camerone Cuffe (who recently appeared in Florence Foster Jenkins) will play Superman's grandfather, Seg-El. Variety revealed some early character details:
"Seg-El is the scion of the once prosperous El family and is blessed with an intuitive brilliance for all things technical. He is now living in Krypton's lowest caste after his family was stripped of its rank."
In addition to Mr. Cuffe as Seg-El, Georgina Campbell will play Lyta Zod, who is, as you expect, an ancestor of Superman villain General Zod. According to Deadline, Lyta Zod "is a member of Krypton's military caste and the daughter of a general, Alura Zod. Lyta Zod serves as a cadet — and has also been having a clandestine, forbidden romance with Seg-El (Superman's paternal grandfather)."
Ian McElhinney (Barristan Selmy on Game of Thrones) will play Seg-El's grandfather, Val-El. According to Deadline, Val is "a rogue genius who believes that space exploration is a basic form of self-defense, and he has tried, without success, to warn the Kryptonian elite about the arrival of an ancient threat." 
Elliot Cowan is Daron Vex, "the Chief Magistrate of Kandor. His real business is defending Krypton's established oligarchy against heretics and dissidents." 
Ann Ogbomo (World War Z) is "Lyta Zod's mother and a leader of Krypton's military guild. She is an extremely tough and demanding training officer." 
Rasmus Hardiker (Your Highness) is Kem, "Seg-El's best friend and partner in an underground business." 
Wallis Day (The Royals) is Nyssa Vex, "a junior magistrate and the daughter of Daron Vex." 
Aaron Pierre (Tennison) is Dev-Em, "a cadet under the command of Primus Zod." Incidentally, Dev-Em is from the comics, and is one of the Phantom Zone criminals who periodically ends up on Earth to annoy Superman. Dev-Em was a background character in Man of Steel, for example.
(thanks to Deadline for the casting descriptions above)
Blake Ritson (Da Vinci's Demons) is Brainiac, making him only the second actor to play the role in live action. Brainiac is one of Superman's greatest enemies, and is long overdue to get the kind of full-blown sci-fi treatment he deserves. Deadline describes this version of the character as "A parasitic, hyper-advanced alien android of immense intelligence."
Paula Malcolmson is Charys, "The matriarch of the House of El" who "helps her son Seg navigate the treacherous pitfalls of Kandor City, their Kryptonian home embattled with oppression and revolt."
"It's a show that, although it takes place centuries ago on Krypton about the House of El, it's about a conspiracy from the present that has traveled back in time to to Krypton to prevent Superman's legacy from ever happening," DC president Geoff Johns said at SDCC.
"Adam Strange and Hawkwoman come to Krypton trying to stop the conspiracy and save Superman's legacy," Johns revealed. "Doomsday will be in the show. Brainiac is long overdue to be on screen like that."
Shaun Sipos (Melrose Place, Vampire Diaries) will take on the series regular role of Adam Strange, playing the "world-weary human, who finds himself stranded on Krypton as the unlikely mentor to Seg-El, Superman's grandfather."
Hannah Waddingham will play Jax-Ur. The show's version of Jax-Ur is described (via Deadline) as "Formerly one of Krypton's greatest scientists with deep ties to Krypton's past, Jax-Ur is now determined to bring radical change to Krypton as leader of the underground terrorist organization, Black Zero."
Of course, in the comics, Jax-Ur is a male character, but there's no reason for the show to be tied to that.
We'll update this with more information as we get it!