News
Krypton Canceled by Syfy, No Season 3
After a massive season two cliffhanger, Syfy has canceled Krypton, dashing hopes in a season 3.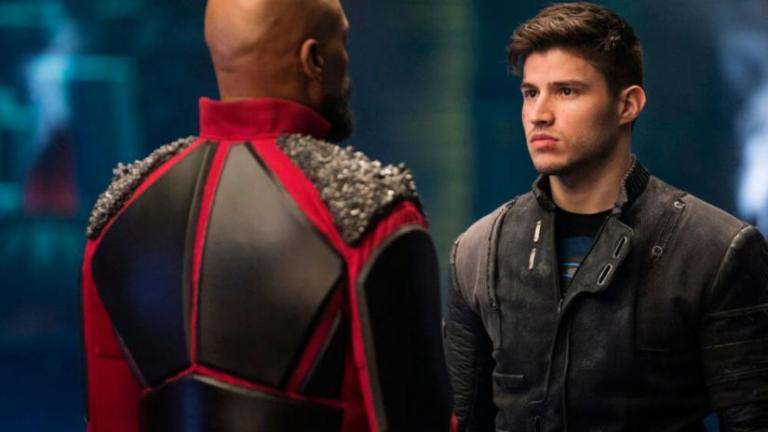 The most unlikely superhero story of the last two years may very well be how Krypton defied the usual tedious prequel expectations and became a compelling standalone sci-fi story of its own. The series, which aired on Syfy, told the story of Seg-El, Superman's grandfather, and how he got mixed up in time traveling, reality altering scenarios that allowed for the inclusion of notable DC Comics characters like Brainiac, General Zod, Adam Strange, and more. But unfortunately, that story will never be completed, as Syfy has canceled Krypton after two seasons.
Not only has Syfy pulled the plug on Krypton (after a fascinating and brutal season 2 finale cliffhanger), they've also decided not to move forward with Krypton spinoff Lobo, which would have starred Emmett Scanlan as the intergalactic bounty hunter introduced in season two.
It's perhaps not surprising, although no less disappointing, that Krypton failed to catch on the network. Syfy put the show in an awkward 10 pm timeslot (albeit one that allowed for edgier violence and language than you get week to week on the various CW DC Arrowverse TV shows), and the idea of yet another prequel for anything, let alone Superman, is a tough sell in an already superhero saturated market. But Krypton should have been allowed to distinguish itself as the "prestige drama" of superhero TV programming, often going entire episodes without leaning on its more famous namesakes and lineage and foregoing the soapier elements that are such hallmarks of other live action DC TV properties.
read more: Every Superman and DC Easter Egg on Krypton Season 2
But with that in mind, perhaps Krypton can find a home elsewhere. Deadline reports that Warner Horizon Television is shopping the show around. The DC Universe streaming service would seem like a natural fit, which has allowed for the similarly R-rated Titans and far more high concept Doom Patrol to populate its original programming. But DC Universe likely offers its own challenges, having recently unceremoniously pulled the plug on Swamp Thing and shortening its first season, and facing an uncertain future as the launch of Warner Bros. streaming service HBO MAX looms.
Krypton ended on several cliffhangers, notably one that teased a possible interstellar war between two well known planets in the DC Universe. Fans will be left to wonder how that would have played out, unless another network swoops into rescue the show. Hopefully that happens before the intricate, sprawling Krypton sets that exist on soundstages in Northern Ireland are dismantled.
We'll update this if we get any good news of Krypton season 3. 
Mike Cecchini is the Editor in Chief of Den of Geek. You can read more of his work here. Follow him on Twitter @wayoutstuff.
Read and download the Den of Geek SDCC 2019 Special Edition Magazine right here!