News
Will There Be a Knightfall Season 3?
Knightfall Season 3 is very much on the bubble at History. Will the story of the Knights Templar continue?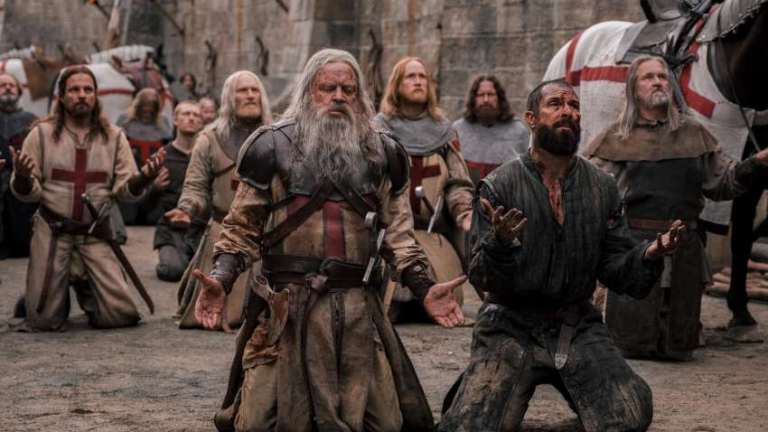 History Channel's Knightfall has brought the political intrigue of the Knights Templar to cable television for two seasons now. But is the show performing well enough to see a Knightfall Season 3?
The outlook, sadly, isn't very good. Despite adding Mark Hamill (Star Wars) for its second season, Knightfall Season 2 has featured a steep drop in ratings from its already ratings-challenged first season. According to the site TV Series Finale, Knightfall is averaging a dismal 0.12 rating in the 18-49 demographic and is attracting around only 650,000 viewers per episode total. That is a nearly 50% drop in viewers from the first season.
A more niche network like History Channel isn't necessarily looking for blockbuster numbers but those metrics still can't help its renewal chances.
There's always the chance of course that History just flat out likes Knightfall and wants to see more. Even without the raw viewership numbers, Knightfall Season 2 has done quite well creatively. Knightfall takes place in the early 1300s and follows the success and eventual fall of the fabled Knights Templar under King Philip IV of France.
The show stars Tom Cullen as Landry du Lauzon, a fictional senior brother of the Knights Templar and veteran of the Crusades. Hamill joined the season 2 cast as Master Talus, a veteran templar who trains the new knights at Chartres Temple. Pádraic Delaney, Ed Stoppard, Simon Merrells, Julian Ovenden, and Jim Carter also star in the series with Genevieve Gaunt, Tom Forbes, and Clementine Nicholson joining Hamill as season 2 newcomers.
Though the prognosis for Knightfall Season 3 may not be promising, we will update with new information as it arrives.
Alec Bojalad is TV Editor at Den of Geek and TCA member. Read more of his stuff here. Follow him at his creatively-named Twitter handle @alecbojalad