News
Kiss Me First Trailer: Netflix Nabs Virtual Reality Series
Netflix will provide the stateside platform for Kiss Me First, a U.K.-based virtual reality-centric television series.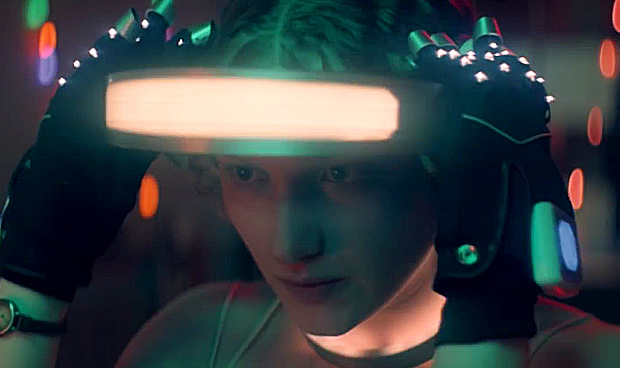 Kiss Me First is amongst an array of entertainment offerings that showcase stories focused on the technology of virtual reality and it its increasingly feasible real-life implications. Indeed, with the zeitgeist permeating with VR dramas such as the tech-fixated horror anthology series Black Mirror (notably its "U.S.S. Callister" episode), Steven Spielberg's Ready Player One and even NBC's new series, Reverie, Kiss Me First will look to distinguish its own VR take in a poetic manner.
Accordingly, Netflix will soon add Kiss Me First to its fantastical phalanx of original content for U.S. audiences to binge.
Kiss Me First Trailer
The Kiss Me First trailer depicts the show's near-future setting, centering on the duel arcs of grieving introvert Leila (Tallulah Haddon) and extroverted party girl Tess (Simona Brown), whose paths meet in a ubiquitous virtual reality site, called Azana, that integrates the familiar unsubtle personal intrusiveness of social media with the interactive nature of online multiplayer video games, creating a dangerously-immersive existential rabbit hole. Indeed, things get dire when the abruptly mysterious deaths of the girls' friends are seemingly connected to Azana, setting up a series-spanning mystery.
Haddon and Brown are joined in the Kiss Me First cast by Matthew Beard, Freddie Stewart, Haruka Abe, George Jovanovic and Samuel Bottomley.
The television series, which debuted in April on the U.K.'s Channel 4, is the creation of Bryan Elsley, who created the teen drama, Skins (from which myriad high-profile British actors got their start), puts his signature brand of teenage angst through a cautionary, but visually-intriguing technological lens.
Bryan Elsey has written all six episodes of Season 1, with directorial duties split evenly between Misha Manson-Smith and Tom Green (not the former MTV comedian).
Kiss Me First Release Date
Kiss Me First is set to premiere in the U.S. on Netflix on June 29.
The series debuted on the U.K.'s Channel 4 on April 2.