News
Killjoys Season 4 Episode Guide, Reviews, and More
Killjoys season 4 has concluded, but while we wait for the final season, here's all the news and reviews we gathered.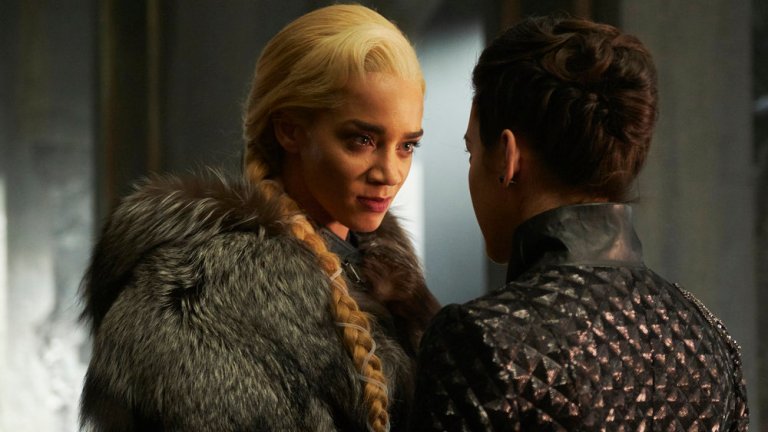 Killjoys season 4 has come to a close on Syfy, and with the fifth season already guaranteed as the show's last, the build-up has been pretty massive. The show has inexplicably improved each year just when fans think it couldn't get any better, and the scope of the series has broadened to include a wider look at the J sector, the invading Hullen, and the mysterious Lady of the green.
Check out our Hannah John-Kamen interview from Killjoys season 4:
Killjoys Season 4 Reviews and Episode Guide
We'll be following along with Killjoys season 4 all summer long. Click the links to reviews as they become available, and read descriptions and find out air dates for episodes to come.
On the run from The Lady, Khlyen and Aneela struggle to keep Dutch alive. (air date: July 20, 2018)
With criminals chasing an injured Johnny, D'av and Delle Seyah take drastic measures to save him. (air date: July 27, 2018)
Johnny manipulates D'av into helping him find a green pool while Zeph faces possible death. (air date: August 3, 2018)
Dutch awaken to John at the brink of madness and the birth of D'av's child. (air date: August 10, 2018)
With D'av's new born son's life on the line, the trio take desperate measures to save him. (air date: August 17, 2018)
Dutch trains Jaq to fight an unstoppable enemy as Pree and Fancy look for the missing Gared. (air date: August 24, 2018)
With D'av and Jaq on the run, Dutch and John hunt the answer to Khlyen's memory clue. (air date: August 31, 2018)
An awkward Jaqobis homecoming takes a deadly turn as Dutch and Zeph risk everything for science. (air date: September 7, 2018)
Team Awesome Force sneak onto the RAC to rescue Westerly's stolen children. Zeph and Pip grow closer. (air date: September 14, 2018)
Aneela brings the Jaqobis brothers into Greenspace to defeat the Lady. (aire date: September 21, 2018)
Michael Ahr is a writer, reviewer, and podcaster here at Den of Geek; you can check out his work here or follow him on Twitter.