News
Killing Eve Season 2: Fiona Shaw On the Show's Return Home
Killing Eve Season 2 will attempt the show's boldest trick yet: topping season 1. Fiona Shaw discusses how difficult that may be.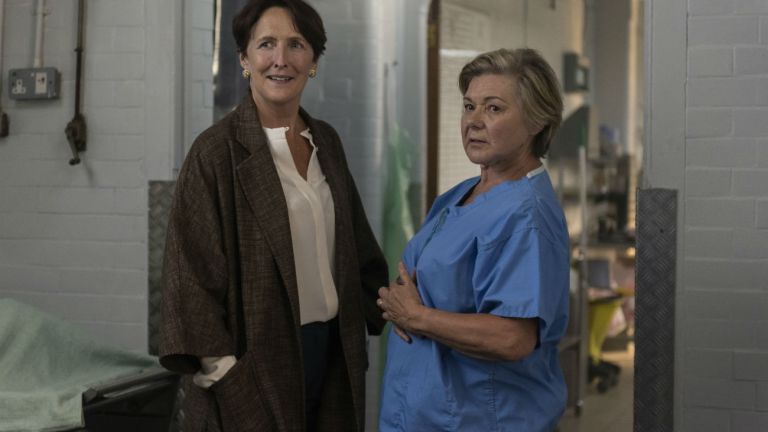 Killing Eve actress Fiona Shaw knows a thing or two about being a part of a cultural phenomenon. Shaw, who resumes her role as Carolyn Martens in Killing Eve Season 2, was already well known to audiences around the world for her portrayal as Aunt Petunia Dursley in the Harry Potter films.
Still, even that didn't quite prepare her for the response to Killing Eve's brilliant and beloved first season. 
"I happened to be in New York when (Killing Eve) opened in the U.S. The posters were up and there was a huge excitement about it," Shaw says. "But when I went back to England and I was working in opera, somehow that wave didn't crash until October last year. And boy, then did it. I couldn't walk down the street without bicycles stopping and people calling. It seemed to hit all at once."
It all did seem to hit at once. As the distribution routes for our entertainment change, so do the metrics that prove success. Shaw points out that the response to Harry Potter films was always relatively self-contained, being that people viewed the films in public theaters within a short release window. By contrast, however, Killing Eve premiered in April of 2018 and by October was still popular enough for people to yell at Fiona Shaw from their bicycles (EDITOR's NOTE: Please do not yell at Fiona Shaw from your bicycle or any other mode of transportation).
Now, one year after Killing Eve's debut, the show is set to attempt something even bolder than a buzzworthy first season of television: a satisfying follow-up. Killing Eve Season 2 will premiere the first of its eight episodes on April 7. Without delving too deeply into spoiler territory (something that Shaw is particularly careful not to do) Season 2 features something of a return to "normalcy" or at the very least, stability. While the Killing Eve Season 1 finale could have very easily served as a series finale, new show runner, Emerald Fennell, dials things back a bit to make sure that the season's first episode feels both like an epilogue to the first season and the beginning of an exciting new chapter.
further reading: Fiona Shaw is the Third Killing Eve Lead
Shaw acknowledges the challenges at play for the new showrunning team (the very talented and very busy Phoebe Waller-Bridge handed the reins over to Fennell following the show's first season). 
"I think season 2 is really challenging to go into because the audience knows an enormous amount now. It's very hard to be ahead of an audience who you've taught them to never be sure of anything."
Thankfully the show will have both a familiar setting alongside from familiar faces to help restore the audience's credulity. 
"We're back home, yeah. For a while. I think (season 2) is steady…but not," Shaw says. "Sometimes you need certainly characters to just be here for a bit while something else happens and then charge in. Somebody has to reset otherwise we'd be out in some-batshit place. Otherwise we'd be on Mars by now."
One of the reasons the show isn't on Mars by now is the grounding effect of Shaw's character, herself, MI6 Head of Russia Desk Carolyn Martens. Given the spy genre's history with Russia and Western Civilizations own current experiences with Russia, the role could have been played with a certain dour seriousness. Carolyn, however, is kind of a goofball for lack of a better word. Operating within such a deadly serious industry of espionage has done wonders for Carolyn's darkly comedic timing. 
further reading: Killing Eve: A Spy Drama From the Female Gaze
"Carolyn is a character of contradictions, isn't she?" Shaw says. "Some of the bigger speeches in the first series were quite serious – about what it is to be a spy, what you lose emotionally, how it screws up your private life, so the audience knows a lot already. I think that's why season 2 it's quite hard, isn't it? Because you already know a lot about these people. But what makes them interesting is inconsistency. And that makes them bigger. So I suppose Carolyn's that. But comedic? You never know if Carolyn's making a joke or she isn't."
Killing Eve is as much of a contradiction as Carolyn as it turns out: funny, terrifying, sexy, weird, quick, and ugly. Killing Eve Season 2 features plenty of changes both behind the camera and in front of it. But the show's return to home should be enough to have audiences let their guard down…just so they can be surprised all over again.
Alec Bojalad is TV Editor at Den of Geek and TCA member. Read more of his stuff here. Follow him at his creatively-named Twitter handle @alecbojalad