News
Kidding Season 2 Release Date Revealed
Jim Carrey's Mr. Pickles will continue teaching children how to be nice to each other as Showtime has confirmed Kidding season 2.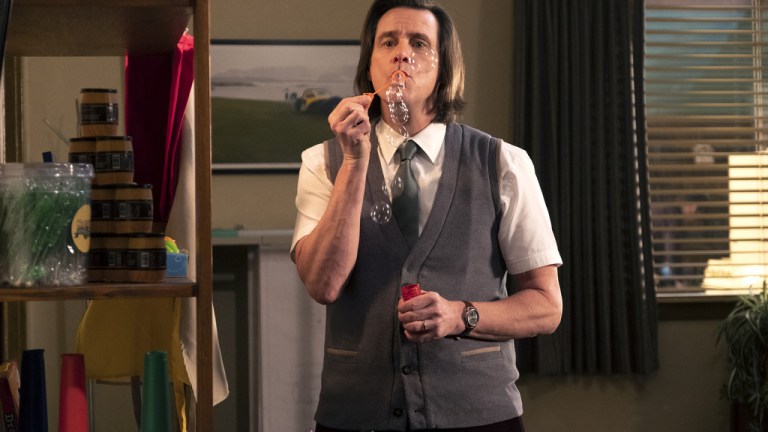 Please don't use a bad word when you can use a good word, a generation of children were taught on the children's show Mr. Pickles' Puppet Time. Premiere cable network Showtime can use any words it wants, and it just mouthed it renewed the Jim Carrey-starring comedy series Kidding for season 2, which will consist of ten episodes.
Carrey stars as fictional children's entertainer Jeff Piccirillo, a children's show host highly influenced by the imaginative world of Mister Rogers, whose family life is falling apart after the death of his son. The iconic Mr. Pickles teaches kindness to impressionable youth. His show, like Mister Rogers' Neighborhood, airs on PBS.
"Kidding has established itself as one of the most endearing and inventive shows on television," Showtime Networks programming resident Gary Levine said in a statement (via Variety). "I feel like I have been watching Mr. Pickles my whole life, and I look forward to being entranced by his unique blend of hilarity and heartbreak in season two."
The series currently holds a 72% approval rating on Rotten Tomatoes. You can read all our Kidding reviews here.
Kidding Season 2 Release Date
Showtime announced during their Summer 2019 TCA press tour appearance that Kidding season 2 will premiere at 10 p.m. on November 3. It will enjoy Shameless season 10 as a lead in. Kidding season 2 will air back-to-back episodes each night of its run. 
Kidding Season 2 Trailer
Here is a first look at Kidding season 2. Some compelling, dark (and also light?) stuff.
Kidding Season 2 Cast
Kidding season 2 is getting a very high profile guest star. EW reports that Ariana Grande is making a "tiny appearance" in Kidding season 2. There is no word on who she will be playing yet but she's pretty hyped about it. 
Kidding of course marked Carrey's return to TV after leaving Fox's sketch comedy series In Living Color 24 years ago. The show also reunites Carrey with director and executive producer Michel Gondry, who won an Oscar for co-writing the film Eternal Sunshine of the Spotless Mind. Gondry directed the pilot and several episodes for the show's premiere season. The series also stars Frank Langella, Catherine Keener, Judy Greer, Cole Allen and Juliet Morris. Kidding was created by Dave Holstein.
Culture Editor Tony Sokol cut his teeth on the wire services and also wrote and produced New York City's Vampyr Theatre and the rock opera AssassiNation: We Killed JFK. Read more of his work here or find him on Twitter @tsokol.