News
Julia Child Series Starring Joan Cusack In Development at HBO Max
A new series about the life of beloved chef Julia Child is nearing a deal at HBO Max with Joan Cusack starring.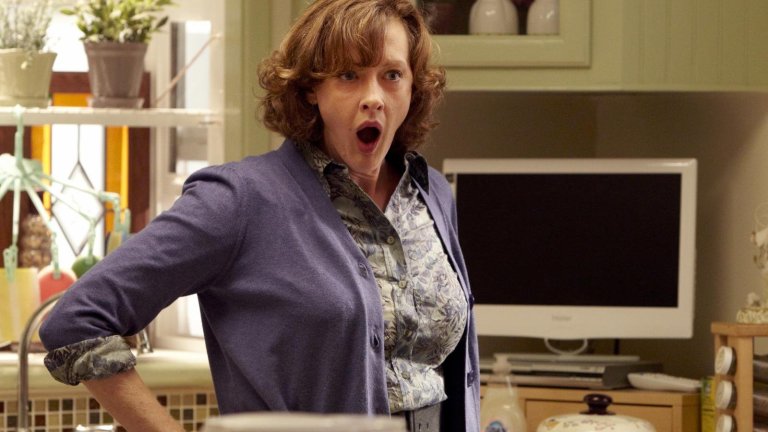 Now that WarnerMedia's new streaming service, HBO Max, has a name, all it needs is some more shows.
According to The Hollywood Reporter, HBO Max is set to expand its roster and will develop a series based on the life of celebrity chef Julia Child starring Joan Cusack (Toy Story 4) as the chef. David Hyde Pierce (Fraiser) is in talks to appear in a leading role as well.
The project comes from Chris Keyser who previously created The Society and Party of Five. Keyser will executive produce the show and Daniel Goldfarb (The Marvelous Mrs. Maisel) will be involved as a writer. THR notes that Keyser is also a key negotiator in the Writer's Guild of America's ongoing struggle with talent agencies over packaging fees (an economic system in television in which studios pay agencies for a "package" of talent and concepts, rather than writers directly). The as of yet untitled Julia Child series began as a package deal in 2018 so it's not subject to the new WGA Code of Conduct in avoiding these kinds of deals.
Though little else is known about the series thus far, the casting of Joan Cusack as the famous chef is shrewd. Both entertainers have endearing presences. Julia Child learned to love cooking, particularly French style cuisine, during her time in France as part of the Women's Army Corps in the U.S. Navy. She trained at the legendary Cordon Bleu cooking school before publishing her debut cookbook, Mastering the Art of French Cooking, in 1961. The book was an enormous success and launched a long career in television for Child.
While not quite having a "cooking mussels in Post-WWII Europe" origin story, Cusack has had a successful career in film and television that includes roles in Shameless, High Fidelity, and the Toy Story series (as cowgirl Jessie). This kind of starring role in a TV biopic for a major streaming service is long overdue. Thankfully HBO Max agreed.
The Julia Child series is one of a few in development for HBO Max so far. Also on the docket are original movies from Greg Berlanti and Reese Witherspoon, a Gremlins series, Dune: The Sisterhood, and more.
Alec Bojalad is TV Editor at Den of Geek and TCA member. Read more of his stuff here. Follow him at his creatively-named Twitter handle @alecbojalad