Features
Joseph Gilgun & Nathan McMullen on Misfits series 5, returning characters & more…
Caroline chatted to Joseph Gilgun and Nathan McMullen about the end of Misfits on the set of series five...
Spoiler warning: this interview contains plot details for Misfits series 5.
The last to join the cast back in the third series, Joseph Gilgun is not the longest-serving misfit, but he hasn't been lonely. The show, undoubtedly keen to replicate Nathan and Simon's popular 'bromance', gave Rudy a friend to torment, as Nathan McMullen's Finn landed in the community centre a whole year later. We spoke to Gilgun and McMullen about what we can expect from their characters in the finale season, possible returning characters and how it all ends…
Can you tell us what we can expect from series five?
JG: It's going to be a big year, isn't it?
NM: Yeah, well, it's the final season and we want to go out with a bang and I think the storylines are really fast-paced as well. I guess the first few episodes do try to revert back to the original style of the show where it was a bit gritty and messy.
JG: It's a bit more power-based as well. I think people missed the powers last year because there weren't many power-type scenes where they could see us using them, so this year there's a lot more. As a result, it's been a fucking ball-ache to film.
Can we expect any more Rudys in this series?
JG: Thank heaven above that there's no more Rudys because, honest to God man… it's just the amount of work that's involved in shooting as three people. You've gotta do it all, so that's three sets of lines on one day and it's mental. By the end of the day you think your head's gonna fall off, but this time there's only the two. I've gotta say, it's been a real joy playing them, but usually I prefer one to the other. Usually it's Rudy because he's easier to play – the big gobshite. I'd have loved to have done a gay Rudy – he would have been a good one in the group.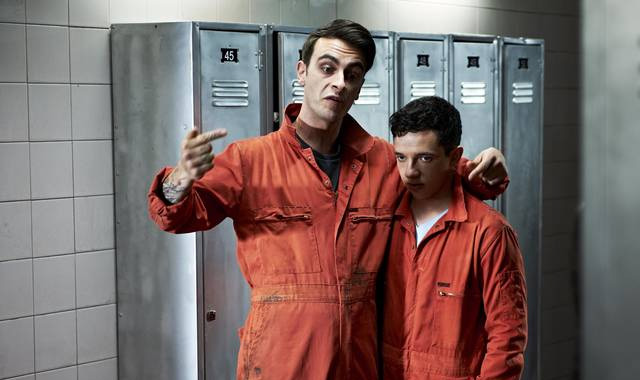 Last season Finn discovered your half-sister, Grace. Is there any chance she's coming back?
NM: Last year, when we did the episode, I loved working with her – she was a lovely girl and a great actress – and there was talk of her returning. But unfortunately, for whatever reason, it hasn't happened. It was a break-up in the series in terms of the dynamic in the episode. It was quite emotional, and something I enjoyed doing, but unfortunately… I guess it's just a case of 'oh yeah, I've got a half-sister. I'll look after her in this episode and then never see her again.'
Does Finn get any better at controlling his power?
NM: Yeah, but no. Where it was left off with the four horsemen of the apocalypse, with him shooting one across the corridor, I kind of hoped he'd come back and start moving cars and stuff. You know what? I think he gets too big for his own boots in this series and that's one of the consequences. He just reverts back to being terrible at using his power.
Are we going to see a more sensitive side of Rudy about the Nadine storyline in the finale?
JG: Yeah I think, certainly with the relationship he has with Jess – which has been mental to film. That relationship has become very sweet and you definitely see Rudy's vulnerable side. I mean, he's still a complete tit and an emotional moron, but I think you see Rudy's sensitive side, definitely since the Nadine thing. Though there's no mention of Nadine again – it's like Finn's sister.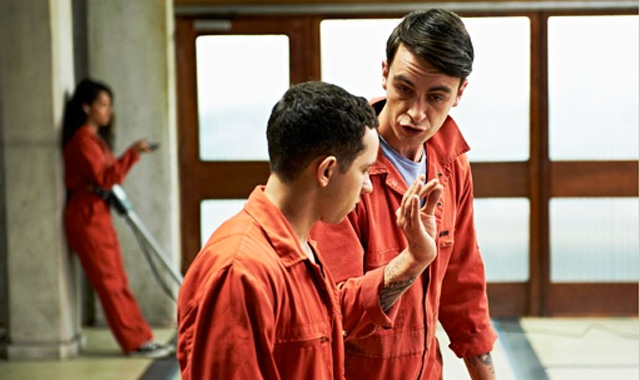 Will we see more of the bromance?
JG: I have to say I love working with Nathan. I love working with all of them but the lads have a really good working relationship. There are certain jobs where you just can't tell an actor what to do for the sake of a scene being better, but we've got this relationship now where we feel confident enough to say, 'what if you say that when I do this?' We have this understanding and bounce off of each other well as far as ad-libs and extra little tweaks and things like that.
NM: I think that will come across more this series, as we were still working each other out last year. Coming back into the job this year, it was more of a friendship-based relationship.
Was it planned that your characters would be friends, or did it develop from the chemistry?
JG: We had the chemistry, and think Rudy needed a mate. He didn't really have any mates – he just pissed everybody off. He was the life and soul but nobody actually liked him. He irritating as hell so, for him to have a friend…
Can you give us any clues about where your characters, and the show, end up?
JG: We both survive, don't we? We're both alive at the end of it.
NM: I don't know if you get as much closure as you might want, but there are definitely things tied up.
JG: Some characters come back, as well. There's one character who comes back, and he is brilliant – Tim, the gamer. He's going to the power support group.
Will there be any mention of past characters and storylines?
NM: Not really.
JG: The thing is that it's a running theme of Misfits that the deaths of these people are just dealt with and brushed off very quickly. It's an ongoing joke that no one gives a shit about them once they're buried. It's an in-house gag, almost, where they just throw away the deaths of everyone. Curtis was the first death that was really portrayed on the show.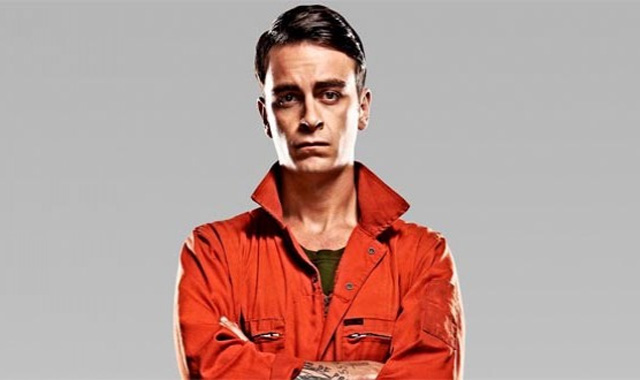 Is there anyone you would have liked to have brought back?
JG: I've always wanted to work with Robert Sheehan. He's hilarious, though I'd worry about standing next to him because of how incredibly handsome he is. I met him one time and he's a lovely bloke. I loved what he did with his character, Nathan.
NM: I think the character would work with any of the new characters. He'd fit in and they'd have a good relationship with him. It'd work anyway – no matter who was in the jumpsuit at the time, that character would always work.
Misfits series 5 starts on E4 on Wednesday the 23rd of October at 10pm. Read more about the new series on Den of Geek, here.
Follow our Twitter feed for faster news and bad jokes right here. And be our Facebook chum here.