News
Jordan Klepper Lands Daily Show Spinoff Slot
Comedy Central will embrace the chaos with Jordan Klepper.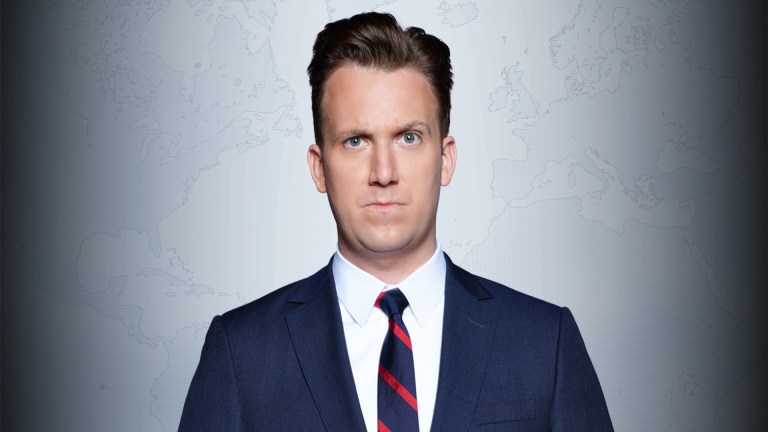 The Daily Show is continuing the tradition of being a launching pad for Comedy Central late-night programming. Second City comedian Jordan Klepper will reprise his Daily Show correspondent role in his own Comedy Central late-night talk show. The still-unnamed show will follow The Daily Show with Trevor Noah at 11:30 p.m. pushing @midnight back to its regular time slot at midnight.
"The choice to entrust me with the 11:30 p.m. timeslot is both incredibly humbling and deeply disturbing," Klepper said in a statement. "Without a doubt, it has utterly destroyed my confidence in Comedy Central's decision making acumen. Dear God, now I have to work with these fools."
Comedy Central says the show "will look to embrace and define the chaos of our country by channeling Klepper's steadfast attitude that institutions are to be trusted less than the lies of the mainstream media. He'll surround himself with a hand-picked team of contributors contractually obligated to reinforce his singularly correct world view."
Stewart hired Klepper for The Daily Show in 2014. He became senior correspondent under Noah. Klepper, who braved Trump rallies as one of the nice guys with guns, signed a development deal with Comedy Central in March 2016. It was reported that he would be doing a weekly show, not a show that runs multiple nights. The series is in the beginning stages of development. The network is currently compiling "a handpicked team of contributors contractually obligated to reinforce his singularly correct worldview."
"Jordan's talent has become so increasingly obvious it would take a real fool to not offer him this opportunity," Comedy Central president Kent Alterman said in a statement.
The Daily Show produced the spinoffs series The Colbert Report and The Nightly News with Larry Wilmore, which were executive produced by Jon Stewart. Klepper's show will be executive produced by Trevor Noah, along with Stuart Miller, a producer of The Daily Show and HBO's Any Given Wednesday.
Comedy Central recently announced that it will premiere the weekly The President Show will air in the 11:30 PM slot on Thursdays, starting on April 27. It will be hosted by Donald Trump impersonator Anthony Atamanuik, with Peter Grosz as his sidekick, Vice President Mike Pence.
SOURCE: VARIETY