News
Jonathan Strange & Mr Norrell: the best UK fantasy in years
Premiering this weekend on BBC America, Jonathan Strange & Mr Norrell is a genre-bending British drama worth getting very excited about...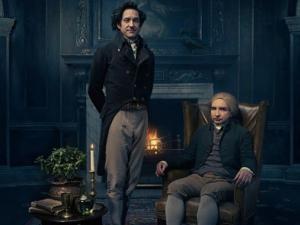 What are some of the best British dramas of recent years? Here's just a few. Wolf Hall, Utopia, Peaky Blinders, Broadchurch, Happy Valley, Luther, Doctor Who and In The Flesh. It's been said to death but remains the case: we truly are in a golden age of original British drama. But now you might just have to make room for a new favorite. I don't think it's hyperbolic to say that Jonathan Strange & Mr Norrell is the finest new drama that's been on our screens this decade. In fact, if the first two episodes are anything to go by, it could go down as one of the best this century.
As an adaptation of Susanna Clarke's epic genre-bending novel, it's almost perfect. As a period drama set during the tumultuous Napoleonic Wars it feels authentic and tangible. As an alternate world fantasy spectacular involving feats of magic on an unbelievable scale, but which never seem silly, it is matched only by Game Of Thrones. And as a showcase for British acting talent it really is second to none. So I genuinely implore you to set an hour aside every Sunday night for the next seven weeks and bask in its brilliance.
I'll begin with its merits as an adaptation for those who are familiar with the book. Full disclosure, Clarke's novel would place highly on my list of all-time favorites. I try to re-read it every year, and enjoy it in new ways every time. So you could say I was primed as a fan. But then you could also say it's people like me (and I imagine a few of you reading this) that this series needs to work the hardest on to impress.
As in the novel, Mr. John Segundus is our way into this world. Determined to prove that real magic still exists, he is instrumental in bringing the elusive Mr. Norrell into the public realm. After saving the life of an important politician's wife, he becomes celebrated. Yet he is plagued by the secret and dark power he unleashed to accomplish his feat, while an ancient prophecy comes to light. Part of this prophecy is the emergence of a second magician, Jonathan Strange. Charming and at ease where Norrell is cantankerous and awkward, the two begin a partnership which will alter the fate of the nation.
So while I'll avoid all spoilers, as there are lots of surprises in store, I will say that the BBC adaptation nails every important factor. By the end of the second episode I had no doubt that we were in safe hands, cast and crew all. With no room in a drama for the detailed footnotes which explored the world and its history of warring magicians, faeries, and kingdoms of the past, instead it's left for certain characters to provide a bit more exposition than they would in the book. What this does however, is focus key elements of the overarching story and mythology that didn't become apparent until the later stages of the novel. The Raven King truly is front and centre here.
It also means that everyone is slightly more of a caricature then they are in the novel. But this isn't a bad thing. With such huge and sprawling source material, trimming of the fat was necessary to make this watchable. So characters are painted quickly and effectively. Time is compressed, and if there is one fault in the adaptation, it is that I already think it will be too short. Seven episodes will not do the book justice. But in the time they have, they're creating something truly special. Writer Peter Harness has treated his source material with love, respect, but not undue reverence. It works on its own terms, as well as being quite indebted to the original work.
This is also probably the best looking drama series the BBC have ever made. For those who sometimes have to suspend their disbelief a few too many times on TV, you will witness effects here to rival any on the big screen, as well as sumptuous looking period sets, elegant costuming, and breath-taking otherworldly nightmarescapes. I had long imagined what the faerie realm looked like, and I take my hat off to director Toby Haynes when I say he and his team have realised it on-screen better than I ever could in my imagination. The same goes for a feat of magic involving horses made of sand in episode two which made the hairs on the back of my neck stand-up.
It was this scene which also laid any doubts I had about Bertie Carvel's portrayal of Jonathan Strange to rest. He nails the arrogant yet childlike wonder of a Regency gentleman who wants to find his place in the world. I remained slightly ambivalent in the first episode, as with Alice Englert's Lady Pole, but then I realised the journey that have to go is far greater than many of the other characters in the series. Almost every other character arrives if not fully formed, than at least sure of their place in the world, apart from these two.
And speaking of the others, they're brilliant. Eddie Marsan simply is Norrell, body and spirit, while Enzo Cilenti (lately of Wolf Hall) is a delight as the brooding Childermass, given a role of much more early importance here. For those who miss Paul Kaye's Thoros of Myr, he riffs on him a bit as street magician-cum-beggar Vinculus, while Peaky Blinders actress Charlotte Riley immediately provides a wise counter-balance as Strange's wife Arabella.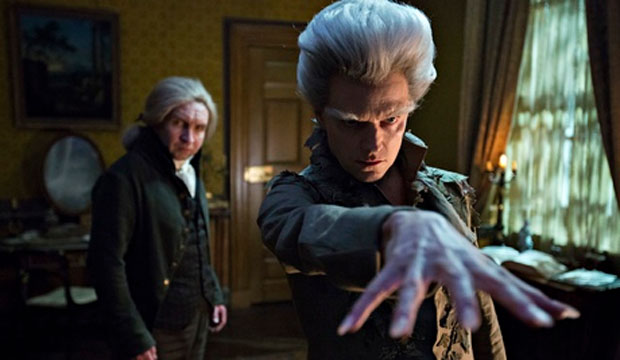 The stand-out of the first few episodes though, is Marc Warren's The Gentleman with the Thistle-Down Hair. While his motives and ultimate end-game remain enigmatic, there's no spoiling things when I say he'll be the villain of the year. If you thought Warren was good as Rochefort in The Musketeers, he's stepped up his considerable game once again here. It's performance of creepy control and spellbinding power.
For those who don't think they would like a fantasy series about magicians, then I say watch the first episode. You'll be so caught up in the period politics and social struggles of the age, the history, and most importantly the characters, that you probably won't realize an evil faerie has appeared on-screen to spirit people away to his magical kingdom in another dimension. And by the time you do, you'll be hooked and wanting more.
Jonathan Strange & Mr. Norrell premieres on Saturday, June 13th at 10 pm on BBC America.