News
Jon Glaser's Love of Gear is a Real, Intense Passion
Jon Glaser's latest bewildering brainchild is a labor of the truest love of all, a deep love and respect of gear.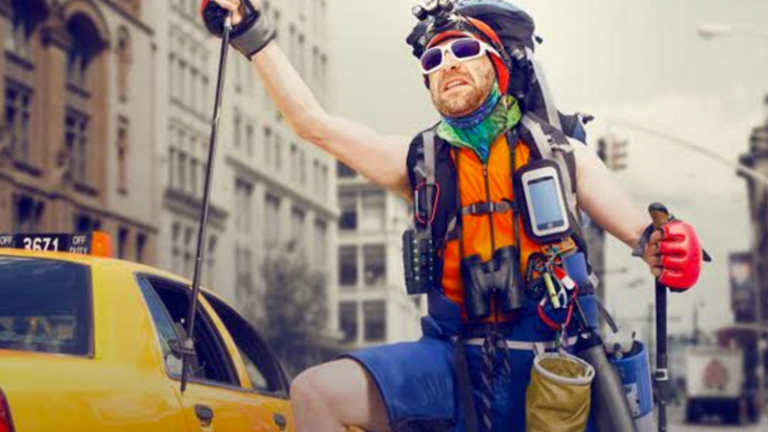 Jon Glaser has slowly been breaking it into the mainstream. Recently, he's been in high-profile projects like Parks and Recreation and Girls, but he's also created unique, bizarre series of his own like Delocated and Neon Joe, Werewolf Hunter. Jon Glaser's latest series is in a lot of ways his weirdest vehicle yet and an encouraging experiment.
Glaser's upcoming series, Jon Glaser Loves Gear, is a vehicle on TruTV, but just as weird as any of his Adult Swim material. The show takes on the curious perspective of a fake reality show that slowly seems to spiral out of control while taking ahold of Jon's life for the worse (if I could compare it to anything else, it would be Andy Daly's Review, but even then it's very different). 
Glaser dug into a particularly delicious tangent in the series where he goes about re-casting his wife in the show because she's becoming constantly agitated by him. At the core of all of this though is Glaser's—both the fictionalized version of the character in the series and the real life person—very real obsession with gear. 
At the New York Comic Con, Glaser explained that the nugget of this series grew out of a night where he was set to perform comedy and when he continued to face writer's block, instead turned to his gear-y rain jacket. He made his gear the focus of his set, with this bit slowly blossoming into the series that you'll see on TruTV later this month. 
Glaser continued to explain that while this show is obviously ridiculous, his love of gear is in fact very sincere. He's someone that's constantly obsessing over feature-heavy items and thinks that the show connects over the idea that everyone has an obsession about something whether it's dog accessories or Japanese pens. 
Glaser explained that each episode of his show will tackle a different gear-focused area, with topics like camping and biking being some examples of where the show will go. A wealth of high-tech products are thrown in the viewer's face and Glaser jokes that originally the program was titled, Jon Glaser Wants Free Stuff. 
The series' cast also features familiar friends of Jon Glaser like Steve Cirbus, Paul Rudd, and John Hodgman as the voice of Giri—which is a gear-centric version of Siri, of course. Glaser hopes his absurd humor connects, especially with the show being sort of its own animal, but at the least he knows it'll get the gear across. If he's done that much, he's achieved his goal.
Jon Glaser Loves Gear premieres on TruTV on October 26th with back-to-back episodes. That might be more gear than some can handle, but Glaser has faith in you all.