News
Johnny Lee Miller talks Elementary
Jonny Lee Miller, Elementary creator Rob Doherty, and CBS Entertainment President Nina Tassler have been sharing their thoughts on Sherlock Holmes, Benedict Cumberbatch, Steven Moffat, and more…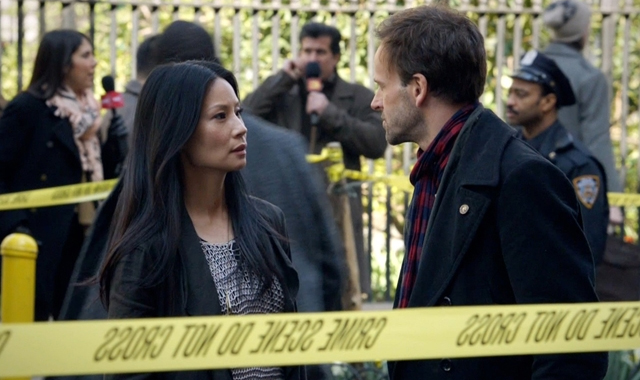 It has to have been an awkward conversation, the one in which Jonny Lee Miller told bezzie Benedict Cumberbatch that he'd be playing a modernised TV Sherlock Holmes across the pond. I like to imagine it all came out over a particularly heated game of squash, each utterance punctuated by the thwack of a rubber ball and a spray of Sherlock sweat. You all probably have your own mental image.
Speaking to Metromix New York, Miller recently came out as something of a 'Cumberbitch' (their word, not ours): "I love the work that Benedict has done with Sherlock. I would call him up like a groupie after every episode to want to talk about it." Miller added that Cumberbatch has been supportive since the announcement, saying "I wanted to reassure him about how different this script was… It's another country and another vibe." So far, so on-message.
Quick to distance herself from Steven Moffat's account of being approached by, and refusing CBS the rights to adapt Sherlock, speaking to Collider, CBS' President of Entertainment Nina Tassler had the following story of the show's inception: "Well, we didn't come up with it. Rob Doherty came in and pitched it. He came in from the studio, and we're the network. I had no conversations with the studio about it, until they walked in with the pitch."
Does Tassler think the BBC Sherlock would work on CBS? "Maybe. I think their vision is extraordinary. It's a wonderful show, and we've seen all of them. Theirs is very different from ours.
"We're big fans of the show on BBC, and some of the greatest actors in film and television have done this character, from Basil Rathbone to Nicol Williamson to Michael Caine. […] What was very exciting about Rob's pitch and script was that he is a real Holmesian expert. He knew all of the mythology. He was very well-versed in the genesis of Holmes and the stories. And the twist with Watson is something we jumped at immediately. It's a very forward-thinking way of doing the show."
We'll be able to judge for ourselves when Elementary comes to CBS on the 27th of September in the US, and to Sky Living soon afterwards in the UK.
Follow our Twitter feed for faster news and bad jokes right here. And be our Facebook chum here.