News
John Cena Will Return to WWE on July 4
With WWE's ratings dwindling on a weekly basis, will Cena's return to SmackDown Live finally move the needle?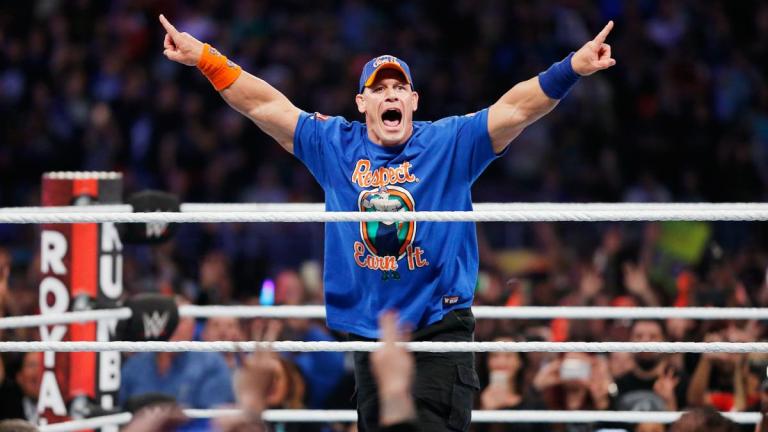 John Cena will be back on SmackDown Live in just short of one month, returning on July 4 it was announced on Tuesday's edition of SmackDown Live.
That's going to be a rough night for WWE, with the holiday here in the United States likely taking a huge chunk away from an already dwindling weekly audience.
But Cena's return is well-timed and certainly strategically placed. While it wasn't revealed what his business would be, most are concluding that he'll feud with Jinder Mahal over the WWE Title, and likely eventually win the belt to break Ric Flair's record for World Titles and be the American hero that slayed the "evil" foreigner.
That's a big selling point for WWE to put on a July 4 edition of SmackDown. If WWE booked a main event of Cena vs. Mahal for the WWE Title, with Cena entering the match with a chance to break Ric Flair's record that he currently shares, I think most wrestling fans would look at that as a can't-miss opportunity. You have the chance to see history made, in front of your eyes. Those are the moments promoters would kill for.
Cena breaking Flair's record is inevitable. It's going to happen, it's just a matter of when. Pulling out that card on July 4 would be a risk for WWE. The risk would be that it doesn't spike the ratings or even keep it the same, and the WWE continues to watch its show trend downward. If that happens, especially with Cena in the ring and the show being built around him, then WWE might finally admit that they have a major problem on their hands. If Vince McMahon doesn't see John Cena turn the ship around, he may start to believe no one can.
Would Vince be backed into a corner at that point? Or would he just tell himself – and have the people around him also tell him – that the idea to run this match and angle on July 4 was a good idea?
Regardless, the thought of Cena returning on July 4, and the prospect of him taking on Mahal, could either be WWE's home run, or its ultimate strikeout.
The Welcoming Committee beat Charlotte, Becky Lynch and Naomi
Lana finally made her SmackDown debut, and interfered in the match, which was telegraphed during a promo earlier in the segment. But, there wasn't much reason for her to interfere to begin with, which made it a little hard to explain from announcing standpoint.
The idea was to build up some tension ahead of the first-ever women's Money in the Bank match. They're focusing on the 3-on-3 feud, but it would be better served for WWE to play up individual rivalries before the match. That would also make it easier to run the match itself on the pay per view, where everyone is fighting for themselves, and not for any sort of team.
AJ Styles beat Dolph Ziggler
Last week didn't make any sense whatsoever, so it was definitely good to see Styles get his win back over Ziggler. The match itself was a little disjointed and not as smooth as their other matches.
Jinder Mahal beat Mojo Rawley
Woof, this was bad. Rawley had no business being involved with the WWE Champion, yet it's an interesting situation, because while Rawley has no business being near the champion, here you have Jinder Mahal as the champion, and he was embroiled in a feud with Rawley only two months ago.
Perhaps that's more an indictment on WWE's out-of-nowhere push of Mahal to the top of the card.
New Day beat The Colons
After the match – which honestly felt like it went a little too long – the Usos apepared and cut a promo against New Day, setting up what should be a really great feud moving forward.
For a while, I felt like New Day needed to freshen up their act, and they've essentially returned to SmackDown with the same gimmick they left Raw with almost two months ago, at the Superstar Shakeup.
If it means they can elevate the Usos with a good, solid feud, I think that's the right move. They can always move forward into something different down the line.
Shinsuke Nakamura beat Kevin Owens
Again, more 50-50 booking for Nakamura, at least within the context of the match against Owens. They need to get Nakamura over as a top star, and they need to give him a match against a made man, like Owens, only let him go over convincingly in jus ta few minutes. That's how you position Nakamura ahead of some of these midcard wrestlers, and put him at the top of the card along with Owens, Styles and others.
They have the opportunity to define Nakamura that way. Basically, you take the Mahal push, but invest those wins in Nakamura. It's easier to make that strategy work when you're doing it with a brand new talent, an not someone who has been defined down for the past year, and almost his entire WWE run.