News
Jeff Jarrett Inducted Into TNA Hall of Fame in Moving Segment
Jeff Jarrett was inducted into the TNA Hall of Fame as Impact Wrestling built to next week's No Surrender crescendo …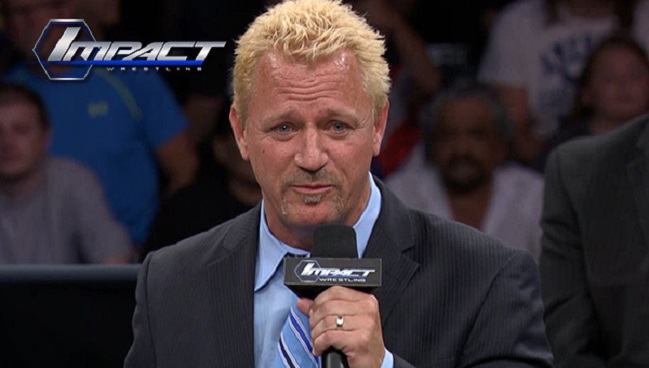 When TNA did away with most of its pay-per-view events last year, it was a smart move for the company. Focusing on the television product instead of the rapidly declining PPV market — look at WWE moving away from the model as well — was no doubt the smart decision for TNA.
The lack of monthly PPV specials has given way for more special editions of Impact Wrestling, one of which TNA will run next week with the show taking on the old No Surrender PPV moniker. The show, which will be main evented by Ethan Carter III defending his TNA World Title against Matt Hardy, was the focus of this week's Impact, with the program really in place to heavily promote next week's show.
But there was one segment that strayed from the hype machine for next week. In the show's final segment, Jeff Jarrett was inducted into the TNA Hall of Fame and gave a heartfelt, emotional speech in the ring to close the show.
There was plenty of potential for the Jarrett induction segment to be a stinker. After all, the TNA Hall of Fame isn't really all that meaningful. But for Jarrett, unlike Sting, Angle, or the Dudleys, the honor actually seemed like an honor.
Jarrett was choking up at multiple points in his speech, especially when he told the story of his father, Jerry Jarrett.
Jeff and Jerry had a falling out about a decade ago, ironically, involving TNA. The root of their issues was Jeff's insistence on using Vince Russo, the former WWE writer, as a central part of TNA intelligence. Russo has been widely criticized for his lack of pro wrestling understanding, including hot-shotting angles and rushing storylines, focusing too much on backstage antics and far less on the in-ring product. But Russo was a big proponent of Jarrett in WWE and then in WCW, writing him as WCW World Champion towards the end of his run there.
Jarrett told the story of their falling out, and at this point was in tears before announcing that he had reconciled with his father about six weeks ago, after years estranged. Jarrett also thanked his family, his wife, and every other TNA employee and fan, not all by name, of course.
For the founder of TNA, the TNA Hall of Fame should mean something, and it was clear that this honor did for him.
Match Results
1. Eric Young pinned Chris Melendez
2. TNA Knockout champion Brooke pinned Marti Bell to retain the TNA Knockouts Title
3. Mickie James & Magnus pinned Serena & James Storm
Quick Strikes
1. TNA seems to be heading down the road of another Eric Young-Kurt Angle match. Young pinned Chris Melendez in what amounted to a squash match, with Melendez getting very little offense in. Angle was in Melendez's corner, so it would make sense for Angle to step in at some point, though that doesn't do much for Melendez if they go in that direction.
2. The KO Title match was a strange one. Brooke got the win in her title defense but it was in cheap fashion, with Marti Bell distracted by Gail Kim's music. The babyface champion needed a distraction to beat a second-tier member of a stable headed by Taryn Terrell. That not sending the signal that TNA is fully behind Brooke as KO champion.
3. Mickie James and Magnus finally put to rest their feud with James Storm, beating Storm and Serena in a mixed tag match. James looked excellent for not being in the ring for a while, and Serena looked very good as well. If she's a more-permanent fixture on the TNA roster, she will transition well into the KO division.
The Finish
Overall, this was a solid show. Next week's Impact is a big one, with a lot of big matches, and the purpose of this show was to promote that, which it did heavily. The focus for TNA was clearly on next week. Without pay-per-views, building to these special episodes is fine, and I'm certainly looking forward to that show more than just any other regular weekly Impact episode, so this show did its job.