News
Jeff Hardy is Ready to Return to Superstar Status With TNA
Jeff Hardy is still a star for TNA, and his return could set up good things …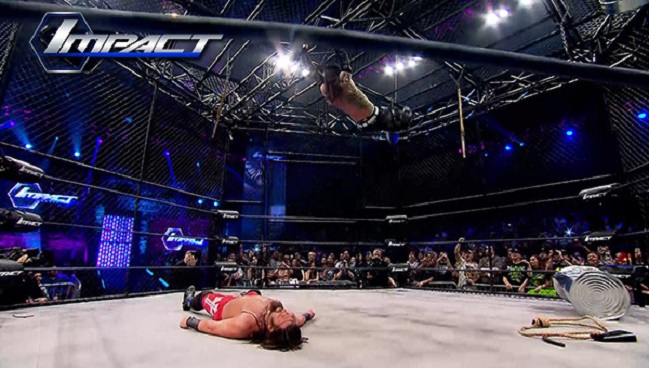 When Jeff Hardy left WWE and joined TNA in 2010, he was coming off his best year as a professional wrestler. He was the hottest star in WWE, main-eventing SummerSlam opposite CM Punk for the WWE Championship. John Cena may have been the face of the company, but like Daniel Bryan is today, Hardy was the fan's heart and soul.
Hardy made his return to TNA television on Impact this week in a steel cage match against James Storm after almost two months off, and again proved that he's capable of stealing the show. Hardy has been off television since February, when he suffered what was reported as a legitimate concussion following a match with Storm. It's hard to believe Hardy is only 37, but he's been on television for WWE since he was about 16 years old. He has been in the ring, on national TV for almost 20 years, but has found a way to keep himself fresh as a character. It's quite an accomplishment.
Hardy's attitude and demeanor endear him to a large portion of the fanbase. He's easily relatable. He's also himself, which is where most pro wrestling companies fail in terms of character development. When your television character is just yourself, you're always on.
It's also a perfect time for Hardy to return.
Kurt Angle won the TNA World Heavyweight Title last week and it was announced on this program that Bobby Lashley would get his automatic rematch on next week's episode. Assuming Angle retains, we're likely to see some shakeup in TNA's storyline direction.
Kurt Angle's championship celebration was interrupted by Austin Aries, Bobby Roode, Eric Young, and Ethan Carter III, who could all be positioned to be Angle's next challenger. Roode and Young will wrestle next week in what appears to be the blow-off match for their longstanding feud (truthfully, I thought they were doing this last week).
TNA will be concluding a number of storylines, it appears, next week and will begin transitioning into the feuds that will likely take the company through the summer. Wherever Hardy slides in should be a top spot. The reaction for his return — sure, part of that was because he had been off television — was good enough to prove that he's a focus of the fanbase.
No matter his past, and it's been rocky, Jeff Hardy is a star. TNA just has to make him their own.
Quick Strikes
1. TNA opened Impact with a message that read: "In Memory of El Hijo Del Perro Aguayo," who is a Mexican star that died last Friday during a match in Mexico. He never wrestled for TNA, but Manik, a former TNA wrestler, was involved in the match. It was a classy move by TNA to recognize his passing. WWE did not mention it at all on their television programs this week.
2. Magnus will wrestle Bram in a Falls Count Anywhere match next week on Impact. TNA has done a great job booking Bram is a top-level heel, at least he's been positioned that way. He's been running through guys and if TNA has to sacrifice Magnus in this match in order to make Bram look like a monster, it's worth it in my opinion. Magnus has been on TV long enough that it should be easier to rebuild him after a loss than it will be to rebuild Bram as a monster heel if they derail him so early into this push.
3. TNA subtly addressed that Samoa Joe was no longer with the company. They didn't mention any real reason why, but did feature a backstage segment where the Beatdown Clan mentioned that they "lost" Joe, and needed to find a replacement. Opposite the BDC, Drew Galloway introduced a new faction he's going to call "The Rising." The group will feature himself, the former Camacho in WWE and the former Shawn Ricker from NXT.
4. The end of the Awesome King victory over Brooke saw Taryn Terrell trying to make the save for Brooke, but Kong put the champion through a table. It was an interesting visual. TNA is more apt to let their women get aggressive on television, and Kong fits that profile perfectly. She's made for segments like that.
Match Results
1. Rockstar Spud [c] def. Low Ki to retain the X-Division Title
2. Awesome Kong def. Brooke
3. Ethan Carter III, Tyrus & Eric Young def. Austin Aries, Bobby Roode & Mr. Anderson
4. Jeff Hardy def. James Storm in a Steel Cage Match
The Finish
With the exception of the main event, this show felt more like a setup for next week's program, but sometimes that's OK. You can't run the pedal to the metal 52 weeks per year. Sometimes you need to let the show breathe and reset, and that's what this episode did a nice job of doing. Next week's Impact already feels like a big deal.