News
It's Always Sunny Creators Producing Video Game Comedy For Apple
It's Always Sunny in Philadelphia creators Rob McElhenney and Charlie Day are bringing a video game comedy to Apple.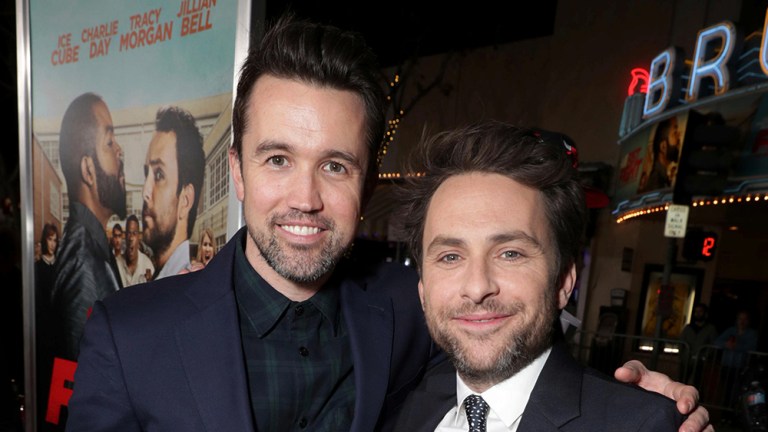 The folks behind It's Always Sunny in Philadelphia are on a roll. The show's 13th season debuts in September but that hasn't stopped the entire creative team from finding new projects.
The newest project comes from co-creators Rob McElhenney and Charlie Day, who will be bringing a comedy set in a video game development studio to Apple's new still unnamed streaming service. 
Variety reports that McElhenney and Day have scored a straight-to-series order for their half-hour comedy series from the tech giant. McElhenney and Day will produce and write the show while McElhenney will also star in it. The series is to be set in a video game development studio. Interestingly, actual video game development studio Ubisoft will serve as a producer. Ubisoft is the studio behind the Assassin's Creed and Tom Clancy's Rainbow Six series of games. Gérard Guillemot, Jason Altman and Danielle Kreinik will represent the studio as producers.
Not much else is known about the plot beyond that but it's heartening to see that McElhenney still has an interest in acting. The actor, writer, and producer has mostly stayed behind the camera in his non-Sunny projects like Fox's upcoming midseason replacement comedy featuring Sunny star and McElhenney's spouse Kaitlin Olson. Day has had a successful non-Sunny career as an actor in movies like Pacific Rim, Horrible Bosses, and Fist Fight. He also will be producing Fox's retirement home comedy The Cool Kids in the fall.
It's no surprise that the It's Always Sunny crew keep finding new opportunities on television. The show that started off with just a camcorder and some crass jokes has proven to be one of television's sturdiest presences. The 13th season debuts on September 5 but 14th and 15th seasons have already been ordered, making it the longest running live action comedy in American TV history. 
Day and McElhenney created the show alongside Glenn Howerton, who now headlines his own NBC show A.P. Bio. Despite their wide array of projects and collaborations this Apple series will mark only the second time Day and McElhenney have been in the same writer's room after It's Always Sunny.
Read the latest Den of Geek Special Edition Magazine Here!