News
Is TNA Impact Wrestling Running Out of Content?
After two very good episodes to open the World Title Series, TNA slowed things down a bit this week …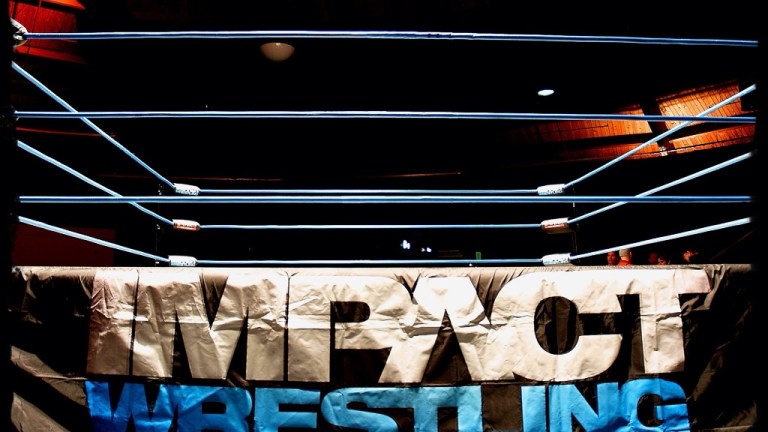 On a night where TNA aired a replay of a pay-per-view main event and then glossed over a pair of first-run World Title Series matches, Impact Wrestling seemed to take a breather.
On the whole, it was a really slow show, with what feels like a lot of filler. From replaying the BFG main event to recapping the standings and then even going over the format — again — it's possible there isn't enough content to fill the next several weeks and this show is slowing down the pace in an effort to help stretch out the shows.
The idea behind the World Title Series, to me, was really simple. First, TNA wasn't sure at its last television tapings how long it would be on the air. That's my opinion. So instead of taping a long run of storyline material, they taped matches. A lot of matches. 
ECIII "filed an injunction" against TNA preventing them from airing the show if Matt Hardy was champion, setting up the Series.
This all makes a lot of sense. If TNA was going to get booted last month by Destination America, then they have a storyline reason why they're no longer on television. ECIII and his injunction.
It was actually really smart, making sure they had a backup plan. Then, after coming to agreement with Destination America to air at least through the end of this year, they have a whole slew of matches for a World Title Series that's set to go on television.
But there is a lot of TV left between now and the start of January, when TNA will supposedly be off Destination America. So I wonder, even with such an influx of matches, if they needed a filler episode like this (and maybe even one down the road as well) in an effort to stretch out the content.
So they seemed to be filling a lot of time, and then instead of a full matches between Crimson and Godderz as well as Drake and Micah, they just showed highlights of the finish. The BFG replay aired as the show transitioned to the 10:00 hour, so considering not many people bought BFG compared to how many watch Impact, maybe it's smart in an attempt to snag some viewers.
The strategy makes sense. But, it felt odd watching a replay and then basically skipping two new matches.
Match Results
Note: All matches were World Title Series round robin matches
Austin Aries beat Mr. Kennedy
Tigre Uno beat Mandrews
Jessie Godderz beat Crimson
Eli Drake and Micah wrestled to a double count-out
Manik beat D.J. Z
ECIII beat Bobby Lashley
Quick Strikes
1. So … it doesn't look like they have much planned for Anderson. He shouldn't be hurt much by losing to a pair of former World Champions, but it does send the message that TNA just doesn't quite think he's on that level. This could all change against ECIII in Anderson's final match, where he'll be looking to play spoiler. It would be something to give Anderson the first win over ECIII and then ECIII has a feud against an established name who can match him on the microphone. It could also reinvigorate Anderson if done correctly.
2. They didn't have a lot of time, but this was a good match between D.J. Z and Manik. They started with some good wrestling working some simple holds and then transitioned into some high-flying moves and then into some more physical strikes at the end of the match.
Final Thoughts
The episode just did not measure up to the first two World Title Series episodes. The focus was on the in-ring matches again, which was good, but this show felt like a lot of filler. Next week's show seems to be stacked, so maybe that was by design. They replayed the BFG main event instead of airing either of the first-run matches they had only highlights from. That was likely done to make sure there were some marketable names in the ring as the hour clicked over, but it still made the show feel very forgettable.
There was too much recap, and after two really solid episodes the last two weeks, some of the steam was lost this week. That said, next week's program does seem to be loaded with some big matches, so perhaps this was an effort by TNA to let the audience breathe before a big episode next week.