News
Is Starz the new 'geek' channel of choice?
As it sets about bringing Torchwood back to our screens, has Starz become - off the back of shows like Spartacus - the new geek channel of choice?
When it came to quality programming, it was the likes of HBO and Showtime that had the monopoly on big budget productions. Shows like Band Of Brothers, Rome, The Sopranos, Deadwood, The Tudors and Sleeper Cell confirmed this, but over the past few years other channels have caught on, producing lavish shows such as Mad Men, Lost and Battlestar Galactica.
Such shows have made audiences accustomed to high quality productions, but this year has seen a 'new kid on the block' acquire some of the most anticipated and well received shows of recent years.
Founded in 1994 as a movie channel, Starz has, since 2005, begun airing an increasing amount of original programming to compete with the likes of HBO and co, and seems to have secured programs that will attract niche audiences, namely those that appreciate a good period drama or sci-fi show.
Since 2008, Starz has produced the TV series of the hit film Crash, which has been quite popular after two seasons. However, Dennis Hopper's recent death has made its future uncertain.
Despite this, Starz has secured other popular shows that it is certain will find an audience in the US, most notably, popular BBC show Torchwood.
The first three series of the hit sci-fi show have been incredibly popular on BBC America, with the third series Children Of Earth receiving notable critical acclaim. As such, it was decided to create a fourth series in cooperation with a US network for higher budgets and a greater 'international' scale. Also, the fact that they killed off most of the cast in the last series meant they would need to hire new actors.
Fox reportedly turned the BBC down, but Starz, seeing the potential, stepped in. In June, it was announced that BBC Worldwide, BBC Wales and Starz would co-produce Torchwood: The New World, a show that has been described both as a 'reboot' and a continuation of the adventures of Captain Jack Harkness and Gwen Cooper.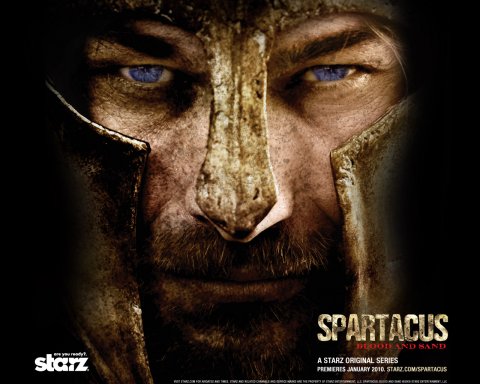 Another hit for the channel has been Spartacus: Blood And Sand which has been the highest viewed show on the channel. The show's graphic violence, coarse (yet classical) language and sexual content bordering on pornography has been immensely popular with the channel's viewership and has led to a prequel series being commissioned.
However, leading man Andy Whitfield's battle with non-Hodgkin lymphoma has put a second season into doubt.
That hasn't stopped Starz investing in two other historical series: The Pillars Of The Earth and the forthcoming Arthurian drama series Camelot.
The Pillars Of The Earth, which was shown in July, was an eight part drama series based on Ken Follett's novel of the same name.  Set in twelfth century England, it tells the intertwined tales of a country gripped by civil war, religious strife and one town's efforts to rebuild their cathedral. Produced by Ridley Scott, the $40 million series stared Ian McShane, Donald Sutherland, Rufus Sewell, Eddie Redmayne, Matthew Macfadyen and the latest cast member of Captain America, Hayley Atwell.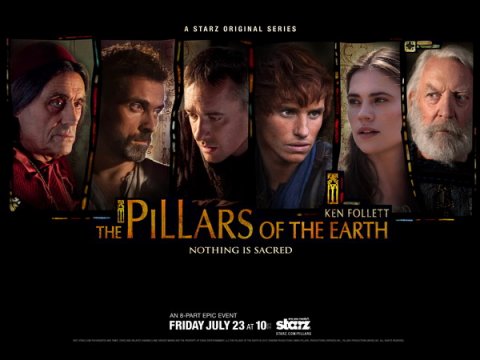 The show, which is to be shown on UK Channel 4 later in the year, was an epic, sweeping miniseries that, in this writer's opinion, has raised the bar for HBO's Game Of Thrones in terms of medieval drama and action.
However, Starz hasn't stopped there, and despite the BBC's series Merlin still drawing in audiences, has commissioned its own Arthurian show, although it's fair to say this will be more violent than the BBC's family friendly production.
Titled Camelot, the series promises "a fresh approach to telling the Arthur story" and includes a cast of Joseph Fiennes (FlashFoward) as Merlin, Eva Green (Casino Royale) as Morgana and Jamie Campbell Bower and Tamsin Egerton as Arthur and Guinevere, respectively. James Purefoy and Clive Standen also star as King Lot and Gawain.
Using the crew behind The Tudors, Camelot is gearing up to be another epic period series and if you're not yet sold on the idea, let Joseph Fiennes ease your uncertainty.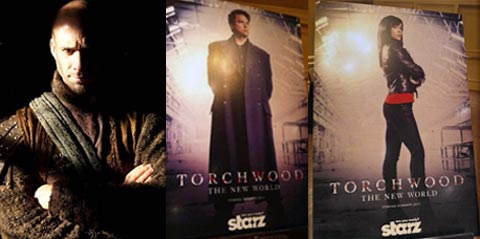 Speaking to the press last month, Fiennes said, "The magic lies in the political essences of the piece. There will be dark arts. You'll see things disappearing and changing shape, but it's really about the birth of a legend, about power given to the wrong individuals, a country split by war and greed… and the assent of a pure king and noble minds. It's a beautiful, riveting, romantic, sensational epic story that has never been told.
"My Merlin is more of a warrior monk and less of a Zen Obi-Wan Gandalf," he added. "I think there's a duality with Merlin – he fights fire with fire, he drives out a nail with another nail. He doesn't turn the other cheek.
"I don't think Merlin is a villain, but he is far from driven snow. I think he is full of Machiavellian machinations. There's an element of Willy Wonka, Donald Rumsfeld and Obi-Wan to him."
Intriguing, but with no footage yet released, it remains to be seen whether it can dismiss concerns that the world needs another Arthur series.
Still, one thing is certain with all these shows of high production value and budget, Starz is moving to align itself with the best TV networks on the planet. Time will tell whether it will be mentioned in the same breath as HBO and Showtime, but in this writer's opinion, it's getting there.
Here's a trailer for The Pillars Of The Earth comingto UK's Channel 4…
See Also: