News
Is it Time for WWE to Bring Back the Brand Split?
WWE set the table for the Extreme Rules main event on an otherwise underwhelming episode of Raw from the U.K. …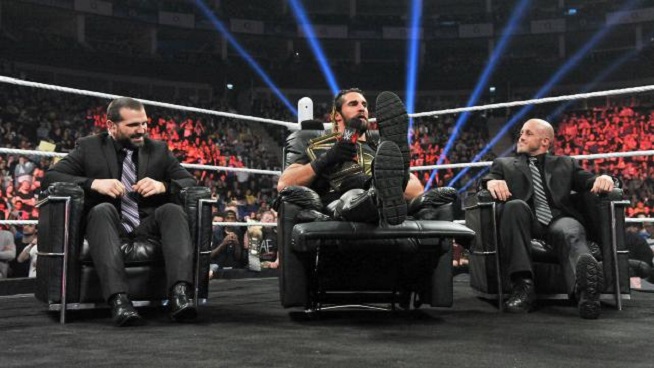 Filler seemed to be the name of the game as WWE invaded London's O2 Arena for an overseas episode of Monday Night Raw. There were some very good segments of this show, most notably the opener, but the rest of the night seemed to lag. It again stems to the issue with the show being three hours. Overexposure is a problem, and it showed its ugly face a few times in this episode.
First, the big news was that Seth Rollins and Randy Orton each named a stipulation for their WWE Title match at Extreme Rules. Orton and Rollins each won matches, which allowed them to choose a stipulation for the match. Rollins' choice made a lot of sense. He decided to ban the RKO, which limits his opponent and also makes sense given that Rollins took a huge RKO at WrestleMania 31 a few weeks ago.
Orton's choice left the audience scratching their heads. Orton decided he wanted to take away J&J Security, which is smart, but he did so by making it a steel cage match. That's where the story fell off the rails. WWE has compromised the cage match time and time again. The idea that a cage is going to keep Joey Mercury and Jamie Noble out of the match is nonsense, especially when they debuted a cage with a roof — Hell in a Cell — almost 20 years ago.
When I review these shows, I always try to look at the program through the eyes of someone who is going to take the show at face value. Someone who is watching that program the same way you'd watch a television drama is going to wonder why Orton didn't just go all the way. It makes Orton's character look kind of dumb, which is never good when you're a babyface.
Internally, the real reason is that WWE has Hell in a Cell matches reserved for its Hell in a Cell pay-per-view. That's fine, but wouldn't be it nice if they explained that. Have Orton choose a HIAC match, only to be corrected by Kane or Seth Rollins that it was off limits because it's reserved for that event. If anything, that draws some more heat on the heels and at least explains Orton's mindset.
I didn't like the way it was executed.
Aside from that, there was a lot of filler on this episode. There were a whopping 11 matches! 11!
Paige won a Battle Royal in under four minutes and Stardust, Sandow, Dean Ambrose and Ryback each won matches in under three minutes. That's all essentially filler to get the show to three hours. I guess the argument is, maybe with a two-hour program, those guys aren't on TV, but it's just too long a show.
I'd rather see WWE roll Raw back to two hours — which I know will never happen because there's too much money involved — and use a soft brand split. Not a hard-lined split like they had before, but just a creative rule that if a guy is on Raw, he's not on Smackdown. That opens it up to feature more guys and also allows whoever is at Raw the chance to travel home on Tuesday.
You could also bounce guys back and forth. Cena, for example, is probably exclusively a Raw guy, with rare appearances on the taped show. But someone like Ambrose could be on Raw one week, and Smackdown the next. But never both in the same week. That doesn't overexpose the talent, which is what's happening now, and rolling the show back to two hours doesn't overexpose the product as a whole.
Quick Strikes
1. John Cena defended his U.S. Title against Bad News Barrett in a really great match. Cena continues to deliver with his open challenges. The crowd reaction for Barrett here was great, and it really elevated him.
2. Big Show attacked Roman Reigns, chokeslamming in on a cab, which I'm sure leads to yet another Reigns-Big Show match. It is what it is, I guess. WWE just doesn't know what to do with Reigns after changing plans so abruptly at WrestleMania. So what to do? Just keep going back to the well with the same match they've featured on television for weeks. At least this is an attempt to spice it up a bit with some added intensity.
3. I'm all for elevating Randy Orton and building him up before his WWE Title match at Extreme Rules, but did they have to job out the WWE Tag Team Champions in order to do it? In a handicap match, no less. That really hurts Cesaro and Kidd, and those belts, despite them being a heel.
Match Results
1. John Cena [c] def. Bad News Barrett to retain the U.S. Title
2. Paige won a Battle Royal to become the No. 1 Contender to the Divas' Title
3. Lucha Dragons def. The Ascension
4. Randy Orton def. Cesaro via DQ
5. Randy Orton def. Cesaro & Tyson Kidd
6. Dean Ambrose def. Adam Rose
7. Stardust def. Fandango
8. Seth Rollins def. Kane
9. Sandow def. The Miz
10. Ryback def. Luke Harper via DQ
11. Dolph Ziggler def. Neville
The Finish
An OK show. Not great, and it felt like a post-WrestleMania letdown type program. I'm not ready to panic yet, because it's likely that the taped environment, and being overseas, had something to do with it, but it's not a great showing from WWE.
Let's see what happens when the show comes back stateside, with a more normalized crew, before making any rash judgements.