Features
Is it time for a Robot Wars revival?
Immortalised by a great episode of Spaced, Robot Wars was a late 90s phenomenon that James feels is due a comeback...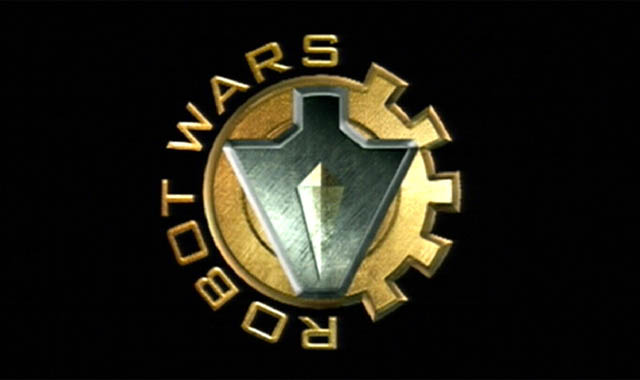 Three! Two! One! Activate!
Of the many TV memories of my childhood, one of the most prominent is BBC2's Friday evening line-up: The Simpsons, followed by the The Fresh Prince Of Bel Air, and finally Robot Wars. The brainchild of Marc Thorpe, a toy designer for Lucasfilm, the sport of robot combat was eventually picked up as a television programme by the BBC.
The premise was simple: teams built radio-controlled robots designed for combat against other robots which then did battle in an arena filled with hazards such as angle grinders, flame pits, and the famous Pit Of Oblivion. Overseeing the carnage were the House Robots. Five robots with no weight, size, or weapon restrictions that were operated by the members of the programme's crew and that were permitted to attack the competitors should they enter certain parts of the arena. The initial roster of House Robots was: flamethrower-toting Sergeant Bash, chainsaw-wielding Matilda, Shunt, which was capable of pushing a Land Rover, and the crab-like Dead Metal. In later years, five new House Robots were added. Sir Killalot who quickly became the most known and feared of the House Robots, weighing 520kg and armed with a rotating lance and crushing claw. The RefBot had no combat capabilities and served (as his name suggests) to referee the matches.
Series 6 saw the introduction of Mr Psycho and Growler, who were based on the Oliver Twist characters Bill Sykes and Bullseye. Mr Psycho was essentially a copy of Sir Killalot but armed with a pneumatic hammer instead of a lance, and Growler, a dog-shaped robot with hydraulic jaws and a rear-mounted flame jet. Cassius Chrome was the final House Robot to be added and made its first appearance when the series was in its death throes on Channel Five. It may have been fast but its weapons were largely ineffective, and it was frequently damaged or immobilised by the competitors.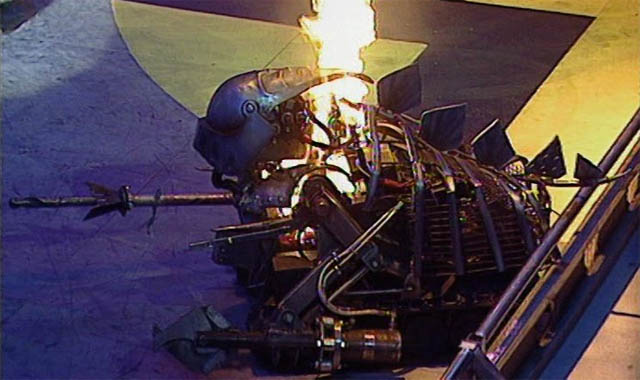 The early years before the series really got into its stride are largely forgotten, so it's probably going to come as a surprise to some of you that the programme was originally presented by Jeremy Clarkson before Red Dwarf star Craig Charles took over in series 2, Sir Killalot was introduced at the same time, and before the format was adjusted for series 3 to make the programme solely about the battles, there were various other challenges including jousts, football, obstacle courses, and snooker.
Given that series 1 was when the programme was still in its infancy, it hasn't aged particularly well. Clarkson is something of a lacklustre presenter and the lack of competitors meant that the producers had to bring in a trio of stock robots solely to shore up the numbers so a whole series could be made. Naturally these robots were in no way impressive (particularly a featherweight one that was made of wood), and the contests were rigged so that they wouldn't reach the battling stage at the semi-finals. Thankfully, as the programme went on, stock robots and match fixing were no longer needed. Also, special mention should go to Jonathan Pearce's wonderfully over the top commentary which always seemed to complement the scenes of destruction in the arena perfectly.
Following Clarkson's departure, the show went from strength to strength with Charles' enthusiasm adding energy to his presenting. Tomorrow's World's Philippa Forrester remained a strong co-presenter, and, in addition, the robots were simply better quality making for a much more interesting programme. It was here that most of the programme's best known and loved robots came into the picture such as the deceptively unthreatening Chaos 2, and the astoundingly destructive Hypnodisc, and Razor, the winged crushing machine that annihilated Matilda after defeating opponent Onslaught in just over two minutes.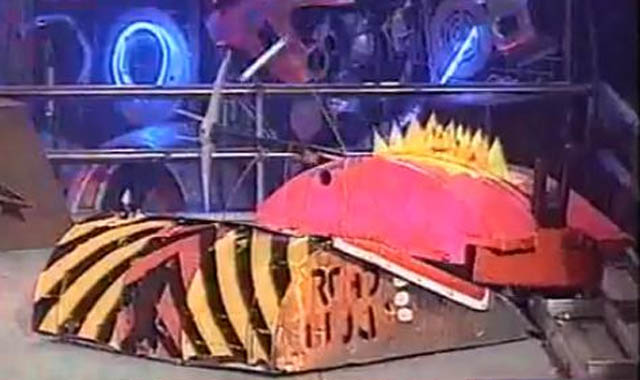 After series 1 of the spin-off Robot Wars Extreme, the show was located to relocated to BBC Choice (the forerunner of BBC3) where it became subject to some questionable additions such as the introduction of Mr Psycho, Growler, and Cassius Chrome, a different household object such as a fridge or a washing machine being dropped onto the arena from a great height during battles, and ridiculous yellow and black leather outfit for Craig Charles. Its subsequent move to Channel Five for series 7 proved to be its undoing and it died a slow death before being axed. And so the arena was sold for scrap for a measly £250, and the series began to fall out of our collective consciousness, only living on through repeats of Robot Wars Extreme on Dave.
But despite its ignominious end, the series lives on in our memories. Because whether it was epic battles between the some of the programme's greatest competitors such as Razor vs Pussycat, or out-and-out destruction like Hypnodisc vs Splinter, Robot Wars never failed to entertain. It tapped into that primal part of our brains that loves to see destruction, but was essentially good clean fun that whole families could enjoy together. In short: it was perfect primetime entertainment.
So surely the time is right for a revival. Robot Wars has something that is sorely missed on television these days in that to appear on it requires talent and skill. This is one programme where being a maladjusted moron (Big Brother) or having a sob story like "I want to win this for my poorly gran" (pretty much any talent show on TV at the moment) will do you no good. It's a battle of wits and engineering ability. And that's made it so brilliant. It was about great engineers coming together to decide which of them was the best. A perfect sport for the digital age. I'll leave you with my own take on Craig Charles' four-line poems with which he ended each episode.