News
Is Drew Galloway's World Title Win Too Soon?
Drew Galloway won the TNA World Hvt. Title on a live Impact ...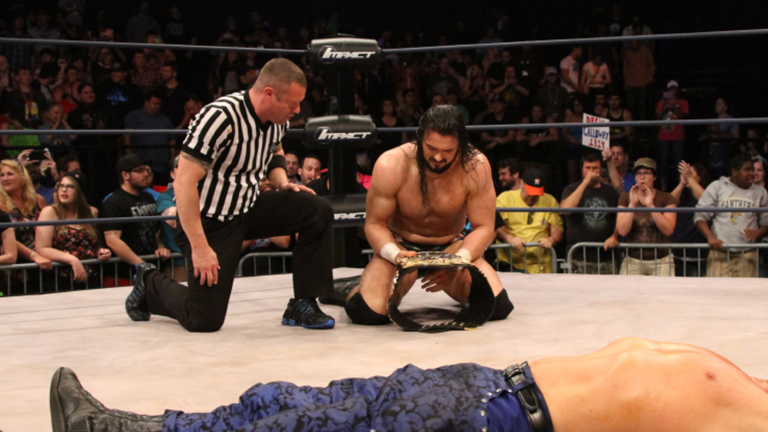 Drew Galloway beat Matt Hardy after cashing in his Feast or Fired briefcase on Tuesday night, during a live edition of Impact Wrestling, pinning the champion in 23 seconds after he just completed — or did he? — a No DQ match against Jeff Hardy and ECIII.
Eric Young took out Hardy and Mike Bennett took out ECIII. That led to both being helped to the back, while Matt Hardy gloated in the ring before Galloway cashed in.
It was a great moment, but it felt a little rushed. It's smart of TNA to keep the big surprises, like Galloway winning the World Title, for the live episodes, but Matt Hardy was just scratching the surface with his persona as the heel champion. The timing felt off with Galloway's win.
That being said, TNA could have been just trying to put the World Title on a babyface. TNA hasn't had a babyface World Champion since Kurt Angle lost to ECIII last July, almost nine months ago. Of course, that's if you exclude Matt Hardy's three-day run with the title in October.
This episode of Impact really felt more like a pay-per-view. The focus was on the matches that last several weeks of shows, some heavy on the promos, were building up to.
We'll see how TNA follows up on Galloway's World Title win, but at least initially, it felt rushed. Building it a bit slower, with a match and pay-off for Galloway sometime in the summer or even at October's Bound For Glory would have been more impactful. Waiting until October may have seemed too long, but it also would have the natural tie-in of that show being where Galloway was basically screwed out of his one-on-one match with ECIII last year, and the one-year journey for him finally coming to fruition. Instead, he got his win rather cheaply, cashing in on a tired heel champion and winning in 23 seconds. It's the same debate we could have when babyfaces use Money in the Bank to win a World Title. With Galloway, you could even have him pull a Daniel Bryan, and announce ahead of time that he's cashing in at Bound For Glory to finish what he started.
With the whole situation feeling like it has moved too fast, the follow-up is going to be very important. But how does TNA explain that the righteous, genuine and "man of the people" Drew Galloway would be okay with essentially stealing the World Title, even if it's from a heel?
Not to mention, the actual main event title match never officially ended. Jeff Hardy and ECIII were helped to back and that was it. There was no final bell. 
Jeff even being added to the match felt weird. He beat Eric Young to get inserted into the main event after Dixie Carter came out, mid-match, to announce that the winner would make the main event a three-way match. This happened after E.Y. yelled at Dixie backstage prior to the match.
Think about the logic here. Jeff Hardy never had his title shot about six weeks ago, because Eric Young attacked him prior to the match and gave him a piledriver on the steps. Hardy's first match back is a grudge match against Young, which is fine, but the owner of the company decides that the man who attacked him also gets an opportunity to essentially steal Hardy's title shot?
In the end, it didn't matter because Hardy won the match, but why exactly did E.Y. deserve a title shot? Because he attacked Hardy? If that's the logic, why aren't heels taking out babyfaces left and right in order to get title shots? TNA also cut away from Hardy's ring entrance — he was making his much-hyped return to the company — in order to air the E.Y. argument with Dixie backstage.
Solid match, but there were a lot of production elements of that opening segment that left huge holes in logic. Pulling the camera away from the big returning babyface, interrupting the match for a promo seconds after Mathews gloated that their wrestling show was starting with wrestling, and then giving someone a No. 1 contender's match whose only real reason for "earning" a title shot was attacking his opponent weeks earlier.
Match Results
1. Jeff Hardy beat Eric Young
2. Maria & Mike Bennett beat Drew Galloway and Gail Kim
3. Decay beats Beer Money & Eddie Edwards
4. Grado beat Eli Drake in a ladder match to earn back his TNA contract
5. Matt Hardy vs. Jeff Hardy vs. ECIII for the TNA World Hvt. Title ended an in apaprent no-contest
6. Drew Galloway beat Matt Hardy to win the TNA World Hvt. Title
Quick Strikes
1. Lashley's strength is not his promos, yet TNA put him in that position one week after he turned heel in a match against Kurt Angle. If TNA wanted to get him over as their Brock Lesnar, which appears to be the road they're trying to go down here, not speaking should be a big component. Lesnar has Heyman to talk for him, which adds to his mystique. That, added with him taking about just about anyone in his path.
In this segment, Lashley sounded like his normal self during the promo, which was okay but nothing special, and then took out the announcers. He can be a big monster, legitimate fighting heel, but he needs to be produced better than that, with his strengths — size, strength, and butt-kicking ability — more appropriately highlighted.
2. TNA executives "aren't sure" what Drake did with the briefcases, despite them showing a video that shows exactly what Drake did seconds before. Granted, you don't see Drake switch the contracts inside the cases, but there could have been better ways to do this. Maybe show Drake grabbing the briefcase and then leaving view of the "security camera" so that you literally don't see anything, rather than showing Drake fiddling with the cases. That would seem to give Drake more plausible deniability than this scenario.