News
Into the Dark Trailer Promises Holiday Scares All Year Round
Hulu wishes everyone a scary Christmas and a creepy New Year, as well as a bloody Valentine and Thanksgiving in Into the Dark Trailer.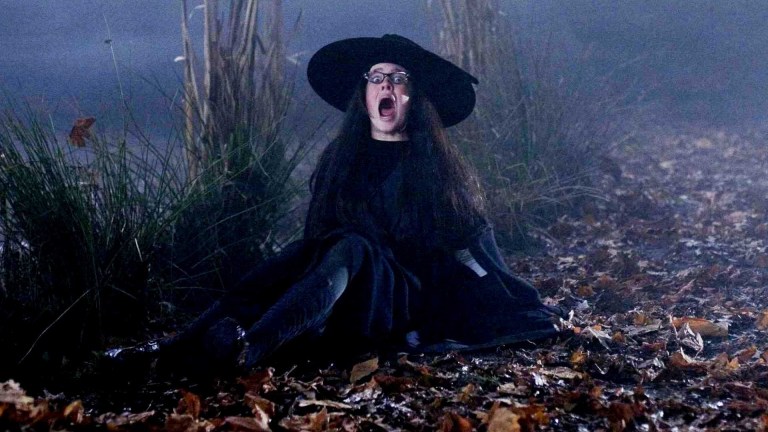 The holidays can be frightening, whether we're looking for the right Christmas present, the perfect Valentine's Day floral arrangement or a chocolate Easter bunny without a broken ear. Into the Dark's first trailer promises holiday nightmares for every season. Blumhouse's horror anthology will air a dozen daunting installments on Hulu this year for a once-a-month holiday treat.
The tricks begin in time for Halloween when Into the Dark presents "The Body" on October 5. The episode follows a hitman whose costume gets in the way of a wet work disposal. The twelve standalone episodes continue through Thanksgiving when the "Flesh and Blood" is carved out of some turkey. Black Friday may be scary at the malls, but it's a perfect time to dangle a dark ornament on a "Black Christmas" tree. And don't forget to leave something more than a carrot for the Easter Bunny.
"12 months. 12 tales," reads the official synopsis. "Into The Dark is a horror event series from prolific, award-winning producer, Jason Blum's independent TV studio. The series includes 12 super-sized episodes, with a new installment released each month inspired by a holiday and will feature Blumhouse's signature genre/thriller spin on the story."
"The Body," directed by Paul Davis (Beware the Moon: Remembering An American Werewolf in London), who wrote the episode with Paul Fischer, stars Tom Bateman as "a sophisticated hitman who has a cynical view on modern society." He finds his work made more difficult when he has to "transport a body on Halloween night, but everyone is enamored by what they think is his killer costume." The episode also stars Rebecca Rittenhouse, David Hull, Aurora Perrineau and "Ash vs Evil Dead's" Ray Santiago.
"Flesh & Blood," which premieres on November 2, 2018, was directed by Patrick Lussier (Drive Angry,  My Bloody Valentine) from a screenplay written by Louis Ackerman. "Kimberly, a teenager suffering from agoraphobia, has not left the house since her mother's murder, which remains unsolved," according to the official synopsis. "While under the care of her doting father on the eve of Thanksgiving, Kimberly begins to suspect that she is in danger, and that it's always the ones you love that hurt you the most." The episode stars Dermot Mulroney, Diana Silvers, Tembi Locke and Meredith Salenger.
You can watch the trailer here:
Into the Dark episode 1 premieres on Oct. 5.
Culture Editor Tony Sokol cut his teeth on the wire services and also wrote and produced New York City's Vampyr Theatre and the rock opera AssassiNation: We Killed JFK. Read more of his work here or find him on Twitter @tsokol.