News
Into the Badlands Season 3, Episode 3 Exclusive Clip
We have an exclusive look at an epic duel from Into the Badlands Season 3, Episode 3, "Leopard Snares Rabbit."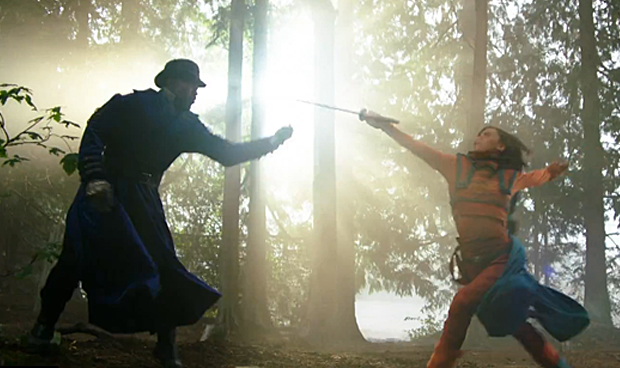 Into the Badlands Season 3 is in full deadly swing on AMC, showcasing a different dynamic between characters than we've been seeing during the first two seasons, as the ever-embattled Sunny (Daniel Wu) now has to shed blood in the Badlands while juggling duties as a single father to baby Henry. To continue whetting your appetites, we've procured an exclusive clip of a spectacular, we daresay sublime, swordfight from the upcoming third episode, "Leopard Snares Rabbit."
One of the most notable changes in the Season 3 playing field has been the defection of Tilda (Ally Ioannides) from her adopted baroness mother, The Widow (Emily Beecham), whose ruthless power grab (which she claims to be rooted in benevolent intentions,) left her alienated. Now, Tilda exists as a mysterious masked post-apocalyptic Robin Hood, called the Iron Rabbit, constantly looting from her mother's supply trucks and giving the bounty to a small camp of struggling survivors, led by former baroness Lydia (Orla Brady). Consequently, The Widow, who also counted on Tilda as her regent (leader of her army), has replaced her in that capacity with the formerly-retired legendary clipper, Nathaniel Moon (Sherman Augustus).
That bit of context makes this "Leopard Snares Rabbit" clip, all the more exciting, since it's an epic engagement that pits The Widow's regents against one another. Yet, as the clip shows, Moon's experience is vast and Tilda, despite her spectacular skills, appears to be on the verge of coming up short against this wily veteran. Of course, the noticeable chip on Moon's shoulder isn't really directed toward Tilda, but, rather, at Sunny, who defeated him in a duel last season, leaving him without a right hand and his beloved sword. However, the way that he's handling Tilda here (with his weaponized prosthetic hand,) makes it clear that he could teach Game of Thrones' Jaime Lannister a thing or two about the art of unidextrous combat.
Into the Badlands airs Sundays at 10/9c on AMC.