News
Into the Badlands: Pilgrim Gives War Speech in Exclusive New Clip
Have a sneek peak of the latest episode of Into the Badlands, "Chamber of the Scorpion", on the house.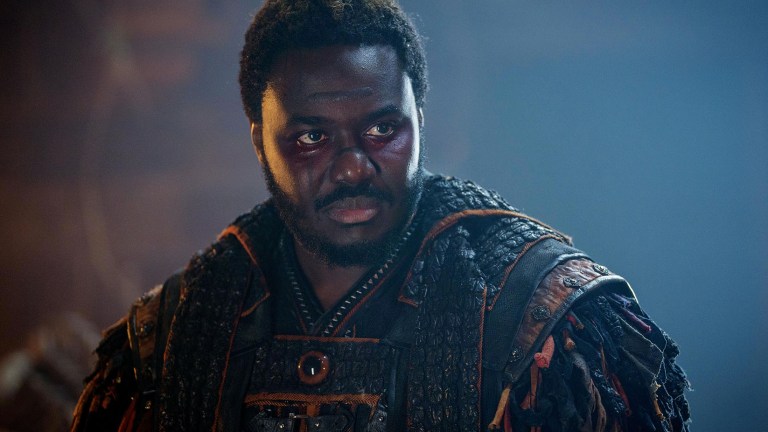 Calling all bloodthirsty, ruthless assassins! Do you want an update on Pilgrim's progress? If so, good.
We've got an exclusive clip from AMC featuring everyone's favorite warlord Messiah from beyond Thunderdome — er, the Badlands. In it, Pilgrim (played by Babou Ceesay) waxes poetic about his very tentative upcoming conquest of lands and how it will be a larger victory in the name of Xanadu — er, Azra. Yes, Azra, that ancient mythical city where laserdisc players existed but cell phones didn't. (What we should be asking is: did they have vape pens?)
Watch the preview below to get a sneak peek at "Chamber of the Scorpion", the first installment of the final set of Into the Badlands episodes ever…if you dare! Eh, it's spoiler-free for the most part, so might as well.
Will Sunny, Bajie, Nix, and baby Henry stop the nefarious Pilgrim from belting out a remixed version of "We Don't Need Another Hero"? We hope not. That would be fun to watch.
You know what else is fun to watch? The final eight episodes of Into the Badlands season three. We should know. we've seen 'em. If you think this show doesn't plan on going out with a bang, you've got another thing coming.
further reading: Secrets from the Into the Badlands Season 3 Set
Start your final journey Into the Badlands this Sunday, March 24, at 10/9C on AMC. Be there or be a quadrilateral shape of your choosing.
Stephen Harber is the writer and creator of the Batman/Doctor Who Adventures, a fanmade crossover webcomic. Read more of his work here, and follow him on Instagram @onlywriterever.