News
Into The Badlands: Daniel Wu Talks Season 2 Role
We chat with Daniel Wu on the set of Into The Badlands.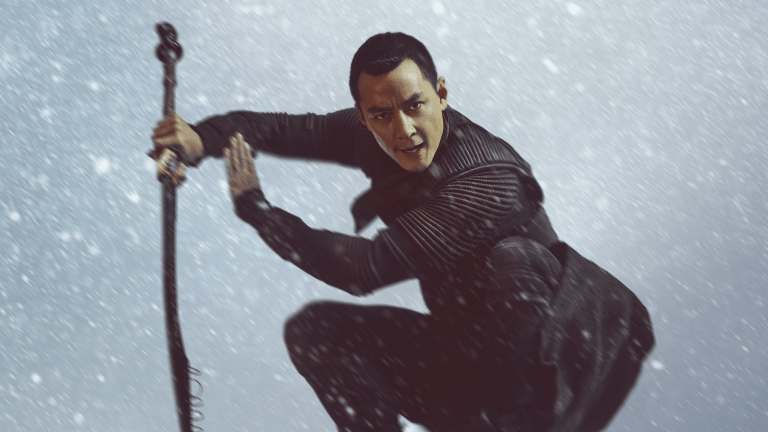 After a full day of watching his acting contemporaries piece together fight choreography and leap through the air while attached to wires, it was an odd thing to find Into The Badlands star Daniel Wu inside the calm of a dream sequence.
Wu star put on his dramatic hat for the day for a scene that looked years into a future where Sunny envisions his dream of a family, putting to bed his 10-year-old son.
"It's all basically saying that he can't really escape the world he's trying to escape," Wu told Den of Geek and a group of journalists in between takes. "No matter how hard you try to make this sort of utopian family, it's just not gonna happen. It's in his destiny to be a killer."
Back in reality, Wu's character is seeking to fulfill the title of the show by finding his way back into the Badlands in season two. We already know Sunny wakes up chained to a new friend when the season begins. As for where Sunny will go in season two, the superstar of Hong Kong cinema teased his role in the upcoming season.
"Basically, Sunny's outside in the Badlands. He's been taken away. In the last episode, he got taken away by the River King, so he's trying to get back in to find them, right? At this point in the story, my body is in the car with Bajie (a new character played by Nick Frost) and M.K. We've reunited. The three of us would try to get back into the Badlands."
Being captured is one way to stunt the growth of a character. The Sunny from Into The Badlands season two is not the noble guy we saw in season one.
"He's downtrodden, depressed," Wu says. He's trying to find the will to not only survive, but get back into the Badlands to his wife and baby. That's the driving motivation pushing through all of this stuff."
We'll see if Sunny get work his way back into the Badlands when season two premieres on Sunday, March 19th at 10:00 p.m. on AMC.
____
We also spoke to Nick Frost about his new role on Into the Badlands season 2 on a recent episode of Sci Fi Fidelity. Listen below or subscribe! iTunes | Stitcher | Soundcloud