News
In the Dark Season 2 Confirmed
The CW has ordered In the Dark Season 2, setting up more adventures for blind heroine Murphy Mason...and Pretzel the dog!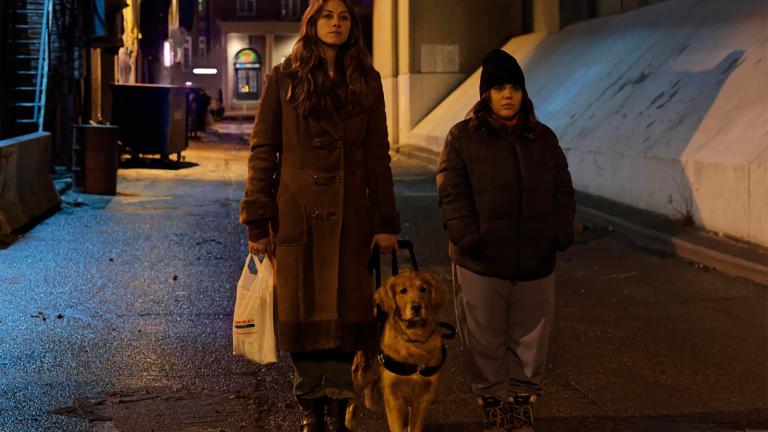 With one stroke of the pen, The CW has ensured that we will be confusing In the Dark and Hulu's Into the Dark for the foreseeable future.
According to Variety, The CW has renewed In the Dark for Season 2, along with a whole host of other shows. Other shows receiving renewals include All American, The 100, and Roswell, New Mexico. With the previously announced Charmed and Legacies renewals, all of The CW's freshman shows have gotten a second season.
Of all the CW renewals, In the Dark Season 2 was probably the most unlikely. The show, which premiered on April 4 and has aired three episodes to date, draws only around 750,000 viewers per episode. Still, The CW must see some promise in the concept. 
Perry Mattfield stars as Murphy Mason, a young blind woman who lives a self-destructive lifestyle filled with booze and poor decision-making. Her only two friends are her roommate, Jess and teenage drug-dealer Tyson. One day while out for a walk with her guide dog, Pretzel, Murphy stumbles across the body of Tyson, which mysteriously disappears before police arrive. Since the police don't have a body to work with (and don't particularly care), Murphy decides to solve the murder herself, all the while juggling her complicated personal life and her job at Guiding Hope, a school for guide dogs.
further reading: The 100: Essential Episodes to Watch
The show is described as a comedy-drama hybrid, with Michael Showalter directing the pilot.  
In addition to In the Dark's relatively poor ratings performance, it received a somewhat tepid response from the critical community. It has also drawn some criticism for not casting a blind actor in the lead role, though producers say they held a wide-ranging casting session. In light of some of the show's first season struggles, In the Dark Season 2 is a bit of a surprise. But The CW must not have been able to pass up the opportunity to have a 100% success rate with its first year shows.
Plus, any show that features a dog named Pretzel can have as many seasons as it wants.
Alec Bojalad is TV Editor at Den of Geek and TCA member. Read more of his stuff here. Follow him at his creatively-named Twitter handle @alecbojalad