News
Impractical Jokers: The Movie: Trailer and Release Date Revealed
truTV's Impractical Jokers head to the big screen for a feature-length film that will see the boys in comedic competition.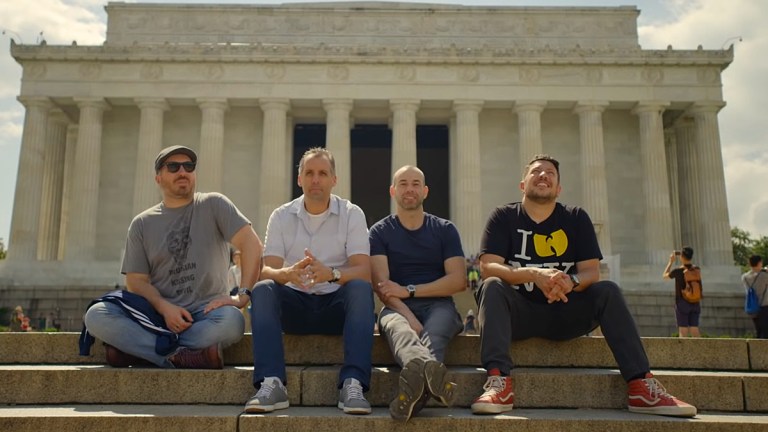 Impractical Jokers has been building a fanbase on truTV, TBS and TNT for nearly a decade, with the consistently high-ranked cable series – launched back in 2011 – currently thriving in its eighth season. Yet, it appears that the show's perennially prurient pranksters are making the jump to the big screen with Impractical Jokers: The Movie, which, serving as the first-ever film from truTV, is coming to theaters soon.
Chris Henchy (Daddy's Home, Eastbound & Down) directed the film, which focuses on the improvisation-heavy quartet of Jokers themselves – members of comedy troupe The Tenderloins – in James "Murr" Murray, Brian "Q" Quinn, Joe Gatto and Sal Vulcano. Indeed, the boys are clearly upgrading their temerity-teeming tomfoolery to a grandiose scale for cinemas in early 2020.
Impractical Jokers: The Movie Trailer
The announcement of Impractical Jokers: The Movie arrived with a full trailer!
Impractical Jokers: The Movie Release Date
Impractical Jokers: The Movie is scheduled to hit select theaters on Friday, February 21, 2020.
Impractical Jokers: The Movie Details
The array of gags contained in Impractical Jokers: The Movie will be tied together with a fictionalized story, in which 80s/90s pop star and reality host Paula Abdul, who, in a scenario proving that opposites attract, straight up invites the boys to a party in Miami, setting up a road trip for the New York-based quartet, who, with the calculation of a cold hearted snake, will brandish their signature brand of tricks in competition with each other during a rush rush East Coast southward trek to face the promise of a new day.
As The Tenderloins express in a statement:
"The opportunity to bring the fun we have making Impractical Jokers from television to the big screen is a dream come true for us. When we started the show eight seasons ago, we always had a desire to expand our style of comedy to new mediums outside of television, and via our comedy tours, cruises, and now film, we're excited to continue this adventure with our fans."
The Jokers' film debut will be produced by the quartet of Murray, Quinn, Gatto and Vulcano, joined in that capacity by director Henchy and Funny Or Die's Jim Ziegler and Buddy Enright. The film's gaggle of executive producers include Jack Rovner and Funny Or Die's Mike Farah and Joe Farrell.
In the meantime, new episodes of Impractical Jokers return on truTV on Thursday, January 30 at 10:00 p.m. ET/PT. The long-running series will celebrate its 200th episode milestone with its February 13 episode, which, for the first time in the show's history, will be set in Los Angeles.
Joseph Baxter is a contributor for Den of Geek and Syfy Wire. You can find his work here. Follow him on Twitter @josbaxter.