News
Impeachment: American Crime Story: Cast, Release Date, and Details on Clinton Scandal Season
American Crime Story Season 3 will focus on the sex-strewn scandal that led to President Bill Clinton's impeachment.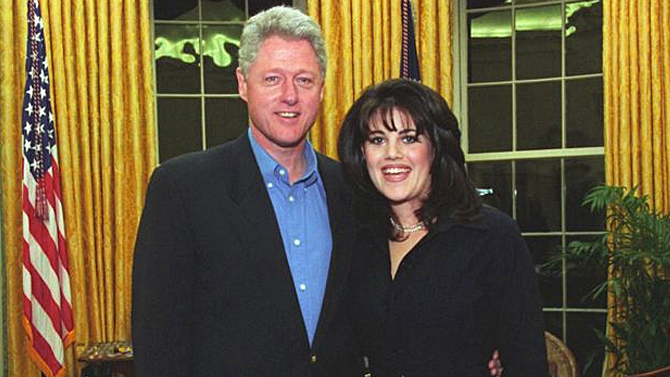 American Crime Story's third FX anthology iteration will focus on the events pertaining to the U.S. House of Representatives' October 1998 impeachment of President Bill Clinton for "high crimes and misdemeanors"; a bellwether media moment in which the serious news cycle merged with pop-culture-proliferated tabloid stories.
Titled Impeachment: American Crime Story, the season – initially planned back in 2017, but temporarily shelved – is going into production soon, showcasing the sordid affair through the eyes of Monica Lewinsky, the young former White House intern who bore the brunt of the media's scorn as one-half of President Clinton's Oval Office infidelity. Indeed, now over 20 years removed from the news cycle heyday of the scandal, Impeachment will see Lewinsky involved as a producer, telling her tale in a (post-#MeToo) cultural climate that's more understanding of the way she was publicly excoriated – both by Clinton's rivals and defenders – and was essentially silenced.
The series is a production of Fox 21 Television Studios and FX.
Impeachment: American Crime Story Cast
Betty Gilpin (GLOW) will, in another bit of shrewd casting, play Ann Coulter in Impeachment: American Crime Story, Deadline reports. Though Coulter remains a polarizing figure in our political landscape today, she first came to prominence as a conservative media pundit in the '90s. Coulter wrote legal briefs for Paula Jones and her first book of many was about the Clinton impeachment scandal. 
Billy Eichner (Billy on the Street) recently joined the cast, per Variety, and he's not playing who you would expect. Eichner will portray journalist Matt Drudge who first reported the news of what would become the Clinton scandal on his site, The Drudge Report. Breaking stories that more traditional publications wouldn't, The Drudge Report was a bit ahead of its time. Now Eichner will get a chance to play a muckraker on the opposite end of the political spectrum.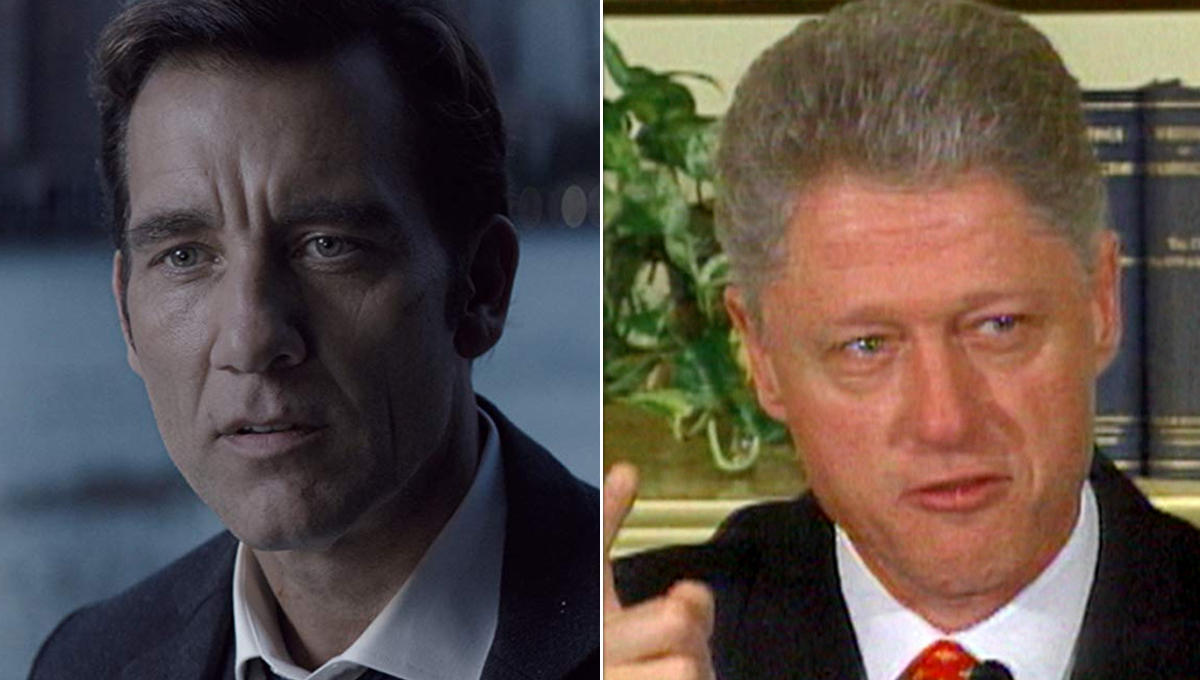 Clive Owen, the esteemed Warwickshire, England-hailing actor, will need to work on an Arkansas accent, since he's been cast to play the 42nd President of the United States, Bill Clinton, in Impeachment: American Crime Story, reports Deadline. The role of Clinton will, of course, serve as the fulcrum on which the salacious story will hinge. Owen, a Best Supporting Actor Oscar nominee in 2005 for Closer, is coming off roles in director Ang Lee's Will Smith-starring clone actioner, Gemini Man, and director François Girard's WWII-era drama, The Song of Names.
Margo Martindale (Sneaky Pete, The Americans) was subsequently set to play Lucianne Goldberg, according to Deadline. Goldberg – a literary agent and friend to Linda Tripp – was writing a book on the death of Clinton aide Vince Foster, and played a key role in this scandal, convincing Tripp to record her conversations with friend Monica Lewinsky; recordings that served as key evidence in the case, and became fodder for the national media.
Back in August, FX revealed the first cast members, and one would not have lost money on the surefire bet that perennial Ryan Murphy cast member Sarah Paulson is playing a key role here. They consist of the following: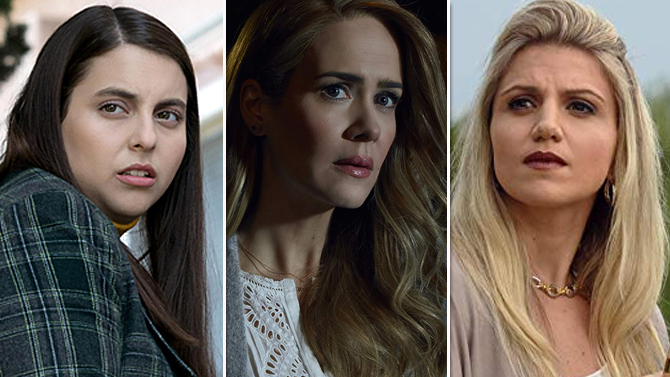 Beanie Feldstein is starring as Monica Lewinsky. The actress has seen her stock rise significantly as part of the co-starring duo – with Kaitlyn Dever – in the recent acclaimed comedy, Booksmart. She also fielded a TV run on FX's What We Do in the Shadows, and appeared in recent films like Lady Bird and Neighbors 2: Sorority Rising.
Sarah Paulson is playing Linda Tripp, a friend of Lewinsky who surreptitiously recorded their conversations, which became key evidence in the scandal. Paulson, who has appeared in every iteration of Murphy's "American" anthology series, recently appeared in films such as Glass, Ocean's Eight, The Post and Bird Box. She was recently seen in the drama, The Goldfinch. Interestingly, her role in the currently-running American Horror Story: 1984 was unprecedentedly minor for a Murphy offering.
Annaleigh Ashford is playing Paula Jones, who became another key component in the scandal due to her 1994 lawsuit against the President for sexual harassment. Ashford is probably best known from her 2013-2016 TV run on Showtime's Masters of Sex, but also happens to be an American Crime Story alumna, having appeared in 2018's second season, The Assassination of Gianni Versace. She recently appeared in Woody Allen's A Rainy Day in New York and Hugh Jackman comedy Bad Education.
Impeachment: American Crime Story Release Date
Impeachment: American Crime Story is currently without a set release date, now unlikely to make a topically timely premiere before the 2020 presidential election as previously planned.
FX Networks chairman John Landgraf revealed at the TCA winter press tour that the previously-set September 27 premiere has been pulled from the schedule, explaining that production won't be able to start until March 21 and won't be done until October (rather long for a fact-based drama series). Consequently, with a shrunken post-production timeframe, the yet-to-be announced new premiere may be forced to arrive after the November 3 Election Day.
The now-nixed September release window was controversial in its own right, since it would have put the season's run right in the middle of the 2020 Presidential Election season; a concept exacerbated by the fact that the word "impeachment" has been dominating the news cycle in regard to the current occupant of the Oval Office, albeit for different reasons than the show's focus. Indeed, Landgraf addressed this notion back in August 2019 at the summer TCAs, stating (via THR):
"Let me just say something about the current environment. So, this person knows what the show is, knows how the audience is going to respond to it, knows how it's going to impact history, right? This certainty that says, 'We can't have conversations, we can't make art, we can't have nuance, I won't even wait to pronounce judgment on it,' is toxic in the media environment."
Landgraf added that he "believes very, very strongly" in the project, continuing to say, "I've read it, I think it's great. I don't believe it's going to determine who is the next president of the United States." He also dismissed any potential influence on the 2020 election stating, "I think that's a little hysterical, from my standpoint."
Impeachment: American Crime Story Details
With this iteration of Ryan Murphy's nine-Emmy-winning American Crime Story anthology series being preceded by 2016's The People v. O.J. Simpson and 2018's The Assassination of Gianni Versace, Impeachment is keeping the series in the arena of covering the major scandals of the 1990s.
Impeachment is an adaptation of Jeffrey Toobin's bestselling book, A Vast Conspiracy: The Real Story of the Sex Scandal That Nearly Brought Down a President, adapted for TV by writer Sarah Burgess, who will also serve as executive producer, joined in the latter capacity by franchise maestro Ryan Murphy, along with Nina Jacobson, Brad Simpson, Brad Falchuk, Larry Karaszewski, Scott Alexander, Alexis Martin Woodall and co-star Sarah Paulson. As mentioned, Monica Lewinsky will have crucial creative input as a producer, joined in that same capacity by Henrietta Conrad and Jemima Kahn. 
As Lewinsky explains of Impeachment's direction in a statement to Vanity Fair:
"People have been co-opting and telling my part in this story for decades. In fact, it wasn't until the past few years that I've been able to fully reclaim my narrative; almost 20 years later." She adds, "But, I'm so grateful for the growth we've made as a society that allows people like me who have been historically silenced to finally reintroduce my voice to the conversation. This isn't just a me problem. Powerful people, often men, take advantage of those subordinate to them in myriad ways all the time. Many people will see this as such a story and for that reason, this narrative is one that is, regretfully, evergreen."
We'll keep you updated on this anthology iteration as the news arrives.
Joseph Baxter is a contributor for Den of Geek and Syfy Wire. You can find his work here. Follow him on Twitter @josbaxter.