News
Impact Wrestling and GFW Have Enough Talent to Compete With WWE
With TNA cutting its budget, and its roster, the influx of GFW talent made Impact Wrestling feel fresh …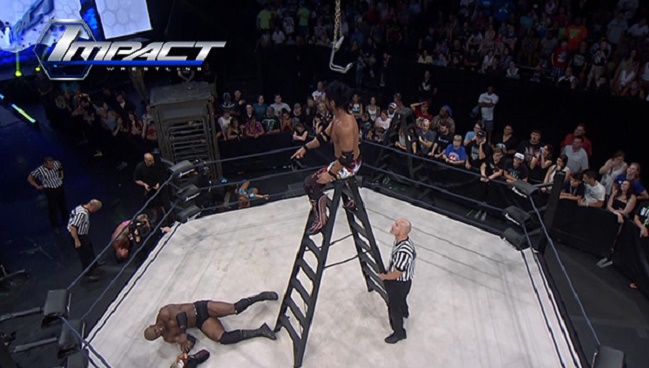 Let's make one thing very clear: no one cares about Global Force Wrestling. It's not that no one wants to see them do well — I do — but the company has taped one set of television shows and they've never aired. There is no "brand loyalty" to speak of at this point.
So GFW "invading" TNA isn't going to be a ratings mover. There's just not enough equity in the GFW name yet for it to have any real impact, no pun intended.
But last night's Impact Wrestling, where GFW head Jeff Jarrett was "in control" and he booked a lot of his GFW wrestlers, the influx of new, non-TNA talents, gave the show a fresh appeal.
For most wrestling fans, the GFW names were WWE castoffs. Chris Mordetzky (Chris Masters), P.J. Black (Justin Gabriel) and Brian Myers (Curt Hawkins) would probably be in a middle-of-the-hour nothing segment on Raw if they were still in WWE's universe.
But that's the point. For many of these guys — including TNA names like Drew Galloway, Mr. Anderson and others — WWE dropped the ball. Well, to be honest, they never allowed the wrestlers to even pick the ball up. Mordetzky and Anderson had some flirting with the top of the card at the beginning of their run, but Black was quickly forgotten after the Nexus, Myers was barely seen again on television after his run as an Edge Head and Galloway was toiling away as a member of 3MB; remember them?
Putting talented guys like this at the forefront of the show does give TNA some new appeal to the — pardon the expression — "hardcore wrestling fan." But there's an inherent risk there as well. To the casual viewer, the guy on his couch with a clicker who watches Raw once in a while and happens to click by Impact on a Wednesday night isn't going to know the history of a guy like Black or Myers. They're going to only know what WWE has told them, and that's that those two guys "weren't good enough" to cut it in WWE.
And that's pro wrestling's biggest problem in 2015. Hardcore wrestling fans know the truth, per se. Wrestling fans know who they want to see given a shot, and most wrestling fans are happy guys like Black, Myers, Mordetzky, Galloway, and others are now getting a chance to shine on a national television program.
But the problem with wrestling in 2015 is that most casual fans only know the information WWE has fed them. Their knowledge of the product doesn't skip past Raw or WrestleMania. They don't read wrestling sites on the internet, they don't know the history of most of the wrestlers, other than what WWE decides to divulge on their television shows.
A good example of this — I'd qualify a good friend of mine as a casual wrestling fan. He watches WWE, and that's about it. When CM Punk's DVD documentary came out a few years ago, we watched it together and he had no clue that Punk had a long and storied career on the independent scene, including his series of matches with Colt Cabana, Samoa Joe, and Chris Hero. He had no idea any of that existed. Why? Because until then, WWE hadn't told Punk's real story.
WWE controls the narrative for pro wrestling. That hurts everyone else trying to develop the same product. For too many casual fans, if you're not good enough for WWE, you're not major league. The XFL died because it wasn't the NFL, too. No one wants to see a second-rate product.
And that's what is so frustrating at times for wrestling fans. These other products aren't second-rate. In fact, I'd argue they're the only wrestling shows left. WWE wants to call itself "sports entertainment" and that's what it is. They try to distance themselves so much from pro wrestling, then let's let them do that.
Match Results
1. Lei'D Tapa and Awesome Kong fought to a double count-out.
2. Bobby Lashley pinned Jessie Godderz.
3. The Wolves (Davey Richards & Eddie Edwards) pinned Brian Myers & Trevor Lee.
4. Tigre Uno pinned Sonjay Dutt
5. P.J. Black beat Robbie E, Bobby Lashley, Chris Mordetzky and Eric Young in a King of the Mountain match to win the King of the Mountain Title and earn a TNA World Hvt. Title match against Ethan Carter III next week.
Quick Strikes
1. Good mic work from Tapa's manager, Royal Blood, before her match, serving as the traditional manager/mouthpiece. Figured going into this match that a non-finish was probably likely. GFW is booking Tapa as their Kong, so this finish protected both Kong and Tapa. It will be interesting to see if they ever follow up on this, though.
2. At first, it looked like Godderz was going to get squashed by Lashley in their match, but he got in some good offense in the middle of the match. The announcers didn't touch on it, but I liked the story they were telling with him missing a few spears at the start of the match.
3.  The KOTM match is a confusing concept, but at least it's different than what any other company is doing on television at the moment. The match itself has a convoluted set of rules that at times can be difficult to follow.
The Finish
The show, on the whole, was okay. There were some good segments and some so-so ones, but nothing was really terrible. It wasn't a terrible start to the GFW-TNA feud on television, but parts of it did feel flat. There's more to play out, but considering TNA's roster is somewhat depleted after budgetary cuts, the influx of GFW talent, many of whom are familiar faces to North American wrestling fans, helped raise up the show.