News
I'm Dying Up Here Canceled At Showtime
Showtime has canceled its stand up comedy series, I'm Dying Up Here, after two seasons.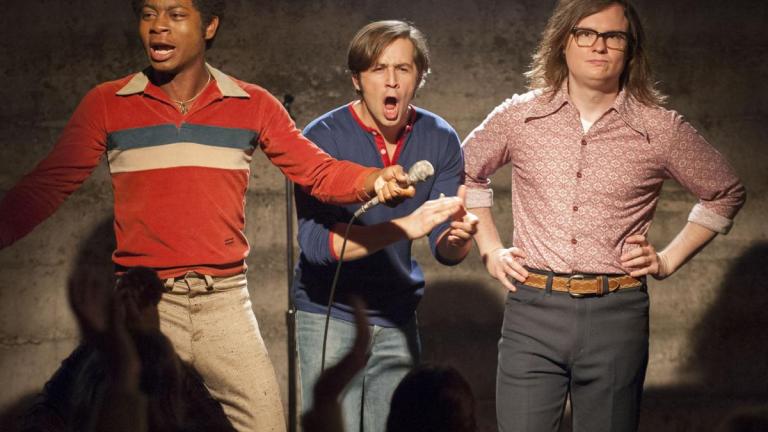 Guess it really was dying up there.
Showtime has canceled its Jim Carrey-produced stand up comedy series, I'm Dying Up Here, after two seasons on the pay cable network, Deadline reports.
I'm Dying Up Herewas created by David Flebotte and produced by Carrey. It was based on a book of the same name from William Knoedelseder and sought to tell the under-told story of the birth of the stand-up comedy scene in 1970s Los Angeles. The show followed a group of young comedians headlined by young comedic actors Clark Duke and Michael Angarano as they work the comedy club circuit with hopes of getting their big break on Johnny Carson's Tonight Show.
Notably, Oscar-winning actress Melissa Leo portrayed comedy club owner Goldie Herschlag, a character loosely based on real life comedy club titan Mitzi Shore. Shore passed away earlier this year and many comedians have discussed her important, if eccentric presence in furthering the art form.
Showtime ordered the pilot to series and had high hopes for it but those never quite panned out. Deadline notes that I'm Dying Up Here's first season averaged only around 150,000 viewers per episode in the Live+Same Day ratings. In an attempt to boost ratings, Showtime paired I'm Dying Up Here with Billions for the show's second season. That did little to improve viewership. 
Though things might not have worked out with I'm Dying Up Here, Showtime is still remaining in the Jim Carrey business. The well-received Kidding starring Carrey and produced by Michel Gondry is going strong in its first season at the network. 
One of these days, the standup comedy scene of '70s Los Angeles will get a definitive TV show or movie. I'm Dying Up Here did its part but wasn't here to stay.
Alec Bojalad is TV Editor at Den of Geek. Read more of his stuff here. Follow him at his creatively-named Twitter handle @alecbojalad