News
IFC To Air Baroness Von Sketch Show This Summer
IFC goes north of the border for its next series.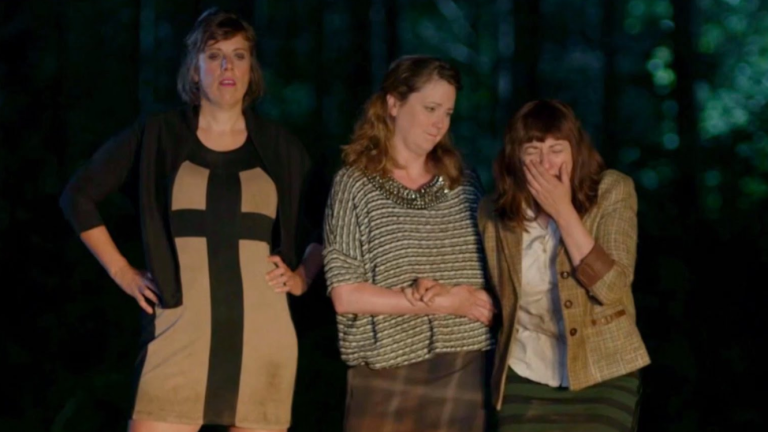 Looking for some entertainment to finally pass the Bechdel Test? IFC has got your back with it's newly acquired critically-acclaimed and award winning series Baroness von Sketch Show. The all-female single camera sketch comedy series comes from sketch vet Meredith MacNeil (Man Stroke Woman), Second City's Carolyn Taylor, Aurora Browne (Lars and the Real Girl) and Jennifer Whalen. IFC is set to air 13 episodes from seasons one and two starting this summer.
Sharp-witted and absurd, Baroness von Sketch Show sits in the pocket of red-faced embarrassment and satirizes the potholes of daily life. The cast that rests on 15 years of comedy experience to present and absurdly funny and grounded series about what it's like to stumble your way through life. Like having Siri ruin your date, or what would happen at a world leadership summit after women have taken over the world.
Baroness von Sketch Show was recently honored with multiple Canadian Screen Awards, including best variety or sketch comedy, best writing in a variety or sketch comedy and best picture editing in a variety or sketch comedy. The series is not shy about being female-focused and each episode of Baroness von Sketch Show takes on a mix of subjects that are outrageous and totally relatable like marketing directed and women, trying on jeans, women over 40 in gym locker rooms, and the most important: dry shampoo.
Baroness von Sketch Show is produced by Frantic Films and Originates on the CBC in Canada. It is distributed internationally by Banijay Rights.
"We are delighted that Baroness von Sketch Show is finding as prestigious a US home as IFC," said Andrea Lemons, VP Acquisitions & Sales (North America) at Banijay Rights. "It's not often that a show had you both keeling over with laughter and questioning the status quo. We are thrilled that American audiences will now get to witness the Baronesses' unique, provocative and hilarious brand of comedy."
Jamie Brown, Frantic Films CEO, added, "IFC is the perfect home for this fresh and funny series, and we're very pleased to see the genius of the Baronesses heading to a new and discerning audience in the US."
Baroness von Sketch Show is sure to carry out's IFC's "always on, slightly off," with a big helping of true comedic female prowess.