News
IFC Releases Development Slate for 2018
IFC's 2018 schedule will be heavy on the funny. New projects include Oliver Platt production and Frank and Lamar series.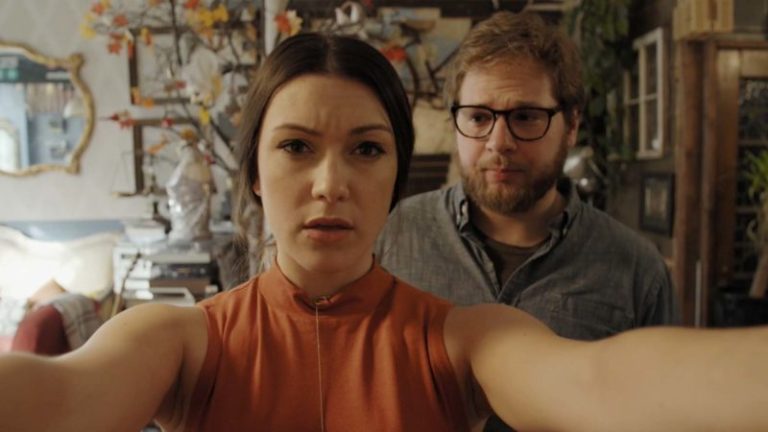 IFC plans to tickle the funny bone next year. The network is riding high after Brockmire, which stars The Simpsons' Hank Azaria as a major league baseball announcer making a comeback after an on-the-air meltdown goes viral, pulled in the highest rating for a first season. IFC will develop 11 new comedy projects as part of their 2018 season including a new scripted half hour executive produced by Oliver Platt and a multi-project development deal with Funny Or Die.
"We are privileged once again to be working with a variety of incredible talent on projects with unique comedic points of view, as well as creating more linear content from our digital platform, the Comedy Crib," IFC President Jennifer Caserta said in a statement. "These projects come from gifted creative teams and are great examples of the distinct comedic storytelling that embodies IFC's trademark 'slightly off' sensibility."
Caserta revamped the programming team three years ago, putting a "script to series" development system in place.
IFC recently gave the green light to the series Living With Yourself. Created, written and executive produced by Tim Greenberg (The Daily Show, The Detour) and executive produced by Likely Story (Sing Street, Foxcatcher, Eternal Sunshine of the Spotless Mind), it is set to premiere in 2018. Living with Yourself will be directed by Jeff Blitz (The Office, Parks and Recreation, Table 19).
The new all-female sketch comedy Baroness von Sketch Show will premiere Wednesday, August 2 at 10:00 p.m. Horror comedy series Stan Against Evil season 2 will be released this this fall. Portlandia will bow out after the upcoming season 8.
IFC ordered scripts for the following shows:
NGO
"Mike is the gin-soaked but charismatic head of a private West African charity that he guides with a fist full of American cash in one hand and a rocket-launcher in the other," reads the official synopsis.  "International conflicts and 'non-governmental organization' philanthropy collide when Mike finds his unquestioned rule under siege as his estranged son Norman, the charity's lawyer, arrives to tell his dad the party is literally over. Written and executive produced by Collin Friesen (Sorry For Your Loss) and executive produced by Golden Globe Nominee Platt and John Lyons (Boogie Nights, Austin Powers).
How To Rig An Election
How To Rig An Election is based on the book of the same name by former political consultant Allen Raymond. The series is a "scathing satirical look at the electoral process through the eyes of a recently paroled political campaign manager who is pathologically determined to reclaim his place atop national politics," according to the official synopsis. How to Rig an Election was written and executive produced by Tom Ruprecht (Late Show with David Letterman, The Nightly Show with Larry Wilmore).
Sherman's Showcase
"A sketch show inspired by the long running cultural icon Soul Train," Sherman's Showcase comes from writer-performers Bashir Salahuddin and Diallo Riddle. The show will "travel through time via music and comedy drawn from the forty-year library of a legendary, but fictional, musical variety show called, 'Sherman's Showcase,'" according to the official synopsis.  The series will be written, executive produced and star Bashir Salahuddin and Diallo Riddle (Late Night with Jimmy Fallon, Marlon, GLOW, and Maya and Marty).  
IFC will also develop the following scripted projects:
Elna
A half-hour scripted comedy about what it's like to be Mormon and lose your faith. Elna Baker, a 27-year-old virgin in NYC, must cross over to the dark side in her search truth, life experience and autonomy. Starring written and executive produced by Elna Baker, and written and executive produced by Eric Gilliland (Roseanne). Executive produced by Left Right Productions (The Circus, Odd Mom Out).
Greener Grass
Based on a short film of the same name, the small town of Greener Grass is a living Norman Rockwell painting whose welcome sign boasts "Nothing bad ever happens here." However, beneath the town's gilded facade lies a world of bad things happening. Greener grass will be written, executive produced by and star Upright Citizens Brigade alums Jocelyn DeBoer and Dawn Luebbe.
The Last Hotel Detective 
Ainsley Steele is an in-house private detective employed by the historic and luxurious Palace Hotel to solve guests' minor crimes and delicate mysteries. He is a character out of a Raymond Chandler novel living in a digital world and the last of his kind. The Last Hotel Detective will be written and executive produced by Gabe Delahaye (Brad Neely's Harg Nallin' Sclopio Peepio).
Dr. Taco
Based on the non-fiction book by the same name, Dr. Taco is about six American misfits, unable to get into medical school in the U.S., instead find themselves getting a very hands-on education in a small medical clinic in Mexico, deep in the cartel-controlled mountains of Durango. The series will be written and executive produced by Mike Barker (Family Guy, American Dad) Carlo Hart, Evan Sandman, and Keshet Studios.
Bad Beta
"A brilliant female scientist, with relationship issues, is forced to care for the botched version of a billion-dollar artificial intelligence cyborg she created that unfortunately has the personality of a frat-jerk/party guy," reads the official synopsis. Bad Beta will be written and executive produced by Emmy-winning comedy writer Jay Kogen (The Simpsons, Fraiser, Malcom in the Middle).
New Hope
"New Hope University is a well-known evangelical Christian college in the Midwest run by a world famous but aging and increasingly senile religious leader where a power struggle is afoot between jealous family members for control of the church and school," reads the official synopsis.  New Hope will be written and executive produced by Emmy-nominated writer Boyd Hale (Late Night with David Letterman).
 Frank and Lamar
Based on the IFC Comedy Crib series, "Frank and Lamar are two best friends who live together and work together as middle school teachers in New York City," reads the official synopsis. "Workplace drama and romance issues cause havoc in their otherwise smooth friendship so they are forced to decide whether to stick together or go it alone." Frank and Lamar was created by and will star Carl Foreman Jr. and Anthony Gaskins.
 Lee's Kill List
"Trapped in an oppressive work environment, Lee takes matters into her own hands by killing the bullies and bosses that threaten her job as a cleaning solution salesperson," according to the official synopsis.  Lee's Kill List was created by and will be written and directed by Josh Ruben and Vince Peone (joshandvince.com).
Mama Tried
"A show about the seamy underbelly of new motherhood, Mama Tried follows the struggles (and occasional triumphs) of Liz Callahan who's finding that she could care less about being a 'super-mom,'" according to the official synopsis. "She just wants to survive." Mama Tried "weaves Emily Flake's darkly funny animation to help bring to life all of motherhood's graphic, and sometimes gruesome, realness. The series was written by Emily Wilson (Cougar Town, Superior Donuts) and animated by and based on the graphic novel by Emily Flake, executive produced by Jax Media (Full Frontal, Broad City, Search Party).
Comedy Crib digital series:
Janice and Jeffrey
Out comedians (and series creators) Matteo Lane and Mollie Merkel play a closeted (and delusional) couple named Janice and Jeffrey. They met at a Christian recovery program for converting gays into heterosexuals and got married the same week. When their marriage hits a rough patch, Janice and Jeffrey go to extreme (and hilarious) lengths to solve their intimacy issues. Created by Matteo Lane and Mollie Merkel. Janice and Jeffrey is produced by Mustache. It is available on IFC.com.
Commuters
Commuters follows Harris and Olivia as they move across the river to the suburbs for cheaper rent, earlier nights, and all the joys that come with no longer trying to be a young hip player in the city that never sleeps. Created by Jared Warner, Nick Ciavarella and Tim Dean. Directed by Adam Wirtz and produced by Post Everything Productions. Commuters is available on IFC.com.
Neurotica
A Dominatrix struggles with her OCD and fights to maintain her business when a fancy new MegaDungeon opens in her small town. Created by and starring Jenny Jaffe and produced and directed by Jetpacks Go!. The series premieres August 21 on IFC.com.
Read and download the full Den of Geek Special Edition magazine here!