News
IDW Adaptation In Works at Crackle, SuperMansion Renewed And Startup Adds Ron Perlman
Crackle announced its upcoming production slate at Sony's headquarters in NYC.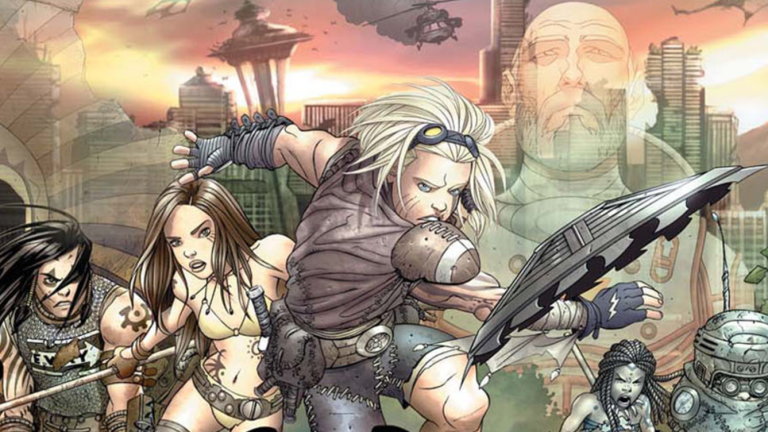 "Immersive" is the buzz word we'll hear all month long as networks big and small roll out their new products and programming lineups during Upfront season. Sony's streaming service Crackle held its upfront presentation in New York on Wednesday and doubled down on the promise to bring a more immersive viewing experience for its users. What that means is essentially more VR, and maybe less ads and slicker ad integration.
Crackle Renewals
We'll start with Crackle's returning original programming lineup. Snatch, based on the Guy Ritchie film of the same name, was renewed for a second season. Sticking with the immersive theme, the series, starring Rupert Grint, will get a VR experience on PlayStation VR to bridge season one and two this summer.
SuperMansion, the stop motion-animated comedy series, is confirmed for a third season in 2018. The series will also get two new specials, one before the end of 2017, and one early next year. The star-studded cast includes Bryan Cranston, Keegan-Michael Key, Chris Pine, Jillian Bell, and Yvette Nicole Brown and was created by Stoopid Buddy Stoodios. 
The drama series Startup, starring Adam Brody and Martin Freeman, will release its second season on September 28th. The gathered media and advertisers at the upfront were treated to a clip of new cast member Ron Perlman who will play Wes Chandler, a "multi-millionaire businessman with a level-headed grit." In the clip he tells a story about stabbing a guy with a fork, so they're already off to a great start there. Addison Timlin (Californication) also joins the cast as the daughter of Perlman's character.
New Series and Films
Crackle is going into business with 50 Cent. The Oath, from 50 Cent's production company, is an original drama series that "pulls the curtain back on the inner workings of this band of brothers forced to turn on each other after being picked off by the FBI."
Tim Kring (Heroes) and Brian Kavanaugh-Jones (Insidious: Chapter Three) are working on a film called In The Cloud, which explores "a tech company shrouded in secrecy as it develops software capable of uploading a person's consciousness and memories to a virtual space regardless of location, time, and state of life."
IDW Adaptation and Sci-Fi Drama
Crackle may have earned a reputation as a comedy hub, but it's branching out with a few new projects in development. Tribes is an hour-long drama based on a IDW/SoulCraft graphic novel called Tribes: The Dog Years by Michael Geszel and Peter Spinetta. The series is set 20 years into a virus plagued future that has ravaged the West Coast of the United States, leaving the inhabitants inside this quarantined zone to revert back to tribal culture. We didn't see footage of this one, but as described it certainly has a Walking Dead vibe to it.
Crackle is also dipping into the sci-fi realm with The Row, which centers on a "select group of death row inmates who are about to be given a choice about what they want to do with the rest of their lives – continue their miserable existences on death row or be sent on an experimental mission with a 1% chance of survival."
Rounding out the pilot orders is Accident Park, a take on the infamous Action Park. The comedy series from Zach Levi's production company is about a man who uses his injury settlement to buy and turn around the amusement park that wronged him.