News
Humans Season 3: Exclusive Peek at Laura's New Synth
In this exclusive clip from the next Humans episode, Laura wonders how she'll deal with an unwanted personal assistant synth.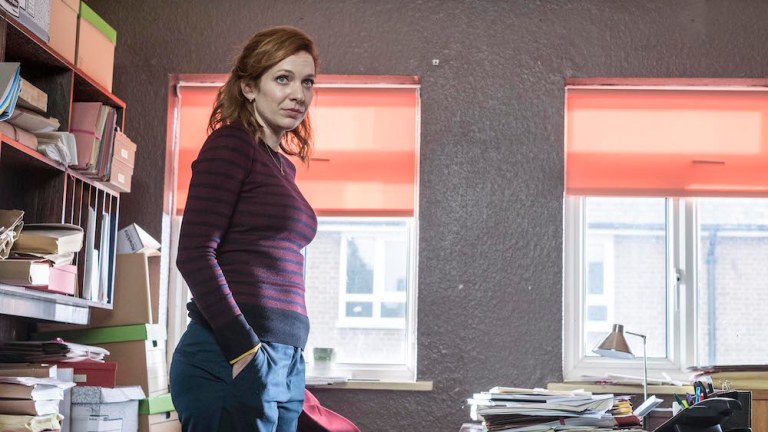 Those that have seen the Humans season 3 premiere know all about the orange-eyed synths that fearful humans have put into service to replace their green-eyed predecessors that have achieved consciousness. When Laura Hawkins, played by Katherine Parkinson, asks a green-eyed client in the premiere how he'd feel about her getting an orange-eyes, he answers, "The new synths are as we once were: mindless, empty. Their enslavement insults us."
But what if her participation in the Dryden Commission, as proposed last week, were contingent upon her accepting a personal assistant synth for protection? Such is the question posed by the exclusive clip included below, which introduces us to Stanley, played by Dino Fetscher, who has been assigned to the Hawkins family temporarily. The clip from the coming episode of Humans shows the very different reactions of Laura, her son Toby, and young Sophie.
The official description of this week's Humans episode hints at the above storyline as well as several others currently in progress. It reads, "A grieving Max must face the consequences of his painful decision. Laura discovers she's not being told everything at the Dryden Commission. Joe uncovers Karen's shocking secret." For the particular plot depicted in the clip, it appears that Laura may have even more PR problems besides the simple fact of having joined the Dryden commission. Will the green-eyed synths believe she still fights for their cause?
---
Humans on the June Sci Fi Fidelity podcast (at 37:57):
Subscribe: Apple Podcasts | Stitcher | Soundcloud
---
Humans season 3 takes place one year after the dawn of synth consciousness when a decimated and oppressed population fights to survive in a world that hates and fears them. In a divided Britain, synths and humans struggle to broker an uneasy peace, but when fractures within the synth community start to appear, all hope of stability is threatened. Set against the maelstrom of political chaos, the ethical complexities of a new species play out across a thrilling multi-stranded narrative.
Humans continues with the second episode of season three previewed above on Tuesday night at 10/9c on AMC.