News
Humans Season 3: Exclusive Look at New Characters
With Humans season 3 right around the corner, the cast and crew introduce new characters in this exclusive clip from AMC.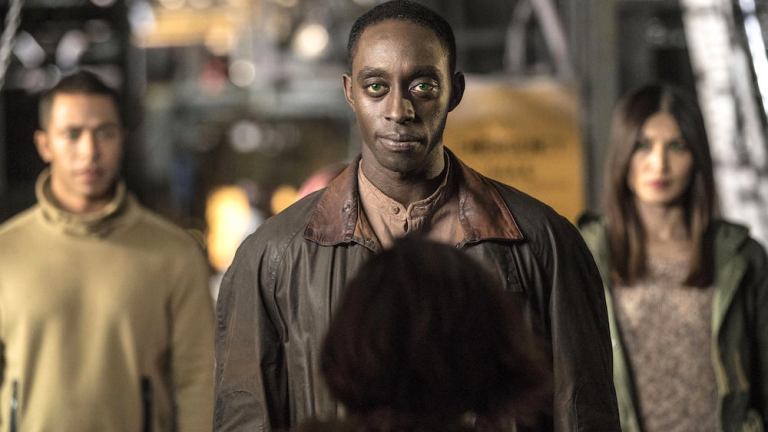 After the great synth awakening in the season two finale, Humans season 3 is gearing up for the aftermath with several new cast members for fans to meet when the series returns to AMC on June 5.  In the exclusive interview segment from AMC below, creators Sam Vincent and Jonathan Brackley along with executive producer Derek Wax and producer Vicki Delow talk about the new world inhabited by conscious androids known as synths and how the returning cast will interact with the new additions.
Although the series has already begun airing in its native UK, viewers in the US are still wondering what the fallout will be for the Hawkins family, Leo's group of synths, and the world full of those made newly conscious alongside the humans who owned them. Humans season 3 will fast forward a year after the events of the season two finale, and as humanity struggles to cope with having to share the planet with a new race of sentient beings, Laura (Katherine Parkinson) and her children continue to fight for synth rights while dealing with their own family issues. Take a look at some of the characters, both synth and human, that they'll be meeting in June.
Among the new synths mentioned in the video are Agatha, an angry synth looking for justice played by Holly Earl, and Anatole, a uniquely spiritual synth with a much more calming presence played by Ukweli Roach. These two new characters in Humans season 3 will join Mia (Gemma Chan) and Max (Ivanno Jeremiah) in the train yards that have become their new home. As in previous seasons, their story will center around how to co-exist with humans even though they may never be seen as equals.
Never a show to shy away from the human predilection for hypocrisy and the moral dilemmas it presents, Humans season 3 has Laura Hawkins joining the Dryden Commission, which has been created to decide what should be done about the synth situation, but not without being appointed a bodyguard, a new orange-eyed synth named Stanley (Dino Fetscher), who is a new generation of android incapable of self-awareness. Although Laura wants to speak in favor of accepting the synths as equals, how can she do so knowing she both enjoys and needs Stanley's presence in her life, especially now that her husband Joe (Tom Goodman-Hill) lives in a synth-free community apart from the family?
In fact, her separation from Joe appears to have allowed a new suitor to enter the picture: a behavioral scientist named Neil, played by Mark Bonnar, who has suffered his own loss during the initial massacre brought about by the awakened synths. And this video barely scratches the surface! How will Mattie (Lucy Carless) deal with the guilt of having caused so many deaths by sending out her consciousness code worldwide? How will Karen (Ruth Bradley) continue to distinguish herself among synths as one who just wants to live her life like a human? Explore the answers to these questions and more when Humans season 3 returns to AMC on June 5 at 10pm ET.