News
Humans Season 2 Finale Trailer and Other News
As the two-hour finale for Humans season 2 nears, we've got the latest trailer and links to reviews of earlier episodes.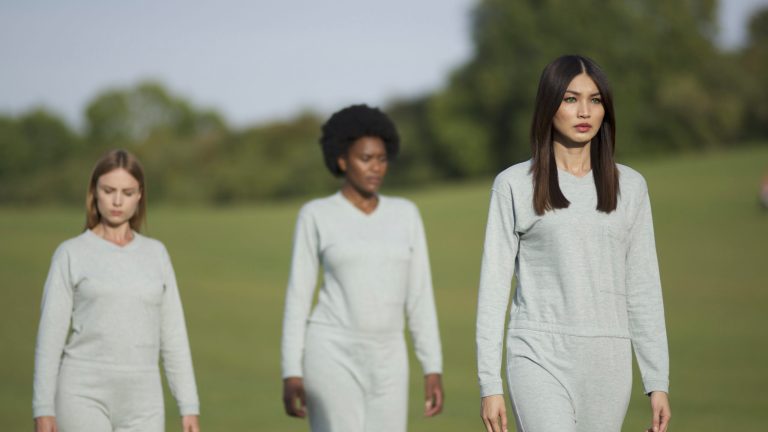 With Humans season 2 already having aired on its home network, Britain's Channel 4, the critical reception has already been positive as the show has progressed on AMC here in the states. The great android awakening wraps up this week with an explosive two-hour finale.
Read our review of the latest episode here. (originally published at Den of Geek UK).
Humans Season 2 Finale Trailer
Humans season 2 premiered for American audiences on February 13, 2017 on AMC and continued its eight-episode run each Monday at 10 p.m. ET. Here's a preview of next week's two-hour season 2 finale, which airs on March 20, 2017:
Also, check out our Sci Fi Fidelity podcast, on which Ruth Bradley, who plays DI Karen Voss on Humans, talks about her character's development in season 2 (timecode 53:46).
Humans Season 2 Cast
Carrie-Ann Moss (Jessica Jones) is the major addition to the cast for Humans season 2. She'll be playing Dr. Morrow, an AI expert. 
Among the other newcomers via an AMC release: 
Sam Palladio (Nashville) as Ed, a struggling café owner trying to breathe life into his family business; Marshall Allman (True Blood) plays Milo Khoury, a young Silicon Valley billionaire, founder and CEO of a leading technology company intent on changing the world; Sonya Cassidy (Olympus) as Hester, one of the most unique Synths on the planet; Bella Dayne (The Man in the High Castle) as Astrid, a free-spirited young Berliner who will be tested by someone special who comes into her life; and Letitia Wright (Black Panther) as Renie, a bullied seventeen-year-old "synthie," a fast-growing subculture of humans pretending to be Synths.
If you've jumped ahead, we've been following the series, and you can catch up on our reviews right here. 
Humans Season 2 Synopsis
Here's the season 2 synposis from AMC:
Season two picks up several months after the events of season one, with Niska (Emily Berrington) still at large and in possession of the consciousness code. Her synth family, Mia (Gemma Chan), Leo (Colin Morgan), and Max (Ivanno Jeremiah), unaware of her location, are each trying to find their place in the world while Joe (Tom Goodman-Hill) and Laura (Katherine Parkinson) attempt to mend their marriage. 
The sci-fi drama, set in a parallel present in which humanoid robots known as "synths" have revolutionized every area of society from industry to care-giving to sex, has proved to be one of Channel 4's biggest success stories. 
Spooks writers Sam Vincent and Jon Brackley adapted their series from the Swedish original, Real Humans, which aired its own second series in October 2013. A third run is said to be in the pipeline for the Scandinavian show, but it hasn't officially been confirmed as of yet.
Humans Season 2 Trailer and Key Art
Here's the most recent Humans season 2 trailer from AMC entitled "The Next Big Leap."
Here's the key art: