News
Humans Season 2: 9 Things We Learned at NYCC
Humans season 2 is coming to AMC in February. Here are some things to look forward to from the science fiction drama...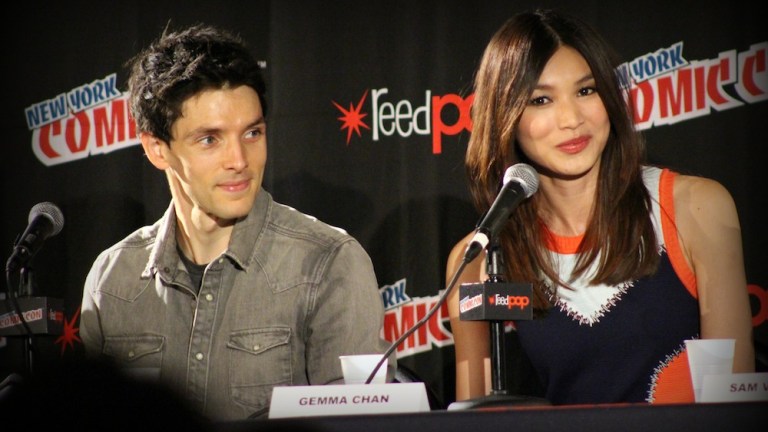 We were lucky enough to attend the Humanspanel earlier this month at New York Comic Con and to get some teases for the second season of the robot drama, set to premiere this weekend on the U.K.'s Channel 4 and in February here in America on AMC.
What were the most interesting take aways from the chat with the show's creators Jonathan Brackley and Sam Vincent and cast members Tom Goodman-Hill (Joe), Colin Morgan (Leo), Sam Palladio (Ed), and Gemma Chan (Mia)? Here are nine things we learned…
Carrie-Ann Moss will play a Synth expert…
Humansseason two will introduce a brand new series regular character in the form of Dr. Athena Morrow, a pre-eminent A.I. expert with a super secret motivation played by Carrie-Ann Moss. We know from previous character descriptions that Morrow is driven to create a new kind of machine consciousness, but Vincent teased as NYCC that "she also has an agenda all her own" and that she will be working for a young Silicon Valley billionaire on a top secret project. Morrow's agenda is "a secret within a secret."
Where Mia's at when season 2 starts…
Speaking about where Mia will be at the beginning of season 2, Gemma Chan said: "I think it's the first opportunity that she's had to really explore what her place in the world might be … For each character in the show, I think it's very much about working out what their place in the world will be."
Chan talked about how, though Mia has learned a lot in her relatively few years, she is still "something of an innocent, still a bit naive, [and] puts herself out there and [it] doesn't always work out." That sounds ominous…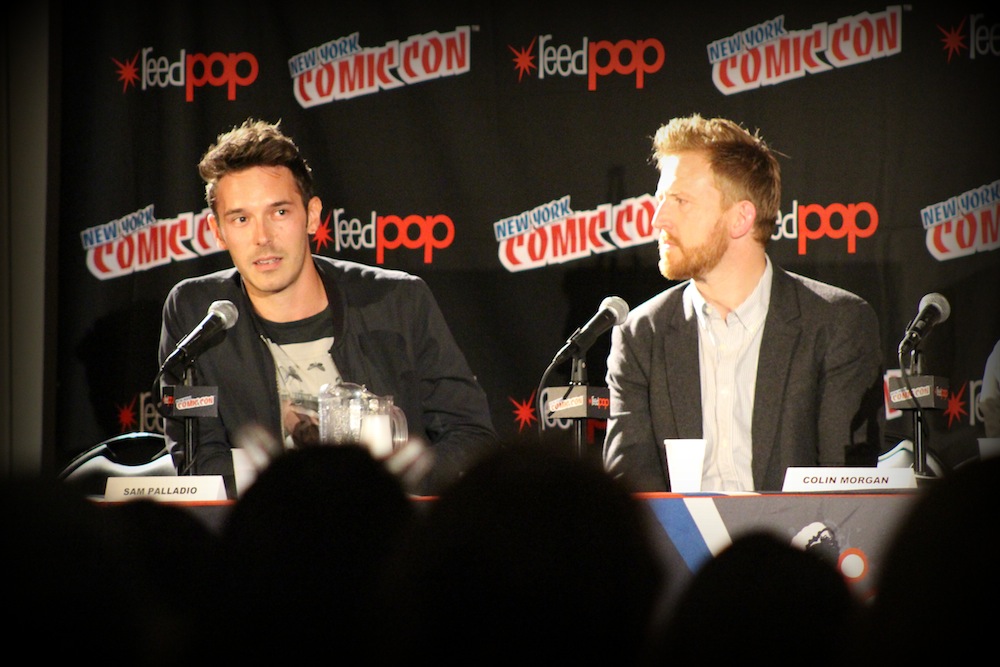 Meet Ed, a human Mia becomes friends with…
New recurring cast member Sam Palladio (previously seen on Nashville) will appear in season 2 as Ed, a struggling cafe owner. Enter Mia, who is in the small coastal region trying to find herself, and who forms a relationship with Ed.
Speaking about his character, Palladio said: "He's a guy who's very much got the weight of the world on his shoulder. Trying to keep his family business afloat, caring for sick family member, [and he] needs help." Ed hasn't had much previous interaction with Synths prior to Mia and, therefore, treats her like a human. Their relationship evolves from there.
On the challenges of season 2…
Season 1 of Humanswas a roller coaster ride, starting as a domestic drama and evolving into a science fiction epic with international consequences as Niska took off into the wild blue yonder with the key to global Synth consciousness. What were the biggest challenges in continuing the story?
Vincent said: "I think the biggest challenge is to not repeat yourself … You've got to move the story along, change things." This isn't the same Synth in a family dynamic as started season 1. Season 2 needs to "build the story up and find some new dynamics." Vincent added: "Each of these characters deserve their own stories."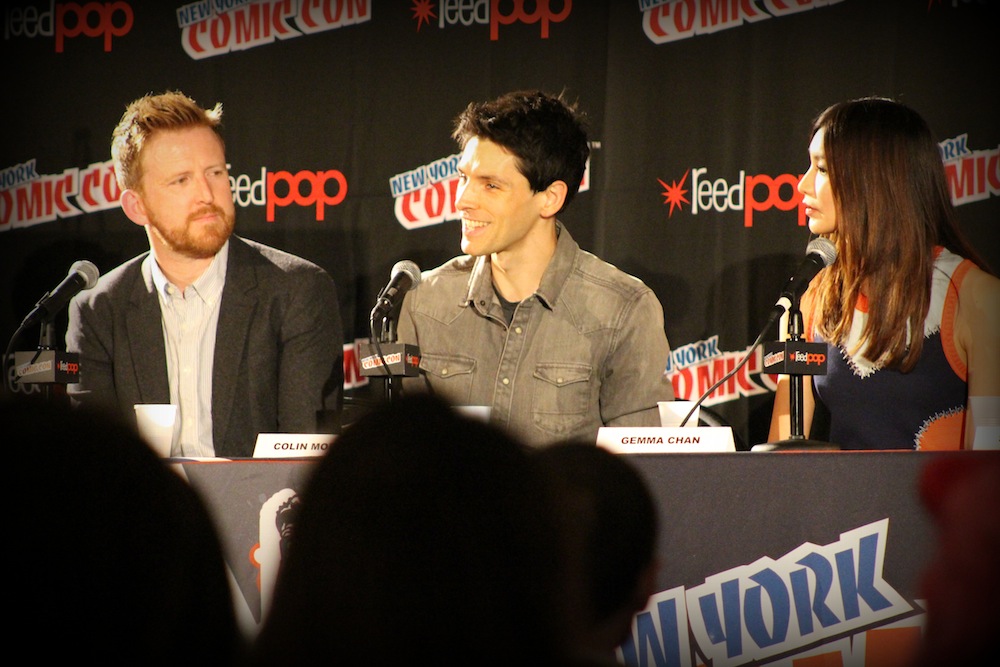 Where Leo's at when season 2 starts…
Colin Morgan teased that Leo is "actually is in a much more settled place" when season 2 picks up. Leo knows something now that will change everything, but his is in a place from which to work towards a better future.
"[Leo] sees a way forward," Morgan teased. "He's got his sights set on a target and he kind of knows what he needs to get there, but how he does it and who he meets … are kind of beyond his comprehension."
Where the Hawkins are at when season 2 starts…
What is the Hawkins family up to when we catch back up with them in season 2? Well, Laure, Joe, Sophie, Toby, and Mattie have moved to a larger home outside of the city in an effort to keep the family together while Mattie goes to college. As for Joe specifically, Goodman-Hill teased: "Joe is trying to repair his failing marriage and trying very hard to make things work with his kids, as well."
According to Goodman-Hill, "the departure of the Synth family and Mia in particular has left them all with emotional scars of one or another." Sophie, for example, is suffering separation anxiety. Joe is trying to hold the family together while Laura continues to be the main breadwinner.
Mattie is determined to stay in touch with the synths…
One of the big questions come the end of Humansseason 1 was how the Hawkins family would fit into the show moving forward. According to Goodman-Hill, the Hawkins continue to be connected because Mattie is "determined to keep in touch with the Synths." This is in direct oppostion to Joe, who is determined to keep his family from getting mixed up in the Synth drama again.
— Den of Geek News! (@DenofGeekUS)
October 8, 2016
How Humans is different from other robot shows…
Robots are a hot topic right now in popular culture. In addition to Humans,shows like Westworldand movies like Ex Machinacontinue to use artificial intelligence to comment on contemporary anxieties. How does Humans differ from other robot shows and movies? Brackley points to Humans'efforts to keep the science fiction elements grounded in realism. This is why Humansis set in a parallel present vs. a near future and why the writers try to work out what would happen if Synths really existed in contemporary times. Brackley added:
I think part of that is examining the good aspects and the bad aspects of this technology. We made great pains not to present the world as either a utopia or a dystopia. I think, more often than not, other TV shows and films lean towards the dystopic aspect and I think we wanted to let our audience decide.
Would the cast members have a synth?
Speaking of letting people decide, how would the cast members feel about having a Synth in their own lives? Gemma Chan was the only cast member who said she would have a Synth, though she would want it to look and sound like Samuel L. Jackson.
The other cast members on the panel were anti-Synth. Colin Morgan believes that people already incorporate technology into their daily lives too easily. Joe Goodman-Hill said he used to want a Synth, but he has changed his mind. Sam Palladio admitted that he is "too much of a control freak to let anything else do the things I can do" before adding: "We've seen what they can do in series two of Humans…" Ominous.
Check out the trailer for season 2…
And here's the Humansseason 2 synopsis:
The second season picks up several months after the events of season one, with Niska still at large and in possession of the consciousness code. Her synth family, Mia, Leo and Max, unaware of her location, are each trying to find their place in the world while Joe and Laura attempt to mend their marriage. As unconfirmed reports of synths behaving inexplicably surface, the ripple effects of one simple yet seismic decision sees the past return dramatically and surprisingly to the door of the Hawkins house. Joe, Laura and the entire family are faced with a difficult choice that will put the family under an intense spotlight. As an emerging form of intelligent life – the synths – and an established one – humanity – fight for their places in the world, a thrilling multi-stranded narrative evolves which continues to ask: who has the right to determine what it means to be alive?