News
Human Discoveries: Release Date for Cast-Stacked Facebook Animated Series
Facebook Watch animated comedy Human Discoveries wields an impressive cast, using the dawn of civilization as its backdrop.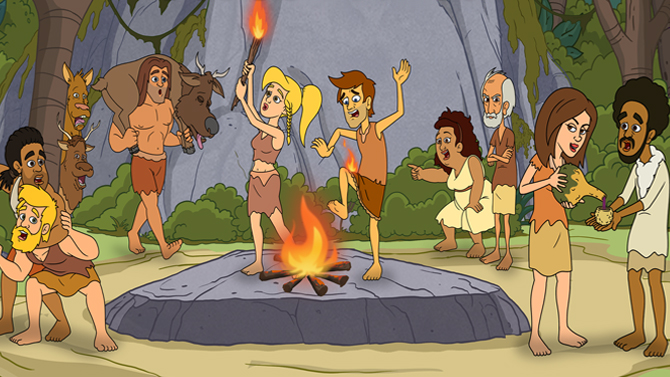 Human Discoveries, an animated comedy series offering for the burgeoning lineup of Facebook Watch, will manifest on the streaming platform as a Yabba-Dabba-Doo-less look at modern idiosyncrasies through a prehistoric lens, headlined by main voice actors Zac Efron (The Greatest Showman, Extremely Wicked, Shockingly Evil and Vile) and Anna Kendrick (The Accountant, the Pitch Perfect films).
Set at the dawn of human civilization, the series focuses on a group of friends who are the first to discover key concepts such as fire and the wheel. Yet, the series will also, per the official description, "stumble onto humanity's best, and worst, innovations. Art. Alcohol. Fashion. Racism. Small talk. And, much to their confusion, monogamy."
In the latest news on Human Discoveries, Facebook has announced the show's release date.
Human Discoveries Release Date
Human Discoveries is now scheduled to premiere on Facebook Watch on Tuesday, July 16.
Human Discoveries Cast
Joining Zac Efron and Anna Kendrick in the Human Discoveries cast are Jillian Bell (Rough Night, 22 Jump Street), Lamorne Morris (New Girl, Valley of the Boom), Paul Scheer (The League, Fresh Off the Boat), and it will also showcase sitcom royalty in Lisa Kudrow (Friends, The Comeback).
Human Discoveries Details
Facebook gave the green light to Human Discoveries back in February, now touting a full lineup of a voice cast headlined by the duo of Zac Efron and Anna Kendrick.
The series, the creation of credited executive producers Chris Bruno and David Howard Lee, is produced by companies ShadowMachine (of BoJack Horseman and Robot Chicken fame) and star Efron's Ninja's Runnin' Wild. Headliners, Efron and Kendrick will also serve as EPs, joined in that capacity by Kirk J. Rudell, Corey Campodonico, Alex Bulkley, Jason Barrett and Mike Simkin.
The series will join a lineup of original content on Facebook Watch that currently consists of fellow animated offerings Human Kind Of and Liverspots and Astronots, with dramas SKAM Austin, Sorry for Your Loss, Sacred Lies, Five Points and Turnt, as well as comedies Queen America and Strangers. Additionally, a reboot of MTV's groundbreaking reality series, The Real World, will launches on the platform on June 13.
Joseph Baxter is a contributor for Den of Geek and Syfy Wire. You can find his work here. Follow him on Twitter @josbaxter.