News
Hulu Orders Horror Anthology Series from Blumhouse Productions
The horror auteurs of Blumhouse Television have landed a deal with Hulu to create a monthly anthology series.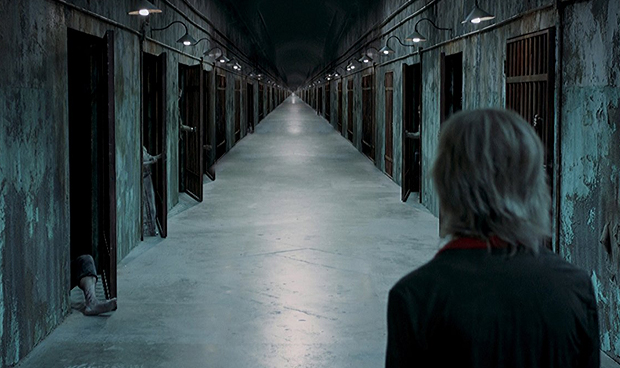 Thanks to Netflix's Black Mirror, the ever-escalating competition amongst peak television platforms has made the concept of the horror anthology series – a heaving TV genre during the 1980s – into a highly-sought jewel for any lineup. Now, it appears that Hulu will be the latest platform to seek such a series.
Hulu has come to an a rather unique agreement with Blumhouse Television (the TV arm of horror hub Blumhouse Productions,) that will see the latter produce a horror anthology series for the streaming platform, reports Variety. While no story details or personnel have been revealed regarding the untitled series, it was revealed that the series will manifest as 12 self-contained episodes, each to be released on a monthly basis, starting in October. This eschews both Hulu's weekly release strategy and the oft-utilized season binge model that's notably embraced by genre-similar offerings such as the aforementioned Black Mirror, as well as Amazon's imminently-arriving Philip K. Dick's Electric Dreams.
The Blumhouse deal was the project of Hulu's new chief content officer, Joel Stillerman, who is attempting new rollout strategies as the streaming platform continues to grow, notably with the acclaimed, awards-season-stunning success of The Handmaid's Tale. As Stillerman explains of his monthly stratagem:
"I wanted to look at that Hulu logo and remember that making TV for an over-the-top SVOD platform, if it isn't today, is going to be a very different proposition than the approach to making television for what is still the majority of the landscape. I wanted to focus on this question of what does it mean to make television for a place like Hulu."
Blumhouse Television co-president Marci Wiseman chimes in on the unorthodox format, stating:
"We think this is an innovation. We haven't split the atom. But Hulu's commitment to create episodic installments of an anthology series and to event-ize each of them — you don't get that kind of commitment from partners very often, and we're really excited and enthused."
Regarding Hulu's choice to embrace the horror anthology genre, Stillerman states:
"At the heart of the deal is an extremely passionate audience and an extremely activateable audience in terms of horror. It's not even the larger bucket of 'genre.' I would say this [series] falls squarely into the horror bucket. And it's brought to us by, I would say in many ways that would be hard to argue, the consummate producers in that genre today."
Blumhouse Productions – founded in 2000 – has grown by leaps and bounds over the past decade, with the low-budgeted, yet supremely-lucrative Paranormal Activity film franchise as its catalyst, leading to genre hits such as Insidious, Sinister, The Purge franchise and even occasionally venturing outside the genre with its involvement in the Oscar-winning 2014 drama, Whiplash, and the acclaimed 2015 psychological suspense thriller, The Gift. Its work in the television front has yielded offerings such as the short-lived 2012 ABC horror series The River, HBO TV movie The Normal Heart, Cinemax horror movie Like.Share.Follow and upcoming efforts in Syfy's Tremors series and a small-screen adaptation of its in-house hit, The Purge. – Blumhouse's horror movie sequel, Insidious: The Last Key was released on January 5.
We will certainly keep you apprised of the developments of Hulu's Blumhouse-produced horror anthology venture as they occur.