News
Hugh Laurie Joins Armando Iannucci's Avenue 5 on HBO
Dr. House makes a space call on Armando Iannuci's upcoming futuristic comedy Avenue 5.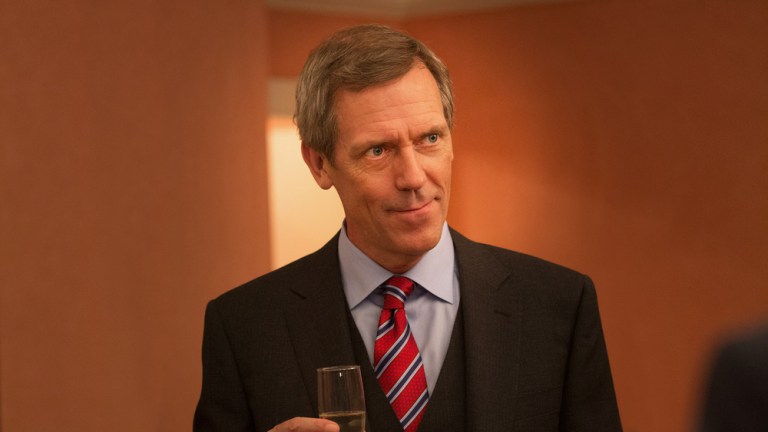 Hugh Laurie, who played the risky politician Tom James on HBO's Veep, will be returning to the premium channel to work again with Armando Iannucci. HBO ordered a pilot and back-up scripts for the upcoming space comedy Avenue 5, according to Variety.
Avenue 5, which was picked up to pilot last September, marks Iannucci's return to HBO since he left the showrunner position on Veep at the end of season four. The series will be set in the future. Laurie will play Ryan Clark, the American Captain of Avenue 5. HBO describes him as "charming and in-control."
Laurie played the Vice Presidential candidate who almost became president by default from Season 4 through 6 on the Julia Louis-Dreyfus starring comedy Veep.
British actor Laurie rose up through comedy in the U.K., but had his breakthrough U.S. role playing the drug-addicted genius Dr. Gregory House on the Fox medical drama House. Laurie won two Golden Globes and two SAG awards for the series. He was nominated for an Emmy in 2016 for his role as the charming, in-control  and evil arms dealer Richard Roper on AMC's miniseries The Night Manager. Laurie will next co-star as Major de Coverley in the upcoming Hulu adaptation of Joseph Heller's Catch-22 alongside George Clooney and Kyle Chandler. The six-part miniseries is due in 2019.  Avenue 5 Hwill be Laurie's first regular series since Chance, which Hulu cancelled after two seasons earlier this year.
Iannucci who also directed the feature comedy The Death of Stalin, created the series Avenue 5 and will executive produce. Iannucci created Veep out of his British political satire The Thick Of It. He is also the creator of The Day Today, and directed the film Alan Partridge. He worked with Laurie on The Personal History of David Copperfield, an adaption of the classic Charles Dickens novel.
The pilot for Avenue 5 will shoot in London this year.
Culture Editor Tony Sokol cut his teeth on the wire services and also wrote and produced New York City's Vampyr Theatre and the rock opera AssassiNation: We Killed JFK. Read more of his work here or find him on Twitter @tsokol.