News
How Arrow Season 6 Made That Batman Reference Happen
Stephen Amell explains how that Bruce Wayne reference made it into a recent episode of Arrow.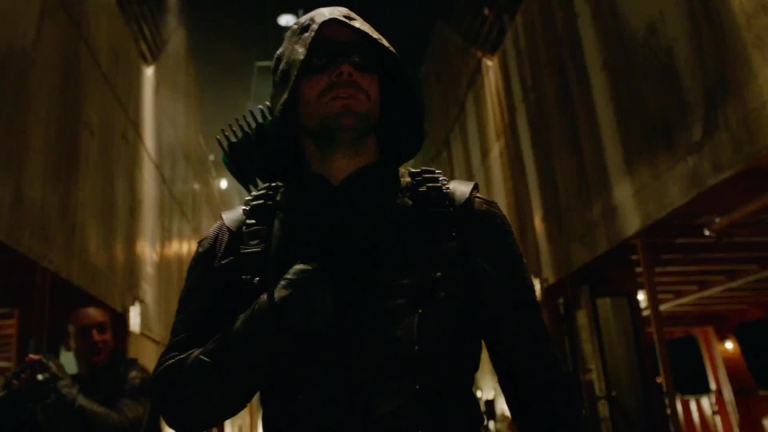 The echoes of Batman in Arrow have been unavoidable from the start. From the show's early days, which were clearly inspired by Christopher Nolan's Dark Knight trilogy, to Oliver Queen's billionaire playboy persona and nocturnal activities, all the way to the use of actual Batman villain Ra's al Ghul as the main villain of season three, Star City has never seemed all that far away from Gotham City.
Despite that, the Arrowverse has been generally coy about referencing DC's most marketable superhero. Other than the Oliver/Bruce Wayne parallels and an oblique reference to one of Clark's vigilante friends over on Supergirl, there has been little to indicate that the Bruce Wayne of this world puts on a pointy cowl and takes his frustrations out on unfortunate criminals. That is, until, the second episode of Arrow Season 6, which saw Oliver Queen make a Bruce Wayne joke at a press conference.
So what changed? Not much, except that Stephen Amell decided to go ahead and ask if they could name Bruce Wayne on the show for this particular scene.
"The original version of that script came up right before [San Diego Comic-Con]," Amell told reporters visiting the Arrow set in Vancouver this week. "It was Oliver  referencing a famous person's name. I can't remember what the placeholder was. I think it might have been Justin Beiber. I looked at it and I thought to myself, 'this is a cool opportunity.'"
Amell went to Greg Berlanti who suggested he go directly to Geoff Johns and ask permission.
"I was at the DC Comics party at Comic-Con and I couldn't track [Geoff] down," Amell says. "The next thing I knew I ended up in a four way conversation with Peter Roth, Diane Nelson, and Kevin Tsujihara. So I said 'guys, I have an idea that will cost you nothing! It will be really fun and it will open the door to a lot of possibilities.'… I had this holy trinity of DC and Warner Bros. Television and Warner Bros. overall in front of me, and I pitched this idea, and I had all my follow up points, and Kevin Tsujihara just goes, 'Yeah, sure. That sounds fun. Do that.'"
Noting the early similarities of Arrow to the Nolan Dark Knight films, it's clear that Amell has given the Batman connections "I've always thought that Bruce Wayne would be an interesting ally on the show and an even more interesting villain," Amell says. "It doesn't mean that he's the villain, just that they don't like each other."
While we may not ever actually see Bruce Wayne or Batman on the CW, it's nice to know that a simple conversation can change things.