News
House of Cards Season 5: How Far Will They Go for Frank Underwood?
Is House of Cards season 5 the beginning of a dictatorship? Let's hear what the cast has to say.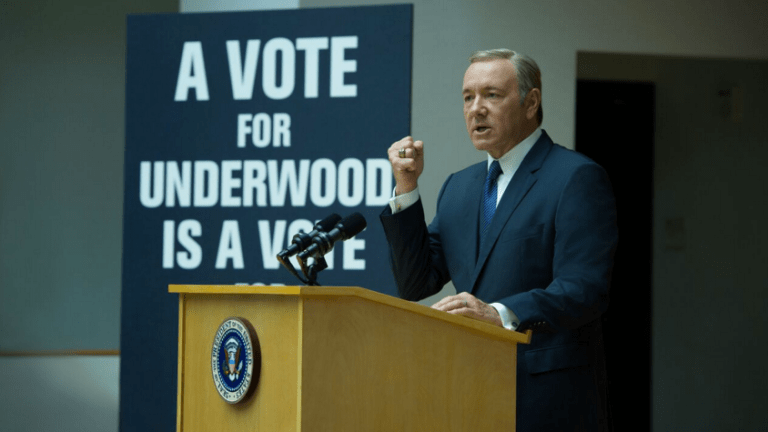 House of Cards is entering new territory in season 5. For the first time, Frank Underwood is going to actually have to win an election. The lying, the cheating, the scandal and debauchery will probably still all be there, but at the end of the day, votes are votes (well maybe). And what more? His wife is on the ticket. 
Doug Stamper (Mike Kelly) has been with Frank dating back to his days as Whip. He's been his henchman, his right hand, his scapegoat, and most importantly the garbage man. Stamper gets his hands dirty to keep Frank's clean and that's been established since the very beginning. But things have changed, and with Claire now on the ticket, she's got her own Doug in LeAnn Harvey (Neve Campbell). 
The season 5 trailer makes a bit of an ominous allusion… Frank says, "Underwood 2016, 2020…" All normal, and then, "2024, 2028, 2032, 2036." Let's do the math, that's twenty-five years of an Underwood presidency. Forget the fact that twenty years is a long time. Forget that fact that Underwood 2036 means that we'd have an 82-year-old POTUS. The real point here is that it sounds like Frank is planning a dictatorship, because as we all know from fifth grade US history, a President is really only allowed to serve two terms. 
Now, it's not at all surprising that Frank wants to rule forever but are his henchmen on board? Here's what Campbell and Kelly had to say about it when I sat down with them at the Netflix junket in New York City. 
"Doug and Frank have been together a really long time," says Kelly. " I think it would take a lot to separate the two of them. I think they need each other. They really coexist, so to speak, so I don't see a world in which he would leave his side." 
We know Doug doesn't seem to have any boundaries but what about the newcomer? "I think LeAnn will go where the power is," says Campbell. 
We don't know what will happen when the fifth season premieres and Underwood and Co. have election results to contend with, but something tells me that win or loose, there's a fight to be had.