News
Homeland Season 7 Episode 12 Finale Trailer and Details Here
Homeland Season 7 will end in an epic, Russian finale, and the trailer and synopsis for episode 12 are up, "Paean to the People."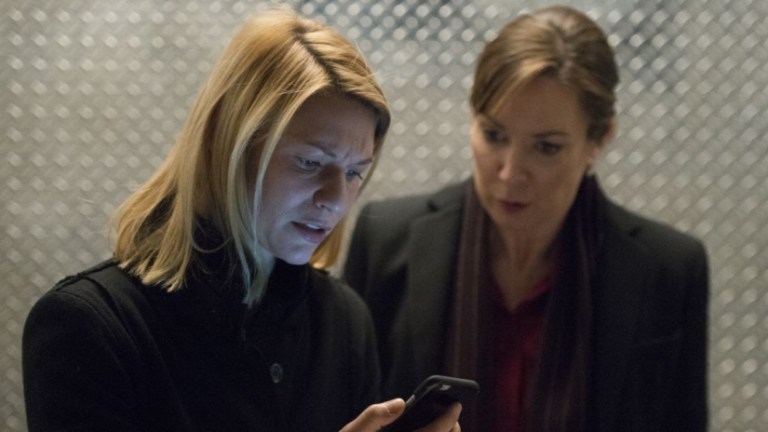 Homeland is enjoying a resurgence in the last year or so, and season 7 looks to be one of its most challenging and subversive offerings yet for the Showtime series. In that vein, we are collecting all of the available synopses for upcoming episodes, as well as offering a guide to the most recent ones aired.
Next up then is Homeland Season 7 episode 11, which is titled "Paean to the People." You can watch the trailer for it below.
Here is also the synopsis.
Carrie and Saul's mission doesn't go as planned. Elizabeth Keane fights for her presidency.
Homeland Season 7 Episode Guide
Below is our guide for the ongoing seventh season of Homeland. For past episodes, we are including excerpts from our reviews. Click on the linked titles to read the whole recap.
And we thought things seemed dour when Homeland Season 6 began? Last year, Homeland started from an ambiguous place of arguable disappointment following the previous recent seasons, as well as an overall sense of detachment from reality. After all, at first glance at Elizabeth Marvel's President-Elect Elizabeth Keane more readily resembled the by then thwarted Hillary Clinton than she did the actual President-Elect Donald J. Trump. But what a difference 12 episodes can make. In a single season, the rise of Keane from idealistic politician to embittered chief executive not only brought the show scarily closer to reality than the writers could have even suspected, but also turned her into the most consequential addition to the cast since Brody passed away in season 3.
And after tonight's episode, there is an eerie, gnawing feeling in most viewers that this is less a fantasy of an executive branch run amok as it is a glimpse into a possible future, one where the President of the United States is at war with her intelligence and law enforcement communities, and on the precipice of a purge blooming into full-tilt fascism.
When last week pinned the seeming fate of the republic on Carrie Mathison's shoulders, I for one did not see that turn season 7 would take in its second episode. Carrie—already being dubiously questioned as "crazy"—ended up on one of the most perverse and unexpected narrative tangents this side of Stranger Things Season 2: While trying to prove that the White House Chief of Staff was in on the covert murder of the lead conspirator against President Keane, Carrie wound up getting molested and almost raped by an internet troll who she then beat within an inch of his worthless life.
Given the state of headlines these days, it certainly was a sequence that aptly reflects our current "homeland," but I'm torn on what it means in the context of the show. Beyond providing Claire Danes with a properly epic sequence in which she roars, "I'm CIA, motherfucker," the story at least has a certain narrative cleverness to it. The odious situation of getting slapped with Malware is greatly intensified when you're a spook who is illegally spying on a government official. Instead of having to get a new computer, she has to either pay a blackmailer or risk having her illegal activities leaked onto the internet.
Without an ounce of subtlety, Homeland is making O'Keefe's last stand a deconstruction of the fragile egos of the demagogues who pollute our national conversation. But that's alright, because there isn't a hint of nuance in these battalions of blowhards. O'Keefe makes a good show of listing all of the things that "the heartland" and lower income, rural white America has to be aggrieved about with their country in the last 50 years. And other than the LGBTQ bigotry, it is almost all entirely valid. And Saul concedes this; but this isn't what concerns O'Keefe. He'll spread lies—even if in Homeland, the irony is his lie about Keane killing a four-star general is the truth—and do it to empower himself, not help others. He is more inclined to talk about building the proverbial wall than trying to actually create an economy that builds the middle class as opposed to squeezes it.
If O'Keefe cared what was best for these people, he would have taken Saul's deal, which he made as a stalling tactic. He got everything he could reasonably ask for, yet still let the rednecks bring in more men, more guns, and more likelihood for a Waco-styled tragedy.
Tonight on Homeland, things ended how they always seem to when you have men with guns staring at other men with guns. And for all the bluster and talk of non-violence, there was only one sane voice in the proverbial room via Saul Berenson, and without having a single equal on the other side—or even amongst the rest of the FBI leadership inside that mobile command center—there was but one way this hour was going to conclude: catastrophe.
The slow-motion car wreck that led to that abject nihilism in the final moments turned this into one of the most searing and interesting episodes Homeland has enjoyed yet in its recent renaissance during the Trump Years. Cynical, downbeat, and all too believable, the hour raised some interesting questions about the role of the media, social media, and ultimately human nature when aggression meets aggression, and only in retrospect is it apparent that it's not a spoiler to say that blood would always be spilled… especially when the lynchpin of it all is the character Brett O'Keefe, the embodiment everything Homeland writers hate about our modern media landscape.
Russia, Russia, Russia. It seems that whatever timeline you exist in, that's what we're always destined to obsess about. Whether the 2016 election fell for a fictional TV creation or if it elected Elizabeth Keane to the highest office in the land, it seems Homeland suggests all roads lead back to Rome… by way of Moscow.
That is the big takeaway from tonight's hour, with Saul beginning to sound the alarm about Ruskie attempts to destabilize the U.S., and then David Wellington's French girlfriend turning out to be perhaps not so French after all. It is a lot to chew on, but when both narratives were (mostly) firing on all cylinders tonight, the result was a taut hour that continues to build on the momentum created by season 6. It appears that as our own real world becomes more uncertain, inspiration somehow finds its way into Showtime writing rooms.
Right off the bat, the sixth episode of Homeland's seventh season has an advantage over the five hours that proceeded it: Carrie and Saul are onscreen together again. Finally. Indeed, the show is always missing a little bit of its original magic when it keeps Carrie and her CIA Papa Bear away from each other for too long. Whether they're collaborating, fighting, or some weird harmonic symbiosis of both elements—which is the case of tonight's episode—they're always an intriguing duo to watch. Especially how when even by speaking for a brief few minutes, they may have inadvertently turned the rest of season 7 on its head.
Yep, it was Carrie's concise but high-stakes convo with President Keane's national security adviser where the rest of season 7 seemed to be lay out for our viewing pleasure. As it turns out, it wasn't Keane and Wellington who killed Gen. McClendon; it was the Russians! While this became more apparent last week, the breadth of the developing conspiracy is only now faintly comprehensible. For the record, it is quite a testament to Carrie's faith in her mentor—and/or how quick toward risk-taking Ms. Mathison is while on uppers—that she thought it was a good idea to casually drop into a chitchat that she is illegally spying on the home life of the White House Chief of Staff, and Saul Berenson's co-worker and strongest advocate in the West Wing. Oops.
Well it is time for me to eat some humble pie. Last week, I speculated that Dante wasn't a traitor, or at least a witting Russian agent, and only appeared to be so based on Carrie and Saul's suspicions. It wasn't because I particularly loved the character—although it is nice to have someone in Carrie's circle who isn't constantly judging and second-guessing her at all times—but I did think we have seen a few too many moles in the intelligence community on this series. But ooh boy, here we are with one more!
Indeed, while the circumstantial evidence around Dante probably wouldn't hold up in court, and that fact of espionage was driven home this week when a broadly drawn judge scoffed at Saul's conviction that Simone was a Russian agent, but this isn't a jury box. When Dante, the man who was able to name Simone, just "happened" to be in the same five international destinations at the exact same time as his eventual "target," and he also lied to Carrie from the drop about having a girlfriend who was bipolar, it is all enough to understand that in spy games, there is no such thing as coincidence. Much less a half-dozen of them.
While Carrie and Saul are stuck in the frustrating position of not being able to prove that the Russian conspiracy existed with cold hard evidence—I can relate—they cauterized the wound before it became infected. It's a bitter non-win, but it ain't a loss either. What Carrie should do, immediately, is drive straight to a mental hospital, check herself in, and then call Maggie and say, "Yo, I'm here, I'll see you and Frannie in six weeks."
That is what Carrie should do, but it's not what will happen. She is like a dog chasing a car and she hasn't let it fully run her over yet. Besides, we all know the Russian Big Bad isn't actually headed to Moscow. He'll disobey orders and create an even bigger crisis, because this is Homeland. But in the far less explosive world of real espionage, this would be as good a place to stop as any for Carrie while she's ahead—or rather not so far behind that she's lost her daughter forever.
So by the time Frannie comes running out of the school and Carrie almost runs her over, giving more fodder to lawyers to explain why Frannie won't be in season 8, it's descended into soapy dreck. I'm sure that kind of tragedy, or a near enough one, is also sadly very possible in day-to-day life. As is Carrie running a stop sign and hitting a school bus… but let's not go there on this show.
But we did, and as a result, we're witnessing diminishing returns as Carrie's life falls part yet again. Been there, done that. And you know what? Last week, Carrie agreed. If she wanted Frannie back, she should've checked herself into a hospital as soon as Dante woke up. But then we can't have our espionage show. So pick one. Except Homeland already has, which makes this episode mostly not just ludicrous… but redundant.
Well, I think it's fair to say that none of us exactly saw this episode coming, at least as far as Carrie's storyline is concerned. Indeed, last week I was less than thrilled with seeing yet another hour devoted to Carrie strengthening the legal case against her for Frannie's custody, and yet when this week decided to be all about pulling that Band-Aid off, its removal felt relatively painless and therapeutic. Thank goodness.
Yep, much of this hour seemed about table-setting the final movements for this year: Carrie accepts her fate as a victim of televised heroics by realizing she is forced to give up all for the greater good of the country (and her merciless TV viewing public that would rather see her in the field than the courtroom); and President Elizabeth Keane will make a bad situation worse by always taking the vaguely authoritarian approach. So as we enter the final hours of Homeland Season 7, it will all be about Carrie and Saul proving a Russian conspiracy, and whether it will even matter if an unhinged POTUS throws our nation over the brink.
Episode 11: All In
Since the last episode of Homeland, we received new intelligence from the cast and producers of the Showtime series. Claire Danes reconfirmed what many of us already had heard through the grapevine: next year's Homelandseason 8 will be the show's last. Additionally, executive producer Alex Gansa further elaborated that it will be a new and standalone story set in Europe and away from, ahem, the homeland. This is a curious reveal given that the last two seasons have been the series' finest since the first two years that began the whole saga.
Yet given how things played out in tonight's "All In," the penultimate hour of Carrie and Saul's fairly botched up attempt to save the republic, we are definitely witnessing events come to a head. As much the third act of a high-stakes Hollywood thriller as it is the latest twist in a listless narrative involving conspiracies, shady presidencies, and more Russians than you can throw a vodka glass at, "All In" enters the climax stage of what's been two seasons worth of build-up. It also strains incredulity and common sense more than once in an effort to heighten the tension. Nevertheless, if I claimed I wasn't on the edge of my seat as Carrie stared down the barrel of Simone Martin's gun, I'd be lying. The Pirozhki has just hit the fan, ladies and gentlemen. And it is hard to imagine anyone is coming out of this clean. Except Carrie. She's all in with this last ditch and desperate swing of a legally dubious espionage operation. In other words, she's come home.
Episode 12: Paean to the People
Carrie and Saul's mission doesn't go as planned. Elizabeth Keane fights for her presidency.
Homeland Season 7 Trailer
In case you want to see how the marketing started…
Showtime has also offered up some interviews with the cast that reveal their thoughts on season 7.
Homeland Season 7 Release Date
Homeland Season 7 returned on Sunday, Feb. 11 at 9pm ET/PT on Showtime. We hope you braced yourself for it.
Homeland Season 7 Cast
Elizabeth Marvel is expected to return as President Elizabeth Keane, as is Linus Roache as her right-hand man. And of course, Claire Danes and Mandy Patinkin will continue to anchor the series as the leads Carrie and Saul. It is currently unclear if F. Murray Abraham is yet returning as the duplicitous Dar Adal.
Dylan Baker has joined the cast of Homeland. The respected film and television actor, whose credits are as diverse as Trick 'r Treat and Doc Connors in the Tobey Maguire Spider-Man Trilogy, as well as television stints on shows like Damages and The Good Wife, has been cast in the role of U.S. Sen. Sam Paley, who is described by Showtime as "maverick" senator from the southwest. Hmmm. Where'd they get that idea?
This true blue enigma to both political parties will be overseeing a Senate committee investigating President Elizabeth Keane for executive overreach. And if the southwest senator in real-life was also doing that, we imagine many Homeland fans would be rejoicing. 
Homeland Season 7 Setting
The series will also be continuing its recent return to the actual Homeland. Season 7 will take place in Virginia, which is only fitting as it is the backyard of Washington D.C., and saw plenty of action during the series' first three seasons.
Alex Gansa said in a recent statement, "We're thrilled to bring the production of Homeland to the great state of Virginia. Its cities and neighborhoods and people will surely provide a rich backdrop for our story, and we in turn aim to provide a small but hopefully significant boost to the local economy."
Previously, Homeland has shot in Charlotte, North Carolina to double as Maryland and Virginia in the show's early years. Changing the focus from the New York City setting of season 6 also makes sense, given that season 6 ended on the stunning cliffhanger of President Elizabeth Keane (Elizabeth Marvel) lurching toward autocracy and arresting much of the country's intelligence community. Carrie Mathison finds herself shut out by Keane in the White House, as well.