Features
History's The Secret of Skinwalker Ranch Tasks Scientists to Investigate Paranormal Ranch
A scientist says mysterious phenomena captured on History's "The Secret of Skinwalker Ranch" will blow you away.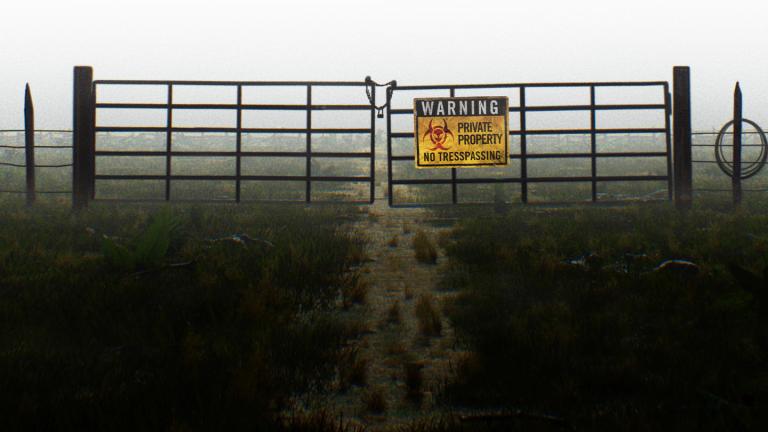 A sleepy ranch In Utah's Uinta Basin has been the focus of decades of secretive scientific paranormal research and now it's the focus of the History Channel reality series The Secret of Skinwalker Ranch. According to History, this is the first time TV cameras have been allowed on the ranch. The show's team of scientists and experts, equipped with the "latest in cutting edge technology," made shocking discoveries that one scientist describes as "phenomena that cannot be explained by human technology."
"I don't like the word paranormal," explains Astrophysicist Dr. Travis Taylor on a conference call with reporters, including Den of Geek. "I don't like it at all because it suggests that something we see in the universe, and it exist within the universe, that it's not supposed to be in the universe. And what I saw was within our universe. So to me, I'd say it's normal. I would say it's something that we just don't understand and don't know what it is."
Taylor is one of the investigators on the show. For decades he has worked with the Department of Defense and NASA. Taylor has five degrees in the fields of science and engineering. He also co-wrote a book theorizing on how we might defend ourselves against an alien attack.
As one would guess, he is a skeptic when it comes to mysterious phenomena. Still, he says what he experienced while participating in the four-month investigation on the Skinwalker Ranch surprised him. He would not share details, but he did give us a glimpse into the research.
"What I will tell you is that absolutely, without a doubt, we had scientific instruments detect and measure, multiple witnesses see, multiple cameras, and multiple occasions, phenomena that cannot be explained by human technology," Taylor says. "It doesn't mean it can't be explained by a better or future understanding of physics, but it does mean we can't explain it with human technology."
Rumors of paranormal phenomena on the Skinwalker Ranch go back hundreds of years, beginning with stories told by Native American inhabitants. Allegedly, locals are still experiencing paranormal phenomena in the area to this day.
In 1996, real estate magnate Robert Bigelow bought the ranch after hearing stories of poltergeists, strange creatures, and other hauntings on the property. He had recently created the National Institute for Discovery Sciences (NIDS), a group of scientists interested in researching anomalous phenomena. NIDS quietly studied the ranch for decades. Eventually, Las Vegas investigative journalist George Knapp, who had been covering the mysterious ranch, was allowed to co-write a book with NIDS lead scientist Colm Kelleher. The book, titled "Hunt for the Skinwalker: Science Confronts the Unexplained at a Remote Ranch in Utah," instantly brought attention to the ranch.
It was only recently revealed that in 2007 an agent from the Defense Intelligence Agency (DIA) read the book and wanted to visit the ranch. Bigelow allowed it, and soon after setting foot on the property, the DIA agent had his own paranormal experience. As reported by Den of Geek, this eventually led to Senator Harry Reid, a personal friend of Bigelow's and a fellow paranormal enthusiast, to create a Pentagon program to investigate the ranch and other phenomena. This, eventually, culminated in the creation of the infamous Advanced Aerospace Threat Identification Program (AATIP), a secretive Pentagon Program to investigate military UFO encounters, and the inspiration for the History Channel series Unidentified.
Having an interest in the aerospace industry, Bigelow started his own space company in 1999 called Bigelow Aerospace, which was contracted by the Pentagon in 2008 to investigate paranormal and UFO phenomena. Funding for that program ended in 2012, and Bigelow sold the ranch in 2016. The new owner's identity has remained a secret, until now. His name, Brandon Fugal, was only recently revealed with the launch of promotion for History's The Secret of Skinwalker Ranch.
After reviewing this history with Taylor, I asked if he was surprised by the Pentagon and Senator Reid taking an interest in Skinwalker Ranch.
"First of all, I don't believe that's an accurate history," Taylor responds.
Taylor was less than impressed with previous investigations of the ranch. He says the government contracted Bigelow to investigate military UFO encounters, which may have lead to investigating UFO sightings at Skinwalker.
"[Bigelow] didn't spend 37 cents on research at the ranch. He probably paid the salary of some scientists who had some equipment but not very high tech and not a lot," explains Taylor.
Taylor also says he believes Bigelow had "his own personal belief system" that tainted the research Bigelow funded.
"The biggest things that he had done there were really focusing on odd paranormal ideas by bringing in remote viewers and psychics and putting cows and dogs in pens, hoping monsters would come eat them," Taylor says.
Bigelow has said in interviews that he believes aliens have been visiting our planet. However, Taylor admits their investigation is also open to controversial possibilities.
Responding to a question on a conference call about the show, Taylor says Fugal is a religious person and wants to ask the big questions regarding the origins of the phenomena taking place at the ranch.
"Is it God? Is it angels? Is it aliens? Is it demons? I mean, you know, what could be causing these strange phenomena? Or is it just something that is, you know, a serendipitous piece of nature?" Taylor explained. "Ancient Aliens' Ariel [Bar Tzadok] is a good friend of mine, and he says that angels and demons are by definition extraterrestrial."
Although Taylor is skeptical that the government was interested in researching the paranormal phenomena at the Skinwalker Ranch—despite the evidence—we asked if he felt the government or academic institutions should take an interest.
"The research needs to be taken seriously," Taylor says. "There's a team that runs the Mars reconnaissance orbiter, for example, and they're the team who has permission to control the experiments on the spacecraft and see the data first. And then when the data is released and published and so on, anybody can then propose experiments and do analysis and so on, on that data. That's the typical scientific approach for big science."
"It requires a lot of planning and expense and so on and effort. And that's the approach that we plan to follow;" Taylor continues. "We're going to publish whatever the owner allows us to publish, and everything's going to be available to the public. And then people can do analysis on our research cause we're gonna follow the scientific method."
In the past, scientists have said they have seen portals open (a story that causes a major eye roll by Taylor), seen mysterious lights, giant wolves, and any number of weird ghostly things. Getting to the brass tacks, we asked Taylor to tell us what they saw.
"I'm not going to tell you what evidence was observed and what phenomena were observed because, you know, it would be spoilers for the show," Taylor responds. "But what I will tell you is, yes, when you watch the show and you see the evidence we acquired that is scientifically verifiable, you're going to be blown away. Cause I was. I'm still amazed to this day and still have a hard time believing what I saw."
The Secret of Skinwalker Ranch premieres Tuesday, March 31, at 10 PM ET/PT on the History Channel.
To promote The Secret of Skinwalker Ranch, History will be LIVE streaming video from the ranch beginning 8 PM EST/5 PM PST Monday, March 30, 2020, until Tuesday at 8 AM EST/5 AM PST. View the Livestream here.