News
Hey, Rick and Morty Fans! Dan Harmon Isn't Having Any of Your Sexism
Rick and Morty's co-creator condemns the trolls harassing the show's female writers.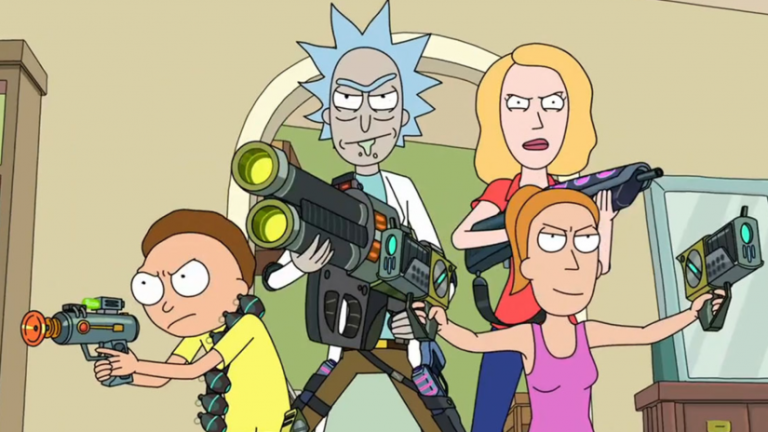 Owing to the fact that a certain segment of (male) nerds can't geek out about anything without also rendering the culture surrounding it totally toxic and horrible (see: video games), some Rick and Morty fans have taken to Twitter-harassing and publishing the personal information of two of the show's female writers, Jane Becker and Jessica Gao.
Co-creator Dan Harmon spoke to Entertainment Weekly and weighed in on this stupidity, dubbing these harassers "knobs, that want to protect the content they think they own – and somehow combine that with their need to be proud of something they have, which is often only their race and gender." Harmon acknowledges that he can't make the shitty people who watch his show "get their head on straight," but he does lay it out clearly for these "fans," saying, "I've made no bones about the fact that I loathe these people. It fucking sucks."
Harmon also added that it's incredibly stupid that these losers singled out these two women just because they were credited as the writers of the episodes "Rickmancing the Stone" and "Pickle Rick" (which, last I checked, was a fan favorite). He explains, "The reason one person's name goes on an episode is that someone has to and everyone deserves one of those times at bat where they have to do all the grunt work…" However, "we don't accurately reflect how many writers contribute to each episode in the credits."
Putting it more simply, he says, "I want to scream at my computer: 'You idiots, we all write the show together!'"
It's good of Dan Harmon to speak out and defend his writers like this, though unfortunate he had to do so at all. Angry sexist dorks would do well to note that it makes no logical sense to insult the people whose work you admire. And if it's your belief that Rick and Morty has dipped in quality due to the addition of women writers this season, as the Den of Geek writer reviewing the show, I will disrespectfully disagree. Season three has been the most consistently well-written season so far, compared to season two, which was written entirely by folks with penises, and was mediocre. Sorry, but this is an objective fact.
Wubbalubbadubdub! I'm Pickle Rick! 100 years Rick and Morty. And so on.