News
Heathers TV Series to Be Revived on Paramount Network
The controversial, formerly-shelved Heathers reboot TV series will finally get to air on Paramount Network.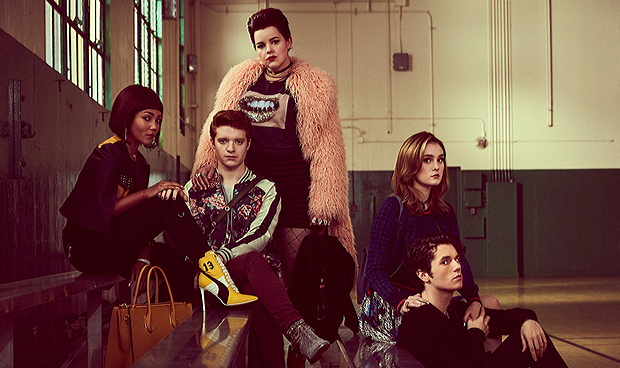 Greetings and salutations, dear friends. Are you a Heathers fan? Were you disappointed when Paramount Network shelved the Heathers reboot TV series last summer? Well, there's no need to break out any colorful metaphors involving chainsaws because there's good news.
The Heathers TV reboot will get to make its debut on Paramount Network after all… just in a rather unconventional form.
Heathers Release Date
Heathers is set to premiere on Paramount Network on Thursday, October 25, albeit with plenty of caveats, notably a season trimmed down to a 9-episode offering from its original 10.  
The premiere night will kick off nightly airings of two-episode blocks, concluding the entirety of Season 1 on October 29, on which the second hour of the block will be filled by a special Heathers-themed episode of Lip Sync Battle featuring stars Melanie Field and Brendan Scannell.
In order for the series to make air, the controversially violent (too close to news headlines,) content that got the series pulled was heavily edited, resulting in the final two episodes becoming condensed into one. Also, the show's movie-referencing storyline, in which the school was blown up, has been cut entirely, instead leaving things on a cliffhanger.
Heathers Trailer
Here's the newest Heathers trailer, promoting its newly-configured late-October rollout.
Here's a Heathers trailer (a NSFW Red Band version) from earlier this year. This clip showcases more of the hyperbolic high-school hullabaloo, which, from a stylistic standpoint, stands in stark contrast to the 1988 setting of the original film.
Representing clear cultural shifts, the vindictive titular Heathers are – rather than hair-sprayed prom queen types – depicted here as an emo-outfitted caustic coterie who wantonly brandish privilege-checking acronyms and the belief of being the most woke folks in any given room in which they grace their presence.
Moreover, our new Veronica (Grace Victoria Cox), rather than being a raven-haired quasi-outcast, is a strawberry-blonde beauty who could easily pass as a member of the original Heathers. Of course, as anyone who's seen the original movie can surmise, the introduction of J.D. (James Scully) into Veronica's life will lead her down a crimson-soaked (though morbidly hilarious,) primrose path of vengeance.
Heathers Details
Heathers was originally scheduled to premiere on March 7 until it was shelved indefinitely after the Parkland school shooting. It was an understandable move, since this reboot – though contextually updated for the times – still centers on protagonists who plan the mass murder of their schoolmates. Even without the tragedies of recent months, it's an abundantly morbid premise for a purported comedy (not taking anything away from the original film, which is a classic). The network, just after pulling the series, released the following statement as to why:
Paramount Network's original series Heathers is a satirical comedy that takes creative risks in dealing with many of society's most challenging subjects ranging from personal identity to race and socio-economic status to gun violence. While we stand firmly behind the show, in light of the recent tragic events in Florida and out of respect for the victims, their families and loved ones, we feel the right thing to do is delay the premiere until later this year.
Months later, the series was rescheduled to debut on July 10, but that was ultimately nixed as well.
Heathers Cast
Heathers stars newcomer Melanie Field as Heather Chandler (the ruthless cruel leader of the pack in the original film); Brendan Scannell will be Heather Duke, the bulemic closet bookworm who was played by Shannen Doherty in the original film but has been rewritten here as a gender-flipped character; and Jasmine Matthew will play Heather McNamara, the easily suggestible cheerleader of the group.
Grace Victoria Fox (Under the Dome) will meanwhile play Veronica, who was the lead homicidal not-Heather in the film. It's also one of the early roles that made Winona Ryder a Gen X star. James Scully has also been cast in the part of JD, the smouldering mass murderer originated by Christian Slater in the film.
Heathers previously enjoyed an off-Broadway run as a rock musical in 2014 that similarly adapted the series about a girl and her bad news boyfriend deciding the best way to clean up their high school's vapidity was by arranging "suicides" for its worst mean girls and bullies. But if TV Land wishes to transfer the appeal of the cult classic that starred a very young Winona Ryder and Christian Slater, they should recall the film's own sage advice: if you want to fuck with the eagles, first you have to learn to fly.
Read and download the Den of Geek NYCC 2018 Special Edition Magazine right here!