News
HBO Orders Election Special From Pod Save America
The Crooked Media podcasters will be heading to HBO to cover the 2018 midterms in a series of hour-long specials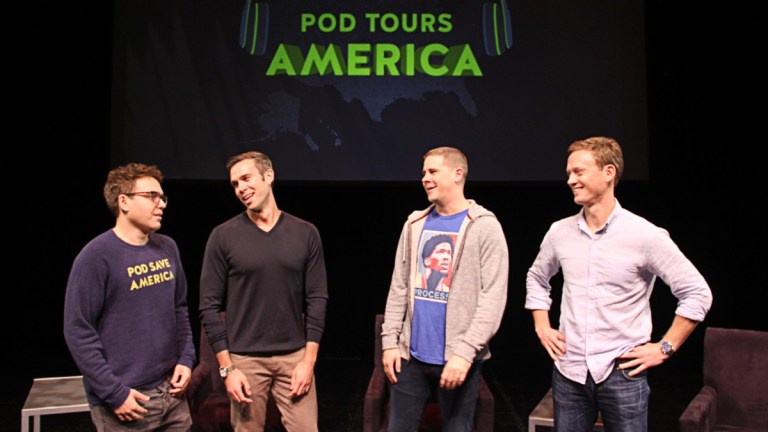 With politics becoming a particularly…entertaining endeavor, HBO has decided they want to up their presence in the policial realm and are tapping the podcast Pod Save America to film a series of hour-long specials for the 2018 midterms.
Pod Save America is a twice-weekly political podcast that covers the dog and pony show from the perspective of people who used to operate inside of it. It's hosted by former Obama speechwriter Jon Favreau, senior advisor Dan Pfeiffer, National Security spokesperson Tommy Vietor, and comedian/TV writer Jon Lovett.
The Pod Save America crew got their start on Bill Simmons' Ringer podcast network with their show Keepin' it 1600 in 2016. The show was designed to cover the lead up to the 2016 election. When that election went slightly differently from how the former Obama staffers anticipated, they decided to continue to podcast through the Trump years, rebranded as Pod Save America in 2017 under their own brand, Crooked Media. 
The show has since become very successful, featuring interviews with high-profile journalists and politicians and even a former POTUS or two.
"The best part of Pod Save America is taking the show on the road and meeting activists, candidates and people who are getting involved in politics for the first time," Favreau, Lovett and Vietor, said in a statement. "They know that the 2018 midterms are the most important elections of our lifetime, and the energy and excitement on the campaign trail is infectious. We are so grateful that HBO is taking a chance on us, even though these live shows will have so few dragons and sex robots."
There's no word on the exact format of the show other than that it will be an hour-long documentary series covering the 2018 midterms.